Commentary
A reason to watch every bowl game
Originally Published:
December 18, 2009
By
DJ Gallo
| Page 2
So we all want a college football playoff system, right? Really, only the BCS Championship Game means anything. And even that is debatable, because three other undefeated teams besides Alabama and Texas aren't getting a shot at the national title this year.
The BCS stinks. But I'm tired of complaining about it (until next year). We've got three weeks of nonstop college football coming up. What's to complain about?
After a handful of games this past weekend, there are good reasons to watch every single bowl game on the schedule. And here they are.
TUESDAY, DEC. 22
MAACO Las Vegas Bowl: No. 16 Oregon State vs. No. 15 BYU (8 p.m. ET, ESPN)
Why watch? This game features two teams that are actually pretty good.
It's the first bowl matchup of the season featuring ranked teams. Yay! By the way, the last time Oregon State and BYU met was in 1986. Current BYU coach Bronco Mendenhall was a linebacker for the Beavers then, and he made four tackles in a 10-7 Oregon State win. If he does that again in this game, he'll be remembered alongside such coaching greats as Woody Hayes and … that's it. Thankfully.
WEDNESDAY, DEC. 23
San Diego County Credit Union Poinsettia Bowl: No. 23 Utah vs. Cal (8 p.m. ET, ESPN)
Why watch? Non-BCS school vs. BCS school.
Given that the BCS gave us an extra screw-job by forcing TCU and Boise State to play each other (not wanting to give a non-BCS team the opportunity to embarrass a power conference team again, as Utah did to Alabama last year), the San Diego County Credit Union Poinsettia Bowl -- or, as the kids call it, the SDCCUPB -- is all we have. So let's just agree that if Utah beats Cal in this game, the TCU-Boise State winner is the true national champion. Deal? Deal. Makes as much sense to me as the current setup.
[+] Enlarge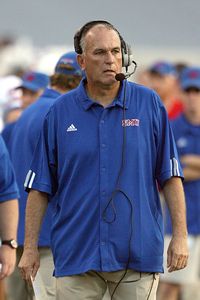 Bob Levey/Getty ImagesJune Jones is very familiar with Hawaii -- he coached there for nine years.
THURSDAY, DEC. 24
Sheraton Hawaii Bowl: Nevada vs. SMU (8 p.m. ET, ESPN)
Why watch? SMU returns to bowl season.
SMU went from 1-11 a year ago to 7-5 this year and the program's first bowl game since being hit with the NCAA death penalty in 1984. The Mustangs are coached by June Jones, who will be making his return to Hawaii. Let's just hope he doesn't think it's a good idea to wear this again. If so, hey -- it's a Thursday; you can always watch "Jersey Shore" instead.
SATURDAY, DEC. 26
Little Caesars Bowl: Marshall vs. Ohio (1 p.m. ET, ESPN)
Why watch? The Rick Minter experience.
The Thundering Herd lost three of four down the stretch, leading to the resignation of coach Mark Snyder. Marshall has already hired West Virginia assistant John "Doc" Holliday to replace Snyder, leaving defensive coordinator Rick Minter as the interim head coach for this one game. And I don't know about Minter, but if I were given the opportunity to coach one game in my life, with zero repercussions, on national television, I would install some crazy plays. And I don't mean flea-flickers and reverses. I'm saying that if by halftime Marshall hasn't run a play involving a unicycle and a fire-breather, Minter should be replaced by someone who knows what to do with such an amazing opportunity.
Meineke Car Care Bowl: No. 17 Pitt vs. North Carolina (4:30 p.m. ET, ESPN)
Why watch? To see Pitt running back Dion Lewis.
Lewis, a true freshman, came out of nowhere this year to run for 1,640 yards and 16 rushing touchdowns -- better numbers than Heisman Trophy winner Mark Ingram. In Pitt's regular-season-ending loss to Cincinnati, ESPN color commentator Matt Millen repeatedly compared Lewis to Barry Sanders. I think that was because they have similar moves and leg strength. Or because Lewis is the featured back on a team prone to suffering soul-crushing losses. Maybe both.
Emerald Bowl : Boston College vs. USC (8 p.m. ET, ESPN)
Why watch? A battle of freshman quarterbacks.
Boston College's Dave Shinskie is 25. USC's Matt Barkley is 19. But they are both merely freshmen. (Sorry, Barkley. Only Shinskie is old enough to get that song reference.)
SUNDAY, DEC. 27
Gaylord Hotels Music City Bowl: Kentucky vs. Clemson (8:30 p.m. ET, ESPN)
Why watch? To see ACC Player of the Year C.J. Spiller.
Spiller is a dynamic runner, receiver and kick returner. In fact, he has an NCAA-record seven kickoff returns for touchdowns this season. Good thing for Kentucky that it can limit his kickoff return chances with their 64th-ranked scoring offense.
MONDAY, DEC. 28
AdvoCare V100 Independence Bowl: Texas A&M vs. Georgia (5 p.m. ET, ESPN2)
Why watch? Cox versus Johnson.
Both teams feature veteran quarterbacks who can put lots of points on the board. Texas A&M's Jerrod Johnson threw 28 touchdowns and only six interceptions this season. Georgia's Joe Cox threw 22 touchdown passes in his first season as a starter. In this game, give the edge to Johnson over Cox because Georgia coach Mark Richt -- in the spirit of the Independence Bowl -- recently gave three of his defensive assistants independence by firing them.
TUESDAY, DEC. 29
EagleBank Bowl: UCLA vs. Temple (4:30 p.m. ET, ESPN)
Why watch? Temple coach Al Golden.
Temple's Al Golden is a hot commodity after taking a doormat program to 9-3 and its first bowl game in 30 years. So if you like watching people coach, well, this game is your Golden opportunity. (That's an EagleBank Bowl-quality line right there, folks. Enjoy it.)
[+] Enlarge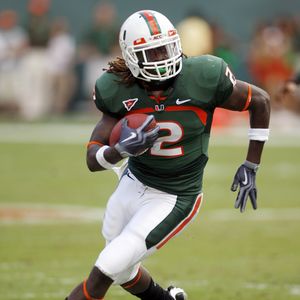 AP Photo/Alan DiazSorry to pick on you, Graig.
Champs Sports Bowl: No. 14 Miami vs. No. 24 Wisconsin (8 p.m. ET, ESPN)
Why watch? Catch Miami on the rise.
The Miami program might be getting back to the success of its heyday. Quarterback Jacory Harris is a dynamic player who still has two seasons left on campus. So that's the good part. But Miami can't be Miami without a bad-boy edge. Unfortunately, coach Randy Shannon has cleaned up the program. So … we're going to have to go with Miami running back Graig Cooper. He has 666 rushing yards this season. That's about as evil as Miami gets these days.
WEDNESDAY, DEC. 30
Roady's Humanitarian Bowl: Bowling Green vs. Idaho (4:30 p.m. ET, ESPN)
Why watch? To see Bowling Green wide receiver Freddie Barnes.
Barnes, a Biletnikoff Award finalist, leads the country in receptions (138) and receiving touchdowns (16) and is third in receiving yards (1,551). Idaho will try to keep him in check with double coverage, but considering the Vandals' defense gives up 35.5 points per game, they might not have much luck there. Perhaps they'll get lucky and the sight of this at Bronco Stadium will make Barnes nauseated and unable to perform.
Pacific Life Holiday Bowl: No. 22 Arizona vs. No. 20 Nebraska (8 p.m. ET, ESPN)
Why watch? To see Nebraska senior DT Ndamukong Suh.
Mark Ingram has the Heisman and Tim Tebow has the fame, but Ndamukong Suh is the most dominant player in college football. Hands down. I trust that bowl sponsor Pacific Life will give Arizona quarterback Nick Foles a good policy before kickoff, even though Suh is often seen by many insurers as a pre-existing condition.
Check back for Part 2 of my bowl preview on Dec. 30.
DJ Gallo is the founder of and sole writer for the sports satire site SportsPickle.com. He also is a regular contributor to ESPN The Magazine and has written for The Onion and Cracked. His first book, "SportsPickle Presents: The View from the Upper Deck," is on sale now.