Commentary
DJ Gallo's NFL Hangover, Week 15
Originally Published:
December 21, 2009
By
DJ Gallo
| Page 2
I decided to take some time off for the holidays. So this week I asked Clement Clarke Moore, author of "The Night Before Christmas," to fill in for me on the NFL Hangover.
In the meantime, you can also enjoy some Week 15 photo captions by clicking here.
Clement? Take it away.
---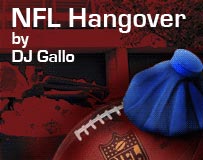 'Twas the week before Christmas, and on my TV
All the big names were playing, and even J.P.
The standings were shown on my flat-screen with care,
In hopes that tiebreakers soon would be there;
The bad teams were nestled all snug in last place,
While visions of Ndamukong brought smiles to their face.
And Romo in his jersey, and JaMarcus in his cap,
Had just settled down for their long December nap,
When out on the field there arose such a clatter,
JaMarcus sprang from the bench like he smelled deep-fried batter.
Away to his receivers, he threw like a flash,
Tore apart Denver's D and finally earned all that cash.
[+] Enlarge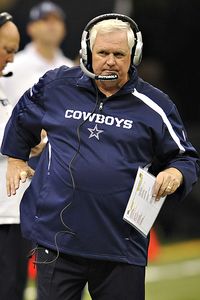 AP Photo/Bill FeigBy winning at New Orleans, Dallas coach Wade Phillips ensured he will be employed through Christmas.
And in Philly, thanks to the new-fallen snow,
The drunken fans had projectiles to throw.
When, what to my wondering eyes should appear,
But a big Pittsburgh Steeler, unleashing hell, it was clear.
With a rookie receiver, so lively and quick.
Big Ben's not Jay Cutler, so it wasn't a pick.
More rapid than Eagles, Wade's Cowboys they came,
And he smiled and fist-pumped and guffawed all the same;
"Now, Austin! Now, DeMarcus! Now, Romo and Witten!
Thanks to you guys my resignation's not written!
To the top of the pile! To the top of the race!
Although we're still Dallas; we could fall on our face!"
And though bad teams often quit when Christmas is nigh,
When they meet with an obstacle, sometimes fold and die;
Yet off to the end zone, Josh Cribbs he sure flew,
With a teammate inspired, Jerome Harrison went, too.
And then, in a tweeting, I heard from a doof,
And enjoyed the botched kicks and each Feely goof.
As I drew in my head, and was turning around,
Again Sanchez got picked before his pass hit the ground.
[+] Enlarge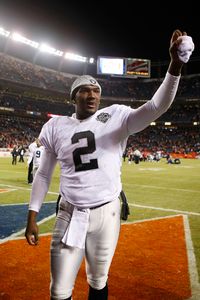 Jeff Gross/Getty ImagesHow can the Raiders get rid of JaMarcus Russell after he guided the Raiders to victory in Denver?
Coach Singletary was all dressed from his shirt to his pants.
Which was surprising, if he gave the scoreboard a glance.
A bundle of necklaces he had flung on his chest,
As his team perfectly represented the NFC West.
Andy Reid's eyes -- how they twinkled! His dimples, how merry!
If he had his druthers, he'd live at a dairy.
His droll little mouth was drawn up like a bow,
And this even as he was pelted with snow;
The stump of his pen he held tight in his mouth,
And smiled as the NFC leaders both headed south.
Sparano had a broad face and a little round belly,
That shook when he yelled; he looked very Parcells-y.
He was chubby and plump, a right jolly old elf,
Yet his Dolphins still lost, in spite of himself;
A wink of Norv's eye and a twist of his head,
The Chargers are winning; it's the playoffs they dread.
Randy Moss spoke not a word, but went straight to his work,
Again trying to show that he's not a big jerk.
And laying a hand aside of his slinger;
Childress cowered as Favre gave him the finger.
Brett sprang to his huddle, to his team gave some whistles,
And away he uncorked some weak-looking missiles.
But I heard him exclaim, as he walked out of sight,
"I'm bigger than the game; I'm Brett Favre, all right!"
DJ Gallo is the founder of and sole writer for the sports satire site SportsPickle.com. He also is a regular contributor to ESPN The Magazine and has written for The Onion and Cracked. His first book, "SportsPickle Presents: The View from the Upper Deck," is on sale now.