Commentary
Recapping the NFL draft
Originally Published:
April 23, 2010
By
DJ Gallo
| Page 2
The NFL draft was held in prime time for the first time ever.
There could have been more car-chase scenes and maybe a romance or two, but other than that, it went pretty well.
PAGE 2 PODCAST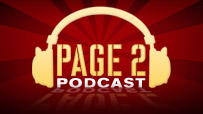 It's time for Friday's Page 2 Podcast with your hosts Mike Philbrick and DJ Gallo. Have a listen and you'll learn why:
• No one is mas macho than Tebow.
• A-Rod doesn't know the rules.
• The 1960 Pirates are back.
• Drew Rosenhaus had a bad night.
Click here to listen up!

• Subscribe to the Page 2 Podcast through iTunes or the RSS feed reader of your choice for automatic updates as soon as the latest show is posted.
However, if you were one of those people who watched actual sports when the draft was on -- you know, like the NHL or NBA playoffs (square!) -- here is what you may have missed.
No. 1 -- Rams: Sam Bradford, QB, Oklahoma
When Bradford took a call on his iPhone before the Rams announced their pick, the suspense was over: Bradford was a Ram. After that it was all the traditional stuff -- he went up on stage, shook hands with Roger Goodell, and posed for pictures -- with his arm around the commissioner. Which I think is now a four-game suspension. Sorry, Rams.
No. 2 -- Lions: Ndamukong Suh, DT, Nebraska
While Bradford took his call on an iPhone, Suh's came in on a clunky old landline. It was a stark contrast. Also a bit of a surprise that the Lions have moved beyond telegraph to telephone technology. Although maybe Suh's agent was just reading Detroit's telegram to him.
No. 3 -- Buccaneers: Gerald McCoy, DT, Oklahoma
McCoy and Bradford mean two of the top three picks are Sooners. Very impressive.
No. 4 -- Redskins: Trent Williams, OT, Oklahoma
Bradford, McCoy and Williams mean three of the top four picks are Sooners. Somehow this is no longer impressive. So Bob Stoops had all this talent and won no BCS titles? And was 8-5 last year? If college football ever gives a Worst Coach of the Year Award, let's make sure the trophy is of Stoops.
No. 5 -- Chiefs: Eric Berry, S, Tennessee
This is higher than most teams take a safety. But you just can't let a Lane Kiffin product pass you by.
No. 6 -- Seahawks: Russell Okung, OT, Oklahoma State
Six picks, five linemen and only one offensive player. Hey, I understand that line play is incredibly important to football. I am a football purist. But I am also a draft purist, and lineman draft picks are boring. So at this point the hockey and basketball purist in me flipped over to the playoffs.
No. 7 -- Browns: Joe Haden, CB, Florida
The Cavaliers are losing? Huh. How Browns-esque.
No. 8 -- Raiders: Rolando McClain, LB, Alabama
There were rumors that the Raiders would trade this pick for Ben Roethlisberger. There were also rumors that the Raiders would reach for a player who could be had later. Turns out the latter was true. I guess Al Davis didn't like Roethlisberger's 40 time. It's not all about the stopwatch, Al. The man has great escapability.
No. 9 -- Bills: C.J. Spiller, RB, Clemson
A lot of people think C.J. is the next Chris Johnson. Wrong. He is the next Clifford. That's what "C.J." stands for -- Clifford Spiller Jr. All this time before the draft, and the Bills don't even bother to get on Wikipedia.
No. 10 -- Jaguars: Tyson Alualu, DT, California
Months ago, there were reports that Jacksonville would draft Tim Tebow to sell tickets. Well, the Jaguars can be commended for making a football decision instead of a marketing decision. But instead of selling tickets, I fear Alualu will make Jacksonville buy more upper-deck tarps.
No. 11 -- 49ers: Anthony Davis, OT, Rutgers
Nice value pick for the 49ers here. In a few weeks, Davis will likely be known as one of the better linemen ever to come out of the Big Ten.
No. 12 -- Chargers: Ryan Mathews, RB, Fresno State
LaDainian Tomlinson has said that his production tailed off in San Diego not because he is getting old and slowing down but because the Chargers don't want to run the ball anymore. Obviously.
No. 13 -- Eagles: Brandon Graham, DE, Michigan
Graham is a good pass-rusher who can really help the Eagles get after Donovan McNabb. Huh. That's a weird sentence.
No. 14 -- Seahawks: Earl Thomas, S, Texas
Not a bad haul by Pete Carroll. Russell Okung and Earl Thomas. Oh, no, Pete. It wasn't that good. Please. Please put your shirt back on.
No. 15 -- Giants: Jason Pierre-Paul, DE, South Florida
Eli Manning had hoped the Giants would draft a puppy here, but hey -- Christmas is only eight months away. And the Giants needed help on defense.
No. 16 -- Titans: Derrick Morgan, DE, Georgia Tech
The Titans got a great defensive lineman here. If he can perform over the next four or five years, he can cash in with a ridiculous contract from Dan Snyder.
No. 17 -- 49ers: Mike Iupati, G, Idaho
So now the Jimmy Clausen free-fall is official. He was passed over by the Browns, the Raiders, the Bills and now the 49ers. Twice. No doubt he will be motivated to one day make those teams pay. Assuming he is ever drafted by anyone.
No. 18 -- Steelers: Maurkice Pouncey, C, Florida
At 6-foot-4, 304 pounds, Pouncey is huge for a center. But only average size for a bodyguard.
No. 19 -- Falcons: Sean Weatherspoon, LB, Missouri
No surprise that the Falcons went with defense here. But there was some surprise that they picked Weatherspoon and not Texas linebacker Sergio Kindle. But Kindle's stock has been dropping ever since Sergio iPad declared for the draft.
No. 20 -- Texans: Kareem Jackson, CB, Alabama
The first player from the national champs goes. I hope someone ran up behind Nick Saban and dumped congratulatory pink Gatorade on him.
No. 21 -- Bengals: Jermaine Gresham, TE, Oklahoma
And now another Oklahoma player goes. I hope someone ran up behind Bob Stoops and fired him.
No. 22 -- Broncos: Demaryius Thomas, WR, Georgia Tech
Josh McDaniels says Demaryius Thomas reminds him a lot of Brandon Marshall. Really. He said that. Looks like Miami's receiving corps is going to be awesome this year!
No. 23 -- Packers: Bryan Bulaga, OT, Iowa
This is Bryan Bulaga. Risky pick. Apparently the Packers never saw this damning photo of Bulaga out drinking with his friends.
No. 24 -- Cowboys: Dez Bryant, WR, Oklahoma State
Jerry Jones passed on Randy Moss once; he wasn't going to do it again. Unfortunately for him, Moss wasn't available in the draft. So he picked Dez Bryant instead.
No. 25 -- Broncos: Tim Tebow, QB, Florida
AND IT'S OVER!!! THE BRONCOS WIN THE DRAFT!!!
No. 26 -- Cardinals: Dan Williams, DT, Tennessee
Really? They're still continuing? How annoying. The Mr. Irrelevant pick moved up to No. 26 this year. And 27, 28, 29, 30 and so forth.
No. 27 -- Patriots: Devin McCourty, CB, Rutgers
If my stereotypes are correct, half the Gillette Stadium crowd is named McCourty. This should be a popular pick with the fans.
No. 28 -- Dolphins: Jared Odrick, DT, Penn State
What a career for Odrick. He gets to play for Joe Paterno and Bill Parcells. What's that? Parcells isn't Miami's coach? Unlikely. From the media coverage I see, Parcells runs everything down there. This "Sparano" character is merely his avatar.
No. 29 -- Jets: Kyle Wilson, CB, Boise State
Rex Ryan already has Darrelle Revis and Antonio Cromartie. Why does he need another cornerback? It's like this guy doesn't know when to say enough is enough. He's at an all-you-can-acquire cornerback buffet and needs to push away from the table.
No. 30 -- Lions: Jahvid Best, RB, California
So "BEST" will be on a Lions jersey. His jersey is going to be a huge seller among irony-loving hipsters.
No. 31 -- Colts: Jerry Hughes, LB, TCU
Solid pick by the Colts here. They needed help at linebacker. But I thought their bigger need area was: guy who catches onside kicks.
No. 32 -- Saints: Patrick Robinson, CB, Florida State
Drew Brees announced this pick for the Saints. Or that's the rumor. Most people stopped watching after Tebow was drafted. If the NFL is going to keep having its draft in prime time, they need to script it like a prime-time show. Nothing should be resolved until the end. The Saints should have drafted Tebow. They don't need Tebow, you say? Blasphemer! We all need Tebow.
DJ Gallo is the founder of SportsPickle.com. His first book, "SportsPickle Presents: The View from the Upper Deck," is available from only the finest bargain book retailers. His next book project will be released soon. You can follow him on Twitter at @DJGalloESPN.