Commentary
Answering the training camp questions
Originally Published:
July 29, 2010
By
DJ Gallo
| Page 2
NFL training camps are opening. Here are the biggest questions across the league:
(Note: If this is your first time reading Pigskinpalooza, please fall in line by taping yourself to a goalpost and/or the office furniture of your choice. Thanks.)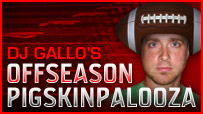 Will the Terrell Owens experiment work in Cincinnati?
Yes. Carson Palmer will continue to struggle with accuracy, and Owens and Chad Ochocinco will continue to drop passes. All of this is great news for tight end Jermaine Gresham. Between the balls Palmer accidentally throws to his area and the passes he can catch deflecting off the hands of Owens and Ochocinco, Gresham might have 200 receptions this season.
Can the Saints stay motivated?
Yes. The Saints have three slogans engraved on the inside of their Super Bowl rings -- slogans that inspired them last season. They are:
"Smell greatness," "Finish" and "Be special."
If three cliches like that were able to motivate grown men for an entire year, I see no reason it can't work again. So I'm going to pull out three phrases from my Big Bag O' Motivational Cliches and give them another shot of inspiration. Let's see what I get here …
"Team always," "Strength," "Taste awesomeness."
There you go. The New Orleans Saints: repeat Super Bowl champions! YAY!
Is Matt Leinart ready to take over for Kurt Warner?
No. But the Cardinals don't have much choice: Their other option at quarterback is Derek Anderson. So although I admittedly don't really understand the intricacies of Arizona's immigration law, it's probably best if Leinart and Anderson are deported and the Cardinals just run the Wildcat with Larry Fitzgerald.
Will Albert Haynesworth cause a distraction for the Redskins?
No. Mike Shanahan will keep him in line or the Redskins will get rid of him. However, you can be sure that if he ever appears to be loafing or gains four or five pounds, reporters who are 40 or 50 pounds overweight and looking for an easy column will be all over it.
Will Sam Bradford beat out A.J. Feeley for the starting job by Week 1?
Feeley enters camp as the starting quarterback, but it's not like he'd bring any kind of veteran calm to the Rams. He hasn't played in a game since 2007, so he'd be just as unsure and scared out there as Bradford -- probably even more so. As a guy who's been in the NFL a few years, Feeley knows better than Bradford that playing behind St. Louis' line is a death sentence.
Will Pete Carroll strike the right tone with his players?
There has been a theory that Carroll's rah-rah, happy-go-lucky style works better with teenagers than it does with veteran professional football players. And maybe there was something to that. Before. But now Carroll has released the best-selling book "Win Forever," which spreads the message of winning forever. People of any age can understand that. "Win!" "But for how long?" "Oh, I don't know … only FOREVER!" It's pretty simple. So when football fans ask me what I think Seattle's record will be this season, I don't say something like "7-and-9." I say "Forever-and-0."
Can Bears fans expect to see some improvement from Jay Cutler?
Well, during camp, all the people who catch his passes will be wearing Bears helmets. So that's nice.
Who will have the better camp: Kevin Kolb or Donovan McNabb?
Kolb. He already knows the Eagles' offense, but McNabb will be learning a new system and getting acclimated to new teammates in Washington. It will take a few weeks for McNabb to learn what a "running back" is and how to do a "handoff."
Will the Colts be motivated for another run at a Super Bowl?
Yes. I am sure Jim Caldwell's speech at the start of camp will be incredibly motivating. As he stands there in silence, robotically staring out over the team as the minutes tick by, the Colts will do almost anything to get back out on the field and play football.
Are the Jets and Ravens ready to stake their claims to the top of the AFC?
Let's not get crazy. However, I don't think there's anyone who wouldn't be entertained by an AFC Championship Game featuring Mark Sanchez and Joe Flacco. That would be some great television. I might even have to splurge on a 3-D set for that game. "IT'S LIKE THAT PASS BOUNCED RIGHT INTO MY LIVING ROOM!"
Is Vince Young ready to step up and be a leader?
We shall see. He has a good mentor in Kerry Collins. Collins was no saint early in his career, but he matured. And now he's releasing a country album. OK, so Young doesn't have a good mentor. He's on his own.
Will Tim Tebow's holdout drag on for a long time?
What?! Tim Tebow hasn't signed a contract yet? Are you saying he hasn't reported to camp with the other rookies? I highly doubt that. That's not Tim Tebow's style. He wants to be on the field playing, not sitting out, signing underwear endorsement contracts like some me-first prima donna.
When will Brett Favre make his decision?
I have no idea. But I am fully expecting a 24-hour announcement special with all advertising proceeds going to the Boys & Girls Playing Like Kids Out There Club of 'Merca.
DJ Gallo is the founder of SportsPickle.com. His first book, "The View from the Upper Deck," is available from only the finest bargain book retailers. His next book project will be released soon. You can follow him on Twitter at @DJGalloESPN.