Commentary
Tiger Woods helping Tiger Woods
Originally Published:
August 12, 2010
By
DJ Gallo
| Page 2
Tiger Woods is struggling. A lot. He is coming off his worst tournament as a professional and now he has to play the tight and long Whistling Straits course in the PGA Championship.
Tiger is so desperate that he even asked Hunter Mahan's swing coach to take a look at his swing this week. Hunter Mahan! The greatest golfer of all time is trying to get in on the Hunter Mahan magic.
[+] Enlarge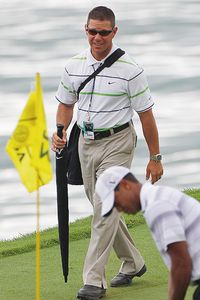 Sam Greenwood/Getty ImagesSean Foley? Tiger you can do better than that!
It's not good. It's not good at all. What Tiger needs to remember is that he is still the best golfer in the world and that he is the only one with all the answers.
So I went through his golf instructional book, "Tiger Woods: How I Play Golf," and pulled out some tips I hope can help him. Here are golf tips for Tiger Woods from Tiger Woods:
• "When you absolutely have to hit the ball straight, try teeing the ball a little lower. It won't curve as much to the left or right." (Page 174)
With your current accuracy problems, you should tee the ball as low as possible. In fact, dig a small hole with the tee first and then place the ball under the ground. You might sacrifice a few hundred yards but, according to your tip, the ball should fly straight as an arrow.
• "The perfect divot is the same size and shape as a dollar bill." (Page 141)
You'll know if your swing is back if you start making divots like this with your irons. Also, make sure to collect all of these dollar bill-sized divots and then try to use them as actual currency. They could make up for some of your lost endorsements.
• "The style of putter you use is irrelevant. The important thing is to choose a putter that hefts well in your hands and gives you a feeling of confidence just looking at it." (Page 33)
If style is irrelevant and you want a putter that gives you confidence, consider gluing all of your major championship trophies together into a putter shape and use that. (Make your green jackets into a putter head cover.) Every time you putt with that thing in your hands, you won't be able to help but look down and remember: "I am Tiger bleeping Woods. I own this sport." And at more than 100 pounds, your new putter will have all the "heft" you could ever want.
• "A few years ago, I started cupping my hands around my eyes while I read putts. The reason I do it is not because I want to see more, it's because I see less. The PGA Tour can get some pretty big galleries, and there's always a lot of movement sometimes I find distracting." (Page 43)
If you're not still doing this, get back to it. Immediately. Really. Right now! There's a plane flying above the course and you probably don't want to read the sign trailing behind it.
• "... I lost it altogether. I went to the range that morning and never hit a shot. It just wasn't there. Sometimes when that happens you can actually lower your expectations, go out and shoot a great round." (Pages 9, 12)
If you haven't lowered your expectations yet, now is probably the time. You just want to put together a few solid rounds, make the cut and then -- hey, if there's somehow a chance you can win the tournament, super! If not, you still got to play golf for four days at a great course, hang out with friends, mingle with corporate sponsors, eat good food, and you're bringing home a nice paycheck.
So you basically want to adopt the mindset of every other golfer on the PGA Tour.
• "In choosing a particular player to model your swing after, take into consideration the player's height and build. If you're tall and thin, you don't want to copy the swing of a player who is short and stocky." (Page 87)
You know whose swing you should copy? The guy has almost the same build as you, except he's probably a few pounds lighter: Tiger Woods. The old one.
• "One of the keys to good ball striking is to hit through the ball, not at it. In my mind, the ball is merely an object that is in the way of the clubhead as it tears through the hitting area." (Page 127)
Think of it like this: you are a woman and your spouse is trapped inside a crashed car, asleep or at least groggy. So to rescue him, you want to take his 3-iron and hit through the glass, not at it.
Any of the other details of this golf lesson are none of your business.
• "A great way to improve your feel is to putt with your eyes closed." (Page 22)
I know you've been practicing a lot lately to try to get your game back. Maybe you've been forgetting to reopen your eyes when you play a round. No? Dammit. I thought maybe I had it.
• "SAME ROUTINE, WITHOUT FAIL" (Page 30)
This was written in your book in all caps, which means it must be pretty important. So, whatever routine you had in your life, say ... I don't know ... one year ago, maybe consider doing that again. Because you were awesome at golf then. You've got to do this for us. Huge. Quickly.
• "Give It The Old 1-2" (Page 49)
• "The Magic Triangle" (Page 105)
• "In Search Of The 'Slot'" (Page 108)
• "My equipment is fairly traditional." (Page 139)
• "Sit On It" (Page 228)
• "Sometimes Ugly Is Not So Bad" (Page 234)
The first is a tip for a smooth chipping stroke; the second is the shape your arms should make on your backswing; the third is the position you want the club to be at the top of your backswing; the fourth is about how you play a typical set of golf clubs; the fifth is about taking a wider stance to hit low shots; the sixth is ... who cares. My point is that all six also work quite well as entendres. At least, they did. But with you not winning anymore, it's not even fun to make those jokes. It's like picking on Sergio Garcia. (OK, bad example. That's still fun. But you get my point.) Come on, Tiger! We need you to dominate again!
• "A 'BORING' PROPOSITION -- I'm a big believer in the importance of trajectory and ball flight. ... A boring ball flight is not just a product of hitting the ball hard. Much of it has to do with the clubhead's angle of attack, how solidly you hit the ball and ..." (Page 168)
And then you go on and on from there. It's incredibly ... boring. The "boring" pun in the section title is so lame, so dorky, so golf -- which is exactly what we miss. Be incredibly boring and uninteresting again. Low scores will follow.
• "There comes a moment in the swing when I'll sense that everything has fallen together perfectly, and I'll just let it rip. It doesn't happen on every swing, but it happens often enough to give me goose bumps just thinking about it. At that moment, every ounce of strength, speed and emotion is applied into just hitting the ball. There's no science about it, no conscious thought at all. Just pure joy." (Page 113)
This. We want to see this again.
DJ Gallo is the founder of SportsPickle.com. His first book, "The View from the Upper Deck," is available from only the finest bargain book retailers. His next book project will be released soon. You can follow him on Twitter at @DJGalloESPN.