Commentary
NFL training camps breeding optimism
Originally Published:
August 19, 2010
By
DJ Gallo
| Page 2
As an esteemed football columnist, I spend my days researching every team. And in my research I have uncovered some exciting news: every NFL team is going to be awesome this year. It's true.
Take the Detroit Lions, for example. "Jahvid Best provides some lightning for the Lions." That fact will give Detroit a lethal offensive combo because the "Lions' Jim Schwartz likes Matthew Stafford's play." And that's just the offense. Consider the defense. Let's just say "Lions like sneak peek at D-line," and leave it at that. But don't think the Lions have forgotten about special teams. No, they have the full package, as their "new special teams coach brings much needed energy." So you better believe that great NFL minds have taken notice of what's happening in Detroit. Consider: "Tiki Barber predicts nine wins for Lions."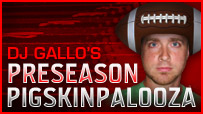 But the Lions aren't the only team primed for a big season. The Raiders have an up-and-coming defense thanks in no small part to "rookie linebacker Rolando McClain showing the instincts of a veteran." In front of him is a stout defensive line and anyone who saw Oakland's preseason opener would have proclaimed: "D-line steals the show"! While on the offensive side of the ball, "Raiders coach Tom Cable sees bright spot with first-team offense." But the Raiders won't let up. Not with leaders like left tackle Mario "Henderson pushing himself to improve."
Then there are the Rams. They won only one game last season and looked terrible in their first preseason game. But "Rams' Bradford confident he'll be better next game." All the No. 1 overall pick has to do is get back to where he was at the start of camp when everyone said "Bradford makes fine first impression in scrimmage." So it's no accident "Bradford has high expectations for offense." The future is bright on defense, too. "Rookie Selvie shows his pass-rushing skills" while Larry "Grant gives Rams strong play at linebacker." The Rams are simply fighting to get better every day, which is why "fists fly at Rams camp."
[+] Enlarge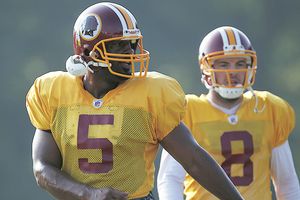 AP Photo/Pablo Martinez MonsivaisPerfectionist quarterback? Check. Is the backup
in his comfort zone? Check. Hello, Super Bowl!
If/when the Rams make the playoffs, you have to imagine they'll meet the Redskins there, who are primed for a big turnaround from a 4-12 season. I mean, "Carlos Rogers buys into Mike Shanahan's plan." And he's not alone. Everyone has marveled as "Redskins quarterback Rex Grossman finds his comfort zone in Kyle Shanahan's offense." "Free safety Kareem Moore has come a long way and is now making quite an impression on the Redskins." Meanwhile, the "Competition is intense for Washington Redskins wide receivers." But they are not the team's only outstanding receiving options. No, "tight ends Chris Cooley, Fred Davis give Redskins more options on offense." Of course, it won't even be Grossman throwing to them, but the perfectionist Donovan McNabb. Yes, we have learned "McNabb traces his perfectionism to parents." He is a special kind of leader. "For Team McNabb, if it's business, it's personal." And speaking of business, that business with Albert Haynesworth appears to be over, because "Albert Haynesworth feels good about first game at nose tackle." The Redskins are clearly legit.
Yet while teams like this are becoming great, can they deal with an established power like the Dallas Cowboys? The "Cowboys' three-pronged running attack keeps defenses guessing." It's no wonder we can all see "Tony Romo and Cowboys offense regain their swagger." It's true. "Jerry Jones: 'I think Romo can take another step up the ladder of recognition as a top quarterback.'" And Romo isn't the only one the owner is excited about. "Jerry Jones lavishes praise on Jon Kitna, says Alan Ball is breakout candidate." But don't think Jones can't also be critical. A camp witness would have heard "Jerry Jones to Cowboys WR Roy Williams: 'Make some plays.'" Already that message seems to have been heard with a "Good showing from Roy Williams in practice." Speaking of good -- "Cowboys' Anthony Spence seizing his opportunity, could be 'scary good.'" As good as Dez Bryant though? That might be tough. Consider a report from "Cowboys special teams coach: Dez Bryant compares to Cleveland's Joshua Cribbs in return game." Wow. That must be why "Oddsmakers say Cowboys' Dez Bryant a good bet to be top rookie." Put all this together and you get the endorsement of noted football analysts like "Charles Barkley: Cowboys and Packers two 'clear favorites' to win NFC." Let's just hope history also recognizes the greatness of this Dallas team, so we don't again have to ask the question: "Is there a bias against Cowboys in the Hall of Fame?"
Those future Cowboys induction ceremonies will probably also include many members of the 2010 New York Jets. Their superstar corner holding out? Not a problem. The "Jets believe they're super without Revis." In fact, they're thriving without him. "With Darrelle Revis absent, Jets' Antonio Cromartie has chance to shine at corner." Meanwhile, "Jets rookie cornerback Kyle Wilson passes first NFL test." That happened in the same preseason game that "Jets' Sanchez shows his maturity after early INT" ... a game which gave one clear message: "In bloodying Eli Manning, Jets prove they are coming hard in new home." New players with Super Bowl experience sense what's happening, as "Jets' Santonio Holmes has high praise for fellow receiver Braylon Edwards." In the backfield, "LT thrives with new summer workload." So is it just baseless hype about the Jets? No, "Rex Ryan 'excited for a reason' about Jets offense." But don't just take his word for it, consider "Jets legend Joe Namath: 'We have the most legit contender we've had.'" A legit contender. That's probably why "Rex Ryan says he sees Super Bowl in his 'crystal ball.'"
I have to agree with him. The Jets are a lock for the Super Bowl this year, right along with every other NFL team.
DJ Gallo is the founder of SportsPickle.com. His first book, "The View from the Upper Deck," is available from only the finest bargain book retailers. His next book project will be released soon. You can follow him on Twitter at @DJGalloESPN.