Commentary
Yum! Delicious tailgate recipes
Originally Published:
September 30, 2010
By
DJ Gallo
| Page 2
A good tailgate isn't possible without good food. Here are some college football-inspired recipes to try at your next tailgate.
Nick Saban Tailgate Tapas -- Find a nice tailgate and start taking their food until you see a better tailgate with better food and take their food until you see yet another tailgate with even better food. Keep doing this as long as you can until you find the best tailgate. Some people may judge you, but who cares? You're eating better than them.
Bobby Petrino Tailgate Tapas -- Made the same as the Nick Saban Tailgate Tapas, but the food is taken from slightly inferior tailgates.
Urban Meyer Pork Barbecue -- This is the championship dish that will keep people coming back to your tailgate year after year. But how do you make it? Well, all good pork barbecue has a secret ingredient. How do you get a secret ingredient? There are many ways to get one. You could even ask one of your players to get you something really good. But don't ask how they obtained it. You do not want to know. This is not a dirty kitchen!
Now that you have your secret ingredient, you want to cook the pork all day. You'll know it's ready when you've had enough time to retire and unretire. Serve and enjoy!
Jim Tressel's Famous Pigs in a Sweater Vest -- The crust around a pig in a blanket is usually dry anyway, so why not wrap a hot dog up in bit of wool? Surrounding something delicious with something bland: Nothing captures Terrelle Pryor and the Buckeyes any better.
ACC/Big East Chili -- Just throw some crap together and see how it tastes. Gross? Whatever. Who cares. No one is coming to your tailgate anymore anyway. You have plenty of time to get the ingredients right before basketball season starts. That's when real tailgating happens.
Lane Kiffin Burgers -- These burgers are made with Grade A beef and cooked over an open effigy.
The Rudy Burger -- This is no half-pound burger. It's tiny. You can barely even see it on the grill next to all the other burgers. But this burger will not be denied. This burger has passion; it has heart. (Really! Cow heart is ground into the meat!) And after all the other burgers are eaten, someone will take a chance on this tiny patty and the taste will blow them away. It will be one of the most memorable burgers they've ever eaten.
Unfortunately, 30 years later Joe Montana will come along and tell you that the meat was road-kill squirrel and that the patty had been dropped in a puddle before it was put on the grill.


Game of the Week
No. 7 Florida at No. 1 Alabama -- 8:00 p.m. ET on CBS
Alabama-Florida was never one of the SEC's top rivalries. But the circumstances of the teams' past two meetings, which served as elimination games for the BCS championship, have put the rivalry into the stratosphere and grown a hatred between the fan bases that is impressive even for SEC standards.
So let me see what I can do to add to that. Hmm. Hmm. Oh! After Florida beat Kentucky last week, Urban Meyer told reporters "It's Alabama week." Or at least that's what they thought he said. What he really said was: "It's Alabama. WEAK!"
Git 'em, Tide!


Another Game of the Week
No. 9 Stanford at No. 4 Oregon -- 8:00 p.m. ET on ABC
A lot of people will try to make this game essentially Good versus Evil: perfect, academic Stanford versus punching, crime-ing Oregon (not to mention Oregon's uniforms, which were clearly designed by a demon). But Stanford athletes are not all perfect. Take a look at this. That's right: oversleeping. Who knows what kind of horrible behaviors the Stanford football team is involved in. Flossing every day, Andrew Luck? Yeah, I didn't think so.
Beat the red menace, Ducks!

Cupcake of the Week
Louisiana-Monroe: The Warhawks play at Auburn this week (12:00 p.m. ET on ESPNU). They have lost all seven meetings to the Tigers, are 0-18 all-time against ranked opponents and are a 35-point underdog. Mmm. That's some delicious cupcake. The Warhawk is baked right in.


Rivalry Game of the Week
No. 21 Texas at No. 8 Oklahoma -- 3:30 p.m. ET on ABC
Texas got destroyed by UCLA last week, 34-12. Whereas Oklahoma only beat Cincinnati, a Big East team, by two points. Oh, man. Oklahoma is going to get KILLED.

Heisman Candidate in the Crosshairs
Andrew Luck, QB, Stanford: With a big game against Oregon on national television Saturday night, Luck can keep himself in the Heisman discussion with Mark Ingram, Denard Robinson, Terrelle Pryor, Kellen Moore, Patrick Peterson and every Arizona State offensive player who helped put up 597 yards against Oregon's defense last week.

Mascot Fact of the Week
Nearly four years after Chief Illiniwek was retired, the University of Illinois still does not have a mascot. The school's student senate has pushed for a committee to find a new mascot but still, here we are with Illinois playing Ohio State this week (12:00 p.m. ET on Big Ten Network) and no mascot. What is taking so long? Do they think Brutus the Buckeye is going to attack himself? The Illinois student senate needs to call an emergency session and immediately approve a new, temporary mascot: The Illinois Fightin' Frat Brother Who Took A Few Karate Lessons In Middle School And May Have Had A Few Drinks Before The Game.
Tailgate Tip of the Week
Dress for mud: Much of the country experienced rain this week, so chances are your tailgating spot will be a soppy mess. Yes, Mother Nature spilled rain all over the place. Party foul on Mother Nature. She just can't hold her rain like she used to.
[+] Enlarge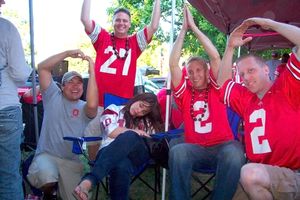 Courtesy DJ GalloNever, ever fall asleep near Ohio State fans.
Tailgate Photo of the Week
From reader Lisa, a USC fan: This is why you don't fall asleep at a tailgate. The other team's fans will make you look stupid: in this case, Ohio State fans spelling out "OHIO" behind her. At least they didn't draw helmet stickers on her head.
(Have a tailgate photo to share? Send it to VarsityTailgate@gmail.com or @DJGalloESPN on Twitter .)

Quote of the Week
"I mean it's the best icebreaker in the world. You go up to them, 'Miss, let's be serious, I just want to dance.'"
-- Taylor Lewan, T, Michigan
Lewan, a redshirt freshman at Michigan, has an old-timey mustache tattooed to the inside of his right index finger. So he'll hold the finger against his upper lip to put his mustache "on" and then use the line above on girls.
Taylor Lewan may be the greatest person ever.

Stat of the Week
8 Trey Burton, Florida's freshman backup quarterback, has eight touchdowns through his first five collegiate games, including a school-record six against Kentucky just last week. Tim Tebow only had one touchdown through his first five career games. You know what that means? Time to fire up the Trey Burton Fact of the Week!

Trey Burton Fact of the Week
Trey Burton is a Social and Behavioral Sciences major. So if he has to write a final paper this semester, he could write something titled "The Odd Social Behavior of Florida Fans Freaking Out and Saying I'm the Next Tebow After Just One Good Game Against Kentucky; I Mean, Come On: Kentucky."

Coach on the Hot Seat
Tim Brewster, Minnesota: The Golden Gophers are 1-3, including losses to South Dakota and Northern Illinois, and now conference play opens with Northwestern coming to town (12:00 p.m. ET on ESPN). Uh-oh. It's gotten so bad for Brewster that everyone is now talking like he's not even in the room. "You know who would be a good coach? Tony Dungy! Oh, hey, Tim. How's it going." Unfortunately, Dungy has already said he's not interested in the Minnesota job. He's likely been around Golden Gophers fans this season. Way too much cursing.

Lane Kiffin NCAA Violation of the Week
None. Again. It's almost like he's not committing NCAA violations on purpose or something now. But fear not. This week the No. 18 Trojans play Washington (8:00 p.m. ET on ESPN2). Kiffin coached for five years with Steve Sarkisian under Pete Carroll. Time to dish the dirt, Sarkisian. Kiffin is a Pac-10 rival now. Time to destroy him. Tell us the truth. Tell us what happened. Tell us EVERYTHING! Bwaaah-ha-ha-haaa.
And if there's no dirt to dish, Sarkisian, just make something up. Everyone will believe you. I mean, it's Lane Kiffin.

Name of the Week
Philip Lutzenkirchen, TE, Auburn:
Lutzenkirchen has the longest name in Auburn football history. He is a talented young player with some upside, but that long name could hurt his future marketability. Remember, Auburn legend Vincent Edward Jackson went by Bo Jackson. There's no reason Lutzenkirchen can't go by Bo. A tight end named Bo. A TE Bo. TE Bo. TEBOW! AHHHHHHH! Tim Tebow has been reincarnated in the SEC at the position he was always meant to play!


Stone Cold Lock of the Week
Alabama will beat Florida. And Trey Burton will ruin his Tim Tebow ascension by not crying on the field.
DJ Gallo is the founder of SportsPickle.com. His first book, "The View from the Upper Deck," is available from only the finest bargain book retailers. His next book project will be released soon. You can follow him on Twitter at @DJGalloESPN.