Commentary
A-to-Z preview: 2010-11 NHL season
Originally Published:
October 7, 2010
By
DJ Gallo
| Page 2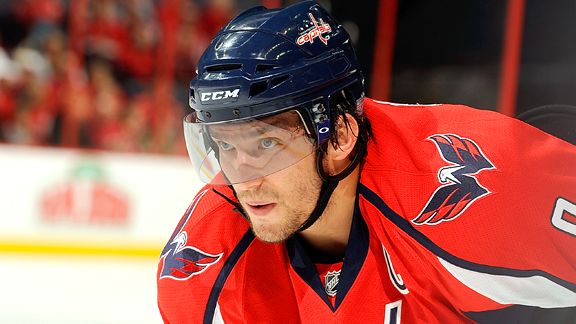 G Fiume/Getty ImagesAlex Ovechkin is responsible for high expectations in Washington. But can he deliver a championship?
It's the first day of the NHL season. Let's kick it off the same way they do the first day of school, with some ABCs.
A -- Anaheim
The Ducks missed the playoffs last season and now have to overcome the defensive void left by the retirement of Scott Niedermayer. Yes, Scott Niedermayer retired. Weird. He looked so young.
B -- Buffaslug
"Buffaslug" -- the horned, fetal, buffalo-ish blob that had adorned Sabres jerseys since 2006 -- is no more. Back is the team's classic buffalo and crossed sabers jersey. It's a great move by the franchise. However, I feel a little bad for the buffaslug to be cut off at this stage of its development; I think it was about to sprout limb buds any day now.
C -- Chris Chelios
He's gone. For good. Really. Last season, at age 48, he played for the AHL Chicago Wolves and the (NHL?) Atlanta Thrashers. Now he's a special advise to the Red Wings. His advice? Do not play for the Thrashers. It kills your will to play hockey.
[+] Enlarge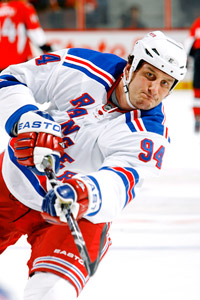 Phillip MacCallum/Getty ImagesThe Rangers acquired Derek Boogaard to talk with his fists. After all, they already get enough gum flapping out of Sean Avery.
D -- Derek Boogaard
The Rangers brought in enforcer Boogaard in hopes he can beat up a division full of stars such as Sidney Crosby, Evgeni Malkin, Ilya Kovalchuk and John Tavares. If that doesn't work and the Rangers fail again, management can just pretend fans are yelling "Boogaard."
E -- Eleven
Good news, Islanders fans: Although Rick DiPietro was limited to just 13 total games the past two seasons because of surgeries on both knees, he has only 11 years remaining on his contract.
F -- Flames
Calgary GM Darryl Sutter is on the hot seat. In his first season on the job in 2004, the Flames reached the Stanley Cup finals. But they haven't won a playoff series since then, and they missed the playoffs last season. It's a surprise Sutter hasn't been fired already. It's not as if there aren't other good options out there. Heck, there are, like, 19 other Sutter brothers they could try.
G -- Goalie
The Flyers open the season with a question mark in goal. Which is how they open every season. I guess it's the way they roll. Anyway, this year's question mark is named Michael Leighton. You know, it's a shame hockey goalies don't wear different uniforms from the rest of the team like in soccer. Because the Flyers goalie could wear this.
H -- "Hard Knocks: NHL"
Alexander Ovechkin and the Capitals and Crosby and the Penguins will get the HBO 24/7 treatment in the lead-up to the Winter Classic at Heinz Field on Jan. 1. I've heard several people say stuff like, "This won't work; Ovechkin is entertaining, but Crosby is extremely boring off the ice." That's absurd and completely backward. What's so entertaining about Ovechkin? A young millionaire Russian who likes to party? Been done. Whereas, Crosby is a young international superstar millionaire who lives with his middle-aged boss and his family in the suburbs. To me, that sounds like the greatest reality show of all time.
[+] Enlarge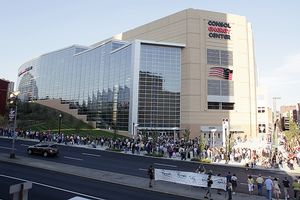 AP Photo/Keith SrakocicIn order to keep the new Consol Energy Center safe, the Penguins might want to keep Jean-Claude Van Damme on speed dial.
I -- Igloo
Pittsburgh's Mellon Arena is no more. The Penguins' new home is the Consol Energy Center. Consol Energy is one of the country's largest producers of coal. The company has large natural gas reserves, and its customers include electric utilities companies. I tell you this because it means there is a lot of awesome stuff to blow up when they make "Sudden Death 2: Consol-idation of Pain."
J -- Jaroslav Halak
Halak carried eighth-seeded Montreal to the Eastern Conference finals last season. The 25-year-old's reward? Getting traded to the Blues for prospects. Too bad. If Garth Snow had been his GM, he would've been signed to a 40-year contract.
K -- Kane, Patrick
The Blackhawks star enjoyed the spoils of victory in the offseason. A lot. For those of you who might not be big NHL fans and don't know who Kane is, remember when you were out late one night this summer and there was that one guy carrying on at the bar? Yeah, there's an 80 percent chance that was Patrick Kane.
L -- Lightning
The Lightning's new GM is Steve Yzerman. Letting a 1980s and '90s hockey legend run things is either a great move (see: Mario, Super) or a terrible move (see: One, Formerly Great). One thing we do know is that if Yzerman can build a winner in Tampa Bay, the Lightning will get fan support. They love winners down there.
M -- Magnus Pääjärvi-Svensson
Although No. 1 overall pick Taylor Hall will get the most attention in Edmonton this year, his fellow rookie, 10th overall pick Pääjärvi-Svensson, could be even more productive. Even if not, his first name is Magnus and his last name includes three umlauts. That's awesome enough.
N -- No. 1 overall
Steven Stamkos, the No. 1 pick in the 2008 draft, had a tough rookie season and raised some concerns that he would be a bust. But last season, he broke through with 51 goals, tying Crosby for the NHL lead. Maybe it's time to bring Alexandre Daigle back from the Swiss league for another shot.
O -- Ovechkin
The pressure is on him to win something. Although the pressure was on him to win something last season, too. And we saw how that went: He went above and beyond in not winning something, getting bounced in the Olympics and in the first round of the playoffs. If the NHL ever considers contraction, the league probably should just make the Capitals and Sharks into one franchise. It's called failure consolidation.
[+] Enlarge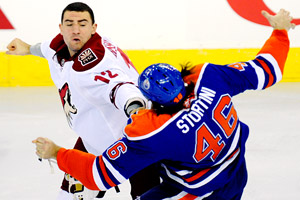 AP Photo/The Canadian PressCoyotes winger Paul Bisonnette fights and Tweets without a helmet. Yeah, he's crazy like that.
P -- Paul Bissonnette's Twitter
The Coyotes winger has -- easily -- the most entertaining (and occasionally offensive) Twitter feed in the NHL. You can follow him @biznasty2point0. I would normally link to an especially entertaining post to give you an example, but the name of his account is evidence enough. It's "2point0" because he shut down his original account -- @PaulBizNasty -- after calling Kovalchuk a "communist." So, yeah.
Q -- Quick, Jonathan
With good, young players such as goalie Quick, Drew Doughty and Anze Kopitar, the Los Angeles Kings are a trendy pick to be this year's Blackhawks. If that happens, the Kings will give celebrities an additional bandwagon to jump on in hopes of getting camera time. After all, there are only so many Lakers tickets. (Note: The Clippers would like you to know that that there are so many Clippers tickets! Call today!)
R -- Ryan Miller
Miller is probably the best goaltender in hockey. And given that the Sabres let defensemen Henrik Tallinder and Toni Lydman sign elsewhere and brought in almost nothing to help Miller, he'll really get a chance to make his case as the NHL's best goalie this year. Great job as always, Sabres management!
S -- Stars
The Penguins have them. Crosby is a sports superstar. Malkin is an NHL star. And Marc-Andre Fleury and Jordan Staal are big-name players. But one offseason acquisition will trump them all: Mike Comrie. Yes, Mike Comrie. He has never made an All-Star team, per se, but he is married to Hilary Duff, and none other than TMZ refers to him as a "star." Good enough for me!
Just think: If the Penguins can get a few of their other players to hook up with quasi-talented Hollywood starlets, their roster will become full of stars and they will tear through the NHL.
T -- Thrashers
In two separate trades, Thrashers GM Rick Dudley added four players from last season's Cup-winning Blackhawks team. Bandwagon GM!
U -- Unchecked capitalism
Kovalchuk signed a massive deal with the New Jersey Devils in the offseason. The league actually refused to allow the original deal. So although Paul Bissonnette's Twitter feed might be entertaining, it's not really all that accurate.
V -- Vancouver
For years, the Canucks have had a talented team that always falls short of a Cup. But last season, fans in Vancouver finally got to see a championship. Except it was in the Olympics. Once those ended, it was more of the same.
W -- Whaaaa?
There were a lot of curious moves this offseason. Most notably, the champion Blackhawks completely remaking their roster. I'll withhold my judgment on those deals until I see whether they work. If they don't, I will rip them apart. As I am fair.
X -- X's and O's
Six teams have new coaches: the Lightning (Guy Boucher), Devils (John MacLean), Blue Jackets (Scott Arniel), Oilers (Tom Renney), Blues (Davis Payne) and Thrashers (Craig Ramsay). You can bother to learn those names or not. It might be a waste of brain space. They're NHL coaches, so they could all be fired within a month or two.
Y -- YouTube
Although many leagues despise YouTube as an outlet to the lawless (and profitless) frontier of unlicensed highlight clips, the NHL has embraced it. You can get lost on the league's YouTube channel literally for hours when you're supposed to be doing productive work things such as, I don't know, writing an NHL preview article … as a completely hypothetical example.
Z -- Zarley Zalapski
Zarley Zalapski is 42 years old and hasn't played in the NHL since 2000. This is quite unfortunate because (a) Zarley Zalapski is fun to say and fun to hear and (b) he made it a lot easier to write A-Z NHL previews. So please stay tuned for my upcoming season preview of the Swiss B league, where Zalapski has played for the past five years. (That will be published as soon as I think of the A-Y part of that preview.)
DJ Gallo is the founder of SportsPickle.com. His first book, "The View from the Upper Deck," is available from only the finest bargain book retailers. His next book project will be released soon. You can follow him on Twitter at @DJGalloESPN.