Commentary
Mike Leach, a Sharpie & The Donald
Originally Published:
December 2, 2010
By
DJ Gallo
| Page 2
Donald Trump thinks Mike Leach is the right man for the Miami job.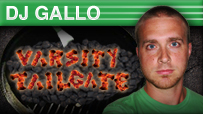 In fact, he shared that opinion with University of Miami president Donna Shalala ... by writing in marker over a newspaper clipping announcing Randy Shannon's firing.
If you can't read his scribblings, it says: "Donna -- You made a big mistake when you did not take my advice and hire Mike Leach of Texas Tech -- look what happened to them since he left -- (they knew he was leaving) [illegible]! -- Hire Coach Leach and you will be #1 -- And you can now get him for the right price. Best wishes, Donald."
Leach is a fine coach, but why does Trump like him so much? And more importantly, why is he writing notes to a university president on a newspaper? Is this how Trump communicates with people? Via newspaper clipping?
"Dear Garfield -- I have been following your love of lasagna. You should hire a personal chef. Best wishes, Donald."
"Dear Abby -- I have, like, five feet of hair that I wrap around and around my head. I am a man. I'm starting to fear I look ridiculous. What should I do? Best wishes, Donald."
"Dear Will Shortz -- Your crossword puzzles are impossible, at least for someone as wildly busy and successful as me. You should make them a little easier. Here's a five-letter word for 'awesome': TRUMP. Here's a five-letter word for 'extravagantly wealthy': TRUMP. Here's a five-letter word for 'extravagantly awesome': TRUMP. Glad I could be of help. Best wishes, Donald."
"Dear Randy Shannon -- Just saw here in the sports section that you lost to South Florida. You're fired."
"Dear Donna -- My daughter said I should ditch newspapers and get an iPad. I think I just ruined it writing this note to you on it. You can keep it if you don't mind having this note in marker all over the screen. Best wishes, Donald. Oh! And hire Mike Leach!"
If I was Leach, I'd be suspicious of Trump's true intentions. I think we all know why someone like Trump would want to get in good with Mike Leach.


Game of the Week
No. 1 Auburn vs. No. 19 South Carolina -- 4 p.m. ET on CBS
The SEC championship game has been a national semifinal of sorts in recent years, with the winner getting a trip to the BCS title game. Of course, if that was truly the case and the Gamecocks won, there would be a three-loss team playing for the national title and no one would want to see that. Wait. Did I just accidentally state that the current BCS system might have some positives? I need to go take a shower.


Another Game of the Week
No. 9 Oklahoma vs. No. 12 Nebraska -- 8 p.m. ET on ABC
With the Cornhuskers leaving after the season for the Big Ten, they have an opportunity to win the Big 12 title and give a major "Eff You" to their soon-to-be-former conference. And a postgame trophy presentation ceremony in which they refuse the trophy because it's beneath them would be somewhat memorable.

Cupcake of the Week
Fresno State: With a limited slate of games this week, there aren't a lot of cupcake options, and the Bulldogs actually have a better record (7-4) than their BCS conference opponent this week: Illinois (6-5). In fact, Fresno State could very easily win this game. So why don't we just lay off the cupcakes for a week, fatty? I think you ate enough at Thanksgiving.


Rivalry Game of the Week
No. 2 Oregon at Oregon State -- 3:30 p.m. ET on ABC
Oregon State has almost zero chance to win this game. But in the same week that Leslie Nielsen passed away, it's hard not to root for the Beavers.

Heisman Candidate in the Crosshairs
Cam Newton, QB, Auburn:
There's pretty much no way he can lose the Heisman at this point. His dad is probably already taking offers on the trophy.

Mascot Fact of the Week
Nevada has two mascots: Alphie and Wolfie Jr. But in this, the greatest season in Nevada football history, it's worth remembering that the year almost began in tragedy, when the Wolf Pack nearly lost a mascot at a baseball game.
Tailgate Tip of the Week
Consider upgrading to BEARpong: Oh, you think you're tough because you can make it through a game of beer pong? What if those little red cups were replaced with buckets? (Note: Make sure you play this game near a hospital.)

Tailgate Recipe of the Week
Boise State Chili: Make the best chili you have ever made. And then right before taking that first, delicious bite, spill it all over the floor. Then serve whatever is left that you can scoop up off the dirty floor.

Tailgate Photo of the Week
[+] Enlarge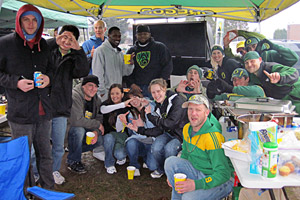 DJ Gallo How dare you violate the sanctity of a numerical system that makes no sense at all.
This was submitted by Oregon fan Chris. See the Quack 10 T-shirt on the guy in the middle? A tailgate associate of Chris' was selling those this season and was kindly asked to stop by the Pac-10. I suppose because they should actually be Quack 12 T-shirts.
(Have a tailgate photo to share? Send it to VarsityTailgate@gmail.com or @DJGalloESPN on Twitter.)

Quote of the Week
"They could hire me and we'd have one decade after another of success with students that graduate and don't get into trouble. Or they can hire somebody else."
-- Mike Leach, on his interest in the Miami job.
Well, when you put it that way.
Stat of the Week
70 Entering this week's play, there are 70 teams that are bowl-eligible with several more teams able to become eligible. Unfortunately, there are only 35 bowls, so some teams will likely get left out. This is unacceptable. Get in on it, comically absurd sponsors and undesirable locations! No mediocre college football team should be prevented from playing in a bowl. College football fans demand a Boudreaux's Butt Paste Bowl from Butte, Montana.

Coach on the Hot Seat
Dave Wannstedt, Pittsburgh: Pitt was a heavy favorite to win the Big East before the season and, through three conference games, held a two-game lead over every other team in the Big East. Yet ugly losses to UConn and West Virginia have all but ended Pitt's chances of going to a BCS bowl. One definite positive in Wannstedt's category, however, is that he remains a very good recruiter, able to reel in top high school from throughout Big East territory -- from New England all the way to ... Fort Worth, Texas.

Name of the Week
Max Johnson, K, Oregon State: A few weeks ago the Name of the Week honoree was UNLV tight end Max Johnson. But he's not the only Max Johnson in college football. Oregon State has a Max Johnson of its own. Only he's a kicker. I wonder what leg he kicks with.


Stone Cold Lock of the Week
Rev. Cecil Newton will begin approaching other religions to offer his services for the right price.
DJ Gallo is the founder of SportsPickle.com. His first book, "The View from the Upper Deck," is available from only the finest bargain book retailers. His next book project will be released soon. You can follow him on Twitter at @DJGalloESPN.