Commentary
DJ Gallo's NFL Hangover, Week 15
Originally Published:
December 20, 2010
By
DJ Gallo
| Page 2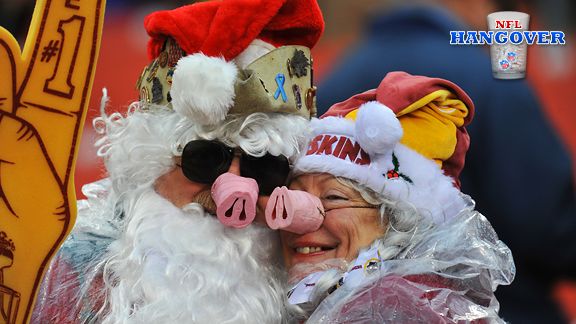 Getty ImagesThe only thing to cheer about in Washington, D.C., in this hallowed holiday season is the holidays.
'Twas the week before Christmas, when all through the NFL
Not a player was hoping to get fined by Roger Goodell;
Tom Brady was artfully preparing his hair,
In hopes that Gisele would continue to care;
The Vikings were nestled all snug in their beds,
While visions of warm domes danced in their heads;
And Favre in his Wranglers and old, dirty cap,
Had just settled down for a long career's nap,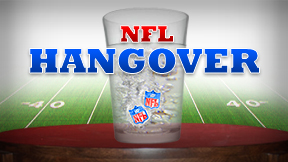 ESPN.com illustration
When out at the Meadowlands there arose such a clatter,
I sprang from the couch to see what was the matter.
Away to the TV I flew in a dash,
Seeing that Tom Coughlin's face was covered in rash.
The sun on the breasts of the cheerleaders did show
That some had had surgery to make their stuff grow.
When, what to my wondering eyes should appear,
But an entire stadium that was needing a beer.
Thanks to a talented quarterback, so lively and quick,
I knew in a moment it must be Mike Vick.
As rapid as Eagles their touchdowns they came,
And he whistled, and audibled, and called receivers by name;
"Now, Maclin! Now, Celek! Now, Avant and LeSean!
On, Harrison! On, Harbor! No way, they punted to DeSean!
To the top of the division! To the top of the race!
We have created some historic Manning Face!"
And the NFC West just continued to die,
Its continued existence just makes us ask "Why?"
Yet one of its teams in the playoffs is due
A fact that must make many other teams blue.
And then, in a screaming, a man went through the roof.
It was Gus Johnson freaking; I needed no proof.
As I covered my ears and was turning around,
Right through the end zone Tim Tebow came with a bound.
He was covered in muscles, from his head to his toes.
And he said things like "God bless" and "Pray for me, bros."
A bundle of promise he had flung on his back,
But unfortunately his defense still played as if on crack.
Rex Ryan's eyes -- how they twinkled! His dimples how merry!
His cheeks were like roses, his nose like a cherry!
And his droll little mouth did not put out any calls,
This week to form some of those illegal walls.
The stump of a hoagie he held tight in his teeth,
And the scent of fried meat encircled his head like a wreath;
He had a broad face and a massive round belly,
That was filled with the contents of the nearest good deli.
He was chubby and plump, a right jolly old elf,
And his offense finally scored, in spite of itself;
A wink of his eye and a twist of his head,
Let Jets fans know a collapse was nothing to dread;
Matt Flynn spoke not a word, but went straight to his work,
And celebrated a touchdown like that Freddie Mitchell jerk,
And thanks to a defense that gave Brady some woe,
The Pack got the ball with more than four minutes to go;
Flynn sprang to the huddle, and unleashed a few missiles,
But it turned out they needed more time after the whistle.
And I heard him exclaim, as he walked out of sight,
"Les Miles taught me clock management; it's truly a fright."
This Week's Horrible Fantasy Team That Crushed Your Fantasy Team
Rex Grossman, QB, Redskins -- 25-for-43, 322 yards, 4 TDs, 2 INTs
Donald Brown, RB, Colts -- 14 carries, 129 yards, TD
Maurice Morris, RB, Lions -- 15 carries, 109 yards, TD
Mario Manningham, WR, Giants -- 8 catches, 113 yards, 2 TDs
Mike Sims-Walker, WR, Jaguars -- 4 catches, 42 yards, 2 TDs
Jimmy Graham, TE, Saints -- 5 catches, 29 yards, 2 TDs
Quote of the Week
"I don't think there are enough words in the dictionary to describe how we feel right now."
-- Shaun O'Hara, center, New York Giants
Maybe so. But of the ones available, Giants fans would like to preface all of them with just the F-word.
Stat of the Week
700 -- Entering Week 15, there were 700 dropped passes so far this season, a pace well ahead of previous seasons. There have also been 47 drops in the end zone. So if you're looking for a last-minute gift for that wide receiver on your list, consider giving the gifts of hands.
Pictures of the Week
• "Hey, Jaguars! Hellooooo! Remember me? I still own this division!"
MORE GALLO PHOTO CAPTIONS!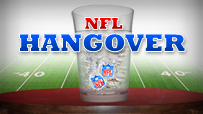 They're an important part of easing your Monday pain. These bonus NFL photos make you feel good and help you laugh at your friends.
DJ Gallo's NFL Hangover photo gallery

• "Hey, guys, look! I'm doing my tiny Darren Sproles impression!"
• "No, the barber didn't hold the mirror up so I could see the back of my head. Why do you ask?"
• "Now that I think about it, he actually didn't show me a mirror at all."
• "Don't worry about it. People have been saying I should be fired for decades and I still have a job."
• "Silent but deadly. Deal with it."
• "Thanks for not embarrassing me too much out there today."
• "Did you enjoy the ending as much as I did?"
• "In my opinion, you are by far the best orange coach in the NFL."
• "I can't believe we're in first place. This is so embarrassing."
• "This works to taunt Michael Vick, and it works if we happen to have a historic choke. Win-win!"
• "You look taller than I remember. Are you getting leg plugs, too?"
• "Hey, ladies. Lose the sleigh, get with the Clay."
• Gallo's Week 14 bonus photos!

DJ Gallo is the founder of SportsPickle.com. His first book, "The View from the Upper Deck," is available from only the finest bargain-book retailers. His next book project will be released soon. You can follow him on Twitter at @DJGalloESPN.