Commentary
They're in the bowl picture
Originally Published:
December 30, 2010
By
DJ Gallo
| Page 2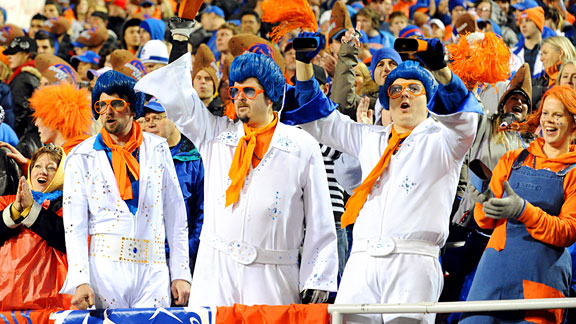 AP PhotoBoise State fans personalized the Elvis look at the MAACO Bowl Las Vegas on Dec. 22.
We're almost halfway through the bowl schedule. Before previewing the next batch of games, let's take a look at some of the best pictures from the early bowls.
"Congratulations on your uDrove Humanitarian Bowl MVP award. Now if you could just say a few words to the crowd. Or, you know, whoever."
"Paper covers rock, Pat. I win again. I knew with that ridiculous mustache that you would stay away from scissors."
"Hey, chin up, buddy. At least this time you didn't cost your school millions."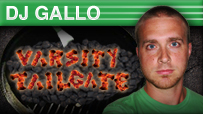 "OK, let's pretend we're happy about this. Hold your fake smile. A few more seconds. Annnnnd ... we're done."
"It's the end ... of ... the road. Singing at ... the MAACO ... Bowl ... Las Vegas."
"As soon as this game is over, I've got to head out for my bowling league. Yeah, why else would I be dressed like this?"
"Nooooooo! Not my bowling shirt! It's league night!"
"I am the greatest punk rocker the state of Iowa has ever produced."
"Dude, you're growing a Brady? So am I!"
"I'm a man. And I'm soaking wet."
"Cymbals, SMASH! Cymbals, SMASH!"
"Hey! I'm Coach of the Year! Show me more respect!"
Friday, Dec. 31


Meineke Car Care Bowl: South Florida vs. Clemson
Noon ET on ESPN
Why this bowl is not worth watching: Clemson is 6-6 overall and 4-4 in the ACC. South Florida went 7-5 but had a losing record in the Big East. And they're in a bowl. Yikes.
Why this bowl is worth watching: Four of Clemson's losses were by less than a touchdown, so a case can be made that the Tigers are better than their record. I'm talking, like, a 7-5 or 8-4-quality ACC team. BOOM!
Bowl sponsor fun fact: Meineke is sponsoring this bowl for the last time. Next year it will become the Belk Bowl. (I apologize for breaking this news to those of you who have Meineke Car Care Bowl tattoos.)
Player to watch: Da'Quan Bowers, DE, Clemson. The Meineke Car Care Bowl is in Charlotte and Bowers could be the No. 1 overall pick by the Panthers in April. Seeing the Panthers up close might be enough to persuade Bowers to come back for his senior season. Well played, Clemson.


Hyundai Sun Bowl: Notre Dame vs. Miami
2 p.m. ET on CBS
Why this bowl is not worth watching: Watching Notre Dame and Miami play football is kind of like watching Burt Reynolds and Loni Anderson make out. It may have looked good in the '80s, but now it would be pretty hard to watch.
No, just kidding. This is a great matchup. Just listen to Notre Dame coach Brian Kelly sell it: "Nobody has their eyes set on the Sun Bowl when you start the season. Nobody does." Thanks, Brian!
Why this bowl is worth watching: Maybe you really love the '80s and if an "ALF" rerun isn't on anywhere, this game is a nice alternative.
Bowl sponsor fun fact: Hyundai broke into the U.S. auto market in the 1980s. And according to Wikipedia, a character on "Dallas" -- one of the '80s' top shows -- was a former Sun Bowl cheerleader. I told you this game was all about the '80s. I trust Duran Duran is doing the halftime show.
Player to watch: Darius Fleming, LB, Notre Dame. Fleming leads Notre Dame in sacks. Best of all: He was born in 1989.


AutoZone Liberty Bowl: Georgia vs. No. 25 Central Florida
3:30 p.m. ET on ESPN
Why this bowl is not worth watching: Georgia was 3-5 in the SEC this year. The Bulldogs' appearance in a bowl is an affront to all those who treasure Liberty. Heck, it's even an affront to all those who treasure AutoZone.
Why this bowl is worth watching: Central Florida is 10-3 and Georgia has won five of seven thanks to the return of receiver A.J. Green from his jersey-sale suspension. The SEC truly is ahead of the Big Ten on everything -- even players selling their stuff.
Bowl sponsor fun fact: AutoZone was originally named Auto Shack but changed its name after RadioShack objected. It's good RadioShack doesn't take this stance with everyone. I'm not sure if someone named Zone O'Neal would have become an NBA star. Zone O'Neal sounds like a very poor defender.
Player to watch: A.J. Green, WR, Georgia. He's the best player on the field and a future first-round NFL pick. And don't forget that it was his 2009 Independence Bowl jersey that was sold and got him in trouble. If Green has decided he's going pro, he might have an auction on the field right when the game ends.


Chick-fil-A Bowl: No. 20 South Carolina vs. No. 23 Florida State
7:30 p.m. ET on ESPN
Why this bowl is not worth watching: Why not just put up a sign outside your house that says you're a loser with no New Year's Eve plans?
Why this bowl is worth watching: Both teams are ranked and there's something to be said for not spending New Year's Day with a raging hangover.
Bowl sponsor fun fact: Chick-fil-A is closed on Sundays not for religious reasons, but because the original owner was tired at the end of the week and wanted to take the day off. I'd have trouble keeping my energy up if I ate waffle fries all the time, too. Mmmmm ... waffle fry-induced coma. Mmmmm.
Player to watch: Marcus Lattimore, RB, South Carolina. Lattimore is such a good back that even Steve Spurrier doesn't want to pass on every play. Well, he probably still does. But he's not insane.
Saturday, Jan. 1


TicketCity Bowl: Northwestern vs. Texas Tech
Noon p.m. ET on ESPNU
Why this bowl is not worth watching: Northwestern lost three of four and five of seven to close the season, and Texas Tech was 3-5 in the Big 12.
Why this bowl is worth watching: The Red Raiders scored 99 points in their last two games, while the Wildcats gave up 118. A college football team scoring 100 points would be a cool way to start 2011.
Bowl sponsor fun fact: TicketCity is headquartered in Austin, Texas. Misleading.
Player to watch: Taylor Potts, QB, Texas Tech. Potts threw 31 touchdown passes this year -- 17 of them to former Abilene (Texas) High teammate Lyle Leong. That team must have been more stacked than the West Dillon Panthers.


Capital One Bowl: No. 16 Alabama vs. No. 9 Michigan State
1 p.m. ET on ESPN
Why this bowl is not worth watching: Neither of these teams really wants to be here. Alabama hoped to defend its national title, and the 11-1 Spartans feel they got jobbed out of a BCS bowl. And if they don't want to be here, is it really worth our energy to sit on the couch and eat chips while staring at the television?
Why this bowl is worth watching: Nick Saban looked angry after winning the national championship a year ago. Just think how miserable he'll be having to appear in a non-BCS bowl. It's appointment viewing.
Bowl sponsor fun fact: In addition to sponsoring this bowl, Capital One announces the winner of the Capital One Mascot Challenge at the game, too. This year's finalists are Old Dominion's lion mascot, Big Blue, and UTEP's Paydirt Pete. Last year's winner was the Cincinnati's Bearcat mascot. So maybe neither finalist should want to win. Winning is worse than landing the Madden cover.
Player to watch: Julio Jones, WR, Alabama. Jones set Alabama records this season for receptions and receiving yards, passing ... uhh ... I have no idea. No great Alabama receivers from the past really come to mind. Did Forrest Gump only return kicks? Who knows. Maybe Jones beat him.


Outback Bowl: Florida vs. Penn State
1 p.m. ET on ABC
Why this bowl is not worth watching: I heard a rumor that Joe Paterno retired last week and will never be seen again. Pass it on. (And thanks for the scoop, guy-who-recruits-against-Penn-State!)
Why this bowl is worth watching: Outside of the Notre Dame-Miami Sun Bowl, Penn State vs. Florida is the most theoretically prestigious bowl matchup you'll find between 7-5 teams.
Bowl sponsor fun fact: Outback Steakhouse was founded not in Australia, but Tampa. Perhaps the founders saw the similarity between the vast, unpopulated swaths of land in the Australian outback and the vast, unpopulated swaths of empty seats at Tampa sporting venues.
Player to watch: Let's make it a coach: Urban Meyer. The postgame handshake when an 84 year-old man will wish a 46 year-old man good luck in retirement will be surreal. Joe Paterno has had eyeglass prescriptions that lasted longer than Urban Meyer.


Progressive Gator Bowl: No. 21 Mississippi State vs. Michigan
1:30 p.m. ESPN2
Why this bowl is not worth watching: Mississippi State is a five-point favorite in this game. Let's just say Michigan pulls the upset. And it's because Michigan's players were inspired by Rich Rodriguez playing Josh Groban at the Michigan football banquet. I don't think we want to live in a world like that.
Why this bowl is worth watching: Denard Robinson. As Josh Groban's voice is to inspiring 18- to 22-year-old football players, Robinson is to football. And maybe even better!
Bowl sponsor fun fact: In addition to auto insurance, Progressive offers other specialty property-casualty insurance. But no insurance for gator attacks. Kind of a missed bowl sponsorship synergy opportunity there.
Player to watch: Let's make it a coach again: Mississippi State's Dan Mullen. He was rumored to be in line for the Miami job and the Florida job. If the Bulldogs take a big lead at halftime, chances are he might be offered the Michigan job before the start of the third quarter.


Rose Bowl Game Presented By VIZIO: No. 3 TCU vs. No. 5 Wisconsin
4:30 p.m. ET on ESPN
Why this bowl is not worth watching: TCU is undefeated and has zero chance to win a national title. So you shouldn't watch this game in protest of the BCS system.
Why this bowl is worth watching: You don't have one of those Nielsen boxes on your TV, right? So a few minutes watching this game wouldn't hurt, would it? I mean, it is a pretty good matchup. You can still tell everyone you didn't watch in protest. Oh, wow. What a play. Yeah, just a few minutes might be OK.
Bowl sponsor fun fact: The Rose Bowl doesn't have a sponsor. It's just that mindful of tradition. You have to respect that. (Does anyone else have the sudden urge to buy a VIZIO? Weird.)
Player to watch: Not a player, but E. Gordon Gee, the president of Ohio State. If a non-BCS conference team beats a Big Ten school in the Rose Bowl, it would be pretty outstanding.


Tostitos Fiesta Bowl: No. 7 Oklahoma vs. UConn
8:30 p.m. ET on ESPN
Why this bowl is not worth watching: You love making fun of Oklahoma's BCS track record, and maybe if you completely ignore this game it will mean that the Sooners' huge win didn't really happen.
Why this bowl is worth watching: If you don't watch, you can't say you witnessed Bob Stoops losing a BCS bowl to an unranked team the Sooners were picked to beat by 17 points. Of course, that's not going to happen ... or is it?
Bowl sponsor fun fact: Pork enzymes are used in the flavoring of some Tostitos products, making them unsuitable for anyone who doesn't eat pork products for dietary or religious reasons. However, Tostitos has a whole list of products it makes without using pork enzymes here, including such snacks as Doritos Collisions Cheesy Enchilada & Sour Cream Flavored Tortilla Chips and Miss Vickie's Hand Picked Jalapeno Kettle Cooked Flavored Potato Chips. I'm pretty sure no religions prohibit anyone from eating those. A few diets might, though.
Player to watch: Jordan Todman, RB, UConn. If the Huskies are to have a chance, Todman will have to have a big game and enable his team to control the clock. It's not impossible. He's the Big East offensive player of the year and Oklahoma doesn't have a very good run defense. Not impossible ... but unlikely. By the start of the fourth quarter, most UConn fans at the game will likely be reduced to saying: "Yeah, well let's see which school is better on the women's basketball court, where it really matters."
Monday, Jan. 3


Discover Orange Bowl: No. 4 Stanford vs. No. 13 Virginia Tech
8:30 p.m. ET on ESPN
Why this bowl is not worth watching: Four bowl games on Friday, six on Saturday, and 16 NFL games on Sunday. Perhaps it's time to step away from the couch. Even just for blood flow and circulation reasons.
Why this bowl is worth watching: It's one of the better bowl matchups and both teams have a lot of talent. You can leave the couch another day. And since when is it your job to make your blood circulate? Stop being lazy, heart!
Bowl sponsor fun fact: Discover Financial is sponsoring the Orange Bowl for the first time after FedEx bowed out, ending a 21-year partnership -- the longest-running sponsorship in major bowl history. How ... sad?
Player to watch: Andrew Luck, QB, Stanford. He's supposed to be a sure thing in the NFL. But seriously this time. Not like the other sure thing college quarterbacks who turned out to stink. A sure sure thing. Book it.
Tuesday, Jan. 4


Allstate Sugar Bowl: No. 6 Ohio State vs. No. 8 Arkansas -- 8:30 p.m. ET on ESPN
Why this bowl is not worth watching: Easy. Six Ohio State players -- including star quarterback Terrelle Pryor -- will be suspended for this game by the NCAA.
Why this bowl is worth watching: No, just kidding. The NCAA is a joke. They're playing. Sugar Bowl CEO Paul Hoolahan, along with Ohio State officials and Big Ten commissioner Jim Delany, lobbied hard to make sure no Buckeyes would miss the game. "I made the point that anything that could be done to preserve the integrity of this year's game, we would greatly appreciate it," said Hoolahan. Hmm. "Integrity." He keeps using that word. I do not think it means what he thinks it means.
Bowl sponsor fun fact: In addition to sponsoring the Sugar Bowl, Allstate is prevalent throughout college football for its field goal and extra point nets. But despite the "You're in good hands" advertising slogan, I've never once seen those hands catch a ball and hold on to it. Maybe they should change it to "You're in a defensive back's hands."
Player to watch: Pryor. If he plays well, he'll probably go pro and avoid that five-game suspension. If he doesn't, he probably has to come back and try to raise his draft stock in a shortened 2011 season. It's a tough position for Ohio State. The Buckeyes want him to play well, but they also want him back next year. Plus, if he leaves, who will buy all of these Ohio State No. 2 jerseys from the official Ohio State online store? Not that they're Terrelle Pryor jerseys, of course. They're just generic Ohio State jerseys that just happen to have the number of the team's most marketable player on them.
Be sure to check back next Thursday for Part 4 of Varsity Tailgate's bowl preview.
DJ Gallo is the founder of SportsPickle.com. His first book, "The View from the Upper Deck," is available from only the finest bargain book retailers. His next book project will be released soon. You can follow him on Twitter at @DJGalloESPN.