Commentary
DJ Gallo's NFL Hangover, Week 17
Originally Published:
January 3, 2011
By
DJ Gallo
| Page 2
Before we look ahead and celebrate the playoffs, I think it's only fitting that we say goodbye to all those who passed on this NFL season. And I want this done Hollywood awards show-style. We're talking video montage with dramatic music. Also, please feel free to applaud those you liked best and be silent for everyone else, thereby making the whole thing like one last high school popularity contest. It's extra mean that way.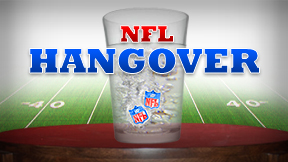 ESPN.com illustration
Wade Phillips (Cowboys head coach, 2007-2010) -- Show clips of Phillips smiling. And of him holding his head in his hands. Then cut to Jerry Jones in the crowd wiping some sort of watery discharge from his face.
Brad Childress (Vikings head coach, 2006-2010) -- Show no clips or images of Childress. Because he's creepy-looking. Just focus on Vikings players in the crowd high-fiving and giving one another hugs.
Josh McDaniels (Broncos head coach, 2009-2010) -- Run clip of McDaniels screaming triumphantly to the Invesco Field crowd after beating the Patriots in 2009. Plus his picture from last year's junior prom. Then cut to shot of a teary Tim Tebow wearing eye black that says "Josh" and "4:Ever."
Mike Singletary (49ers head coach, 2008-2010) -- Show footage of Singletary screaming at his players. Then cut to Alex Smith, Troy Smith and Vernon Davis happily applauding in the crowd. Hold shot for inevitable appearance of a pantsless ghost of Singletary, who screams at them for not showing him more respect.
Marvin Lewis (Bengals head coach, 2003-2010) -- Show clips of some of the greatest Bengals-related reality-show moments. Then cut to Carson Palmer approaching Lewis' family to give it a bouquet of flowers, only to then see him accidentally give them to Troy Polamalu's or Ed Reed's family.
Tom Cable (Raiders head coach, 2008-2010) -- Cue clips of John Goodman in "The Big Lebowski" because (A) maybe no one will notice; and (B) it's far more entertaining than anything Cable's Raiders have ever done. Don't cut to a shot of Al Davis. Please.
Eric Mangini (Browns head coach, 2009-2010) -- Roll time-lapse footage of Mangini from when he arrived in Cleveland as a rather portly man, through his ongoing weight loss, continuing until he completely disappears.
Gary Kubiak (Texans head coach, 2006-2010) -- Show clips of Kubiak, if any exist. Then cut to … what's this? Kubiak is in the crowd? He still has a job?! It's a miracle!
Contact (late 1800s-2010) -- Show clips of players getting crushed, pulled from the many NFL-produced videos from the past glorifying hard hits. Then cut to everyone congratulating Tom Brady in the crowd. Then cut to James Harrison taking out the cameraman.
Brett Favre (1991-2010) -- Show clips of Favre joyfully celebrating touchdowns. Art it up a bit by mixing in some video of kids playing football. Cut to the crowd for shots of the football media bawling and jumping off the theater balcony.
Fantasy Players Who Will Be Drafted Way Too High Next Year Thanks To One Week
Tim Tebow, QB, Broncos -- 205 passing yards, 2 TDs, 94 rushing yards, TD
Ryan Mathews, RB, Chargers -- 26 carries, 120 yards, 3 TDs
Rashad Jennings, RB, Jaguars -- 142 total yards, TD
Jerome Simpson, WR, Bengals -- 12 catches, 123 yards, TD
Chad Hall, WR, Eagles -- 6 catches, 84 yards, TD
Jimmy Graham, TE, Saints -- 2 catches, 15 yards, TD
Quotes of the Week
Lawyer Milloy, S, Seahawks: "There is no apologies for making it into the playoffs. The easiest way to make it to the playoffs is to win your division, period, point-blank. We did that."
Sure. Fine. But please realize that there's a big difference between not apologizing and being overly defensive and even kind of cocky about being a 7-9 playoff team. At the very least, Milloy could have shown some self-awareness by mimicking the old Chris Farley routine in which he puts air quotes around everything. "So maybe we're 'AN EMBARRASSMENT TO THE NFL' and 'WE'RE NOT GOOD AT FOOTBALL' and 'CHARLIE WHITEHURST DOES NOT SHOWER' and 'OUR COACH CAME HERE ONLY TO AVOID NCAA SANCTIONS' and 'OUR UNIFORMS ARE DISGUSTING' and ..."
Pete Carroll, head coach, Seahawks: "I guess we won for all the teams that have a losing record and think they can't be champions. It can get done; you can do it. Somehow it happened."
What?! No. No! This is the worst motivation ever. No one needs to be taking up the torch for bad teams. This from the guy who just wrote a book called "Win Forever" -- he's now inspiring those that win less than half the time? "Are you below-average? Can that fact be established with numbers? Good news! You can still achieve relative success if you surround yourself with competition that's even worse than you! It's the 'Win Occasionally' philosophy! And it's sweeping the NFC West!"
Milloy again: "It just shows that no matter what happens through an awkward year, if a team sticks together, they can have a shot at the end to accomplish what they talked about in the beginning. We know it wasn't pretty getting here, but what we talked about was right there at the end, and we took advantage of it. Nobody can take that away from us."
Oh, please, Seahawks, stop talking. Please.
Stat of the Week
734 -- Dolphins running back Ronnie Brown finished the season with 734 rushing yards. If he had reached 750, he would have earned a $500,000 contract bonus. Going into the game he needed to rush for only 30 yards to hit 750. He got 14 yards in the first half and then, trailing 31-0 in the second half, never saw the ball again. Tough break. I trust that Dolphins management will at least compensate him with a gift box of Gloria Estefan, Marc Anthony and Fergie CDs. That's worth more than money. That's worth the gift of appreciating the beautiful sound of silence.
-1 -- Jamaal Charles of the Chiefs lost a yard on his final carry of the game on Sunday. That pushed his season yards-per-carry back from 6.41 to 6.38. Jim Brown's NFL record is 6.40. So Charles' final carry of the season lost him the record. (Yes, nerds, any carry he had this season that was shorter than 7 yards also contributed to him losing the record. No one likes you, nerds.)
Pictures of the Week
• "You might not help all the bad teams, like the Bills. But thanks for helping us."
MORE GALLO PHOTO CAPTIONS!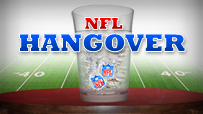 They're an important part of easing your Monday pain. These bonus NFL photos make you feel good and help you laugh at your friends.
DJ Gallo's NFL Hangover photo gallery

• "Don't worry, Coach. We won't give you any trouble today. Happy New Year!"
• "OK. Then I'll throw it to a receiver who's not completely ignoring me."
• "No, I'm just kidding. You can get up. That Icing Bros thing ended months ago."
• "No, of course I don't care what you call. Make something up. Whatever. Just don't take too long, 'cause I've got dinner reservations at 5."
• "This is exactly how I made it through the year. I tried not to watch."
• "Like my hat? I'm wearing it like a kid out here."
• "Charlie is leaving, but I want you to know that we still care for you very much. And I am getting primary custody."
• "Nawt yoou, nawt yoou and nawt yoou!"
• "Oh, come on, Kiss Cam. Well, we have to do it."
• "Wheee! Look at me! I'm Tom Brady!"
• "Look! It stuck to my hand!"
• "Pssst. In case I never see you again, you should know that I have no idea what I'm doing. Never have."
• "Ha! You can't jump, fatty!"
• "No. Stop. I want you, too. Just not now. Not here. Tony might see us."
• "Last in the division. This division. My God, I'm so ashamed."
• "But, Coach! Mom says I should share! That's why I give the ball to the other team."
• "Why doesn't Coach look at me like he looks at Rex?"
• "See ya! I'm going to Minnesota!"
• "See ya! I'm going to San Francisco!"
• Gallo's Week 17 bonus photos!

DJ Gallo is the founder of SportsPickle.com. His first book, "The View from the Upper Deck," is available from only the finest bargain-book retailers. His next book project will be released soon. You can follow him on Twitter at @DJGalloESPN.