Commentary
Jim Tressel teaches us to win
Originally Published:
March 10, 2011
By
DJ Gallo
| Page 2
Jim Tressel's performance at Tuesday's news conference was truly inspiring. He made it through the entire thing without really saying anything. That's not easy to do.
So I headed to my local bookstore to see whether I could learn more from the Buckeyes' leader. I purchased a copy of his "Winners Manual: For The Game Of Life." Tressel also has written "Life Promises for Success: Promises from God on Achieving Your Best." I'll probably hold off on reading that one until I want to learn from the next Ohio State scandal.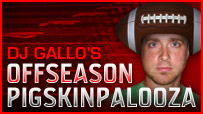 But here is what I learned from Tressel's "Winners Manual: For The Game Of Life." I hope it helps you as much as it helped me.
Page 5 -- For the five-game suspensions Ohio State players received for selling memorabilia and receiving improper benefits.
Success is found in "peace of mind." That was a revolutionary thought to me. I don't have to look to others to tell me whether I've made it. They can't tell me anything about my success, because they have no idea if I have peace of mind.
And here is Tressel at his Tuesday news conference: "I think that your No. 1 critic is yourself. You spend time thinking about how you can do things better. I don't think less of myself at this moment."
Nailed it!
Everyone is ripping Tressel right now. At least everyone outside Columbus. And rightfully so. But he has no need for all that noise from other people, because he already has the peace of mind of knowing that he's awesome.
Page 9 -- For the more than nine months until Tressel mentioned to a compliance officer that he had been tipped off about his players ... even though he initially told the tipster "I will get on it ASAP."
I know that sportswriters want something earthshaking to write about -- to describe that moment with our team when we're together and the emotions are high. ... But the truth is, there was a lot that went into those moments of celebration or grief, a lot happened long before those "locker-room moments."
Oh, yes. We can imagine. A lot surely happened that no one really knows about. If Tressel ever did a public reading of his book, I imagine during this passage he would wink to the crowd.
Page 31 -- For the 31 points Ohio State scored in the Sugar Bowl against Arkansas, thanks to three touchdowns by Terrelle Pryor, Dan Herron and DeVier Posey, who were allowed to start their suspensions next season.
If a player says, "I dream about playing in the NFL," I'll say, "Okay, great. That's a wonderful dream. If that's your goal, do you know what it takes to get into the NFL?" That's when the real discussion begins. "Here's how fast players at your position run in the NFL. Here's what they weigh. Here's what they can bench." So we take the dream, turn it into a goal, and show our players how to move toward that goal in a constructive way.
This is very good advice. A lot of people have grand goals but don't realize the benchmarks you have to meet along the way to achieving them. For example, say your goal is to finally beat an SEC team in a bowl game. You have to do a lot more than just state your goal. You have to ... well, you know. It can be ugly. But if you're willing to do all the nasty stuff that lets you achieve your goal, you'll know that you set a goal that's truly meaningful to you. Because you let nothing -- rules, ethics, respect -- stand in your way of achieving it. Good job!
Page 100 -- For $100 bills. Former Ohio State running back Maurice Clarett, who starred for Tressel's 2002 national title team, says that Tressel, coaching staff members and boosters routinely gave him cash and loaner cars and hooked him up with no-show jobs and courses he could easily pass to stay eligible. He also said he likely would have been ineligible for the 2002 season had an adviser not hooked him up with independent-study classes and professors who would pass him.
At Ohio State, the expectations for our football team are extremely high. Anyone who chooses to coach or play for the Buckeyes must understand that clearly. Excellence week in and week out, year in and year out -- that is what we seek. And the hallmark of excellence, the test of greatness, is consistency.
"Consistency." It's confusing how anyone is shocked about the happenings at Ohio State. Because the program is all about consistency. Doing it the same way year in and year out. You don't change your formula for excellence. For greatness. That is for losers.
Page 135 -- For the 135 wins Tressel had at Youngstown State, including four I-AA national championships, before taking the Ohio State job in 2000. After he left, Youngstown State faced penalties because quarterback Ray Isaac received improper benefits.
... the sportswriters and interviewers focus simply on whether you won or lost. You're either a good guy or a bad guy. To me, that's what persistence is about. Persistence takes the focus away from the performance and puts it on the process. Okay, that play, that business plan, that decision you made didn't work. ... But in those situations, you are not the failure. The bad things that happened didn't make you a failure. Those were simply events, not reflections of you as person.
There you go. Don't dare claim Jim Tressel is the bad guy. Because he is very persistent. Or something.
Page 4,000,000 -- For Tressel's approximate annual salary of $4 million. ("The Winners Manual For The Game Of Life" has only 268 pages. So I'll quote from the last page.)
May you truly be a winner at the game of life.
It's a trite sentence that could be found in any of the approximately 4,000,000 self-help/life advice books written by similarly disgraced college coaches.
Rick Pitino has three such books. John Calipari has two. Pete Carroll has one. Jim Harrick has one. Jim Calhoun has one.
Everyone makes mistakes in life. But it seems that only well-known college coaches try to make a buck off telling you how to live while they continue to do what they want.
The NCAA obviously needs to step up its enforcement. And maybe the trigger to set off an investigation should be a coach getting a publishing contract.
DJ Gallo is the founder of SportsPickle.com. His first book, "The View from the Upper Deck," is available from only the finest bargain-book retailers. His next book project will be released soon. You can follow him on Twitter at @DJGalloESPN.