There are more than 4,000 colleges and universities in the United States. Only 120 of those play Division I-A football. Only a handful of those have a legitimate shot at winning a national championship.
So chances are you are not a fan of one of the best teams in college football. You probably even strongly dislike all the best teams in college football. In that spirit of hatred, let's make sure our negative energy is directed in the right direction.
As a new season begins, there are new reasons to ridicule the teams that are better than our favorite teams. And past reasons are no longer fresh and exciting. Join me now as we freshen our pitcher of haterade for the 2008 preseason Top 10.
10. Texas
Old: Chris Jessee. You remember Chris Jessee. He is the low-level Texas staffer -- and Mack Brown's stepson -- who touched a ball in play (he says he didn't) along the sideline during last year's Holiday Bowl. For this season, the NCAA has enacted a rule that allows officials to assess a five-yard penalty without warning to any team which crowds the sideline. That should prevent another Jessie incident from occurring. A better way to prevent another Jessie incident from occurring? Treat him like the red-headed stepchild he is.
New: Will Muschamp. To say Texas' new defensive coordinator is intense would be an understatement. So I won't say he is intense. I will say, however, that he will never go the Nick Saban route and compare football to a war. Because in Will Muschamp's world, there has yet to be a war fought with the intensity in which football should be played.
Also receiving votes: Jessee no longer works for the Longhorns. But at some point, he will surely come watch his stepfather's team on the sideline … and Will Muschamp will be waiting for him.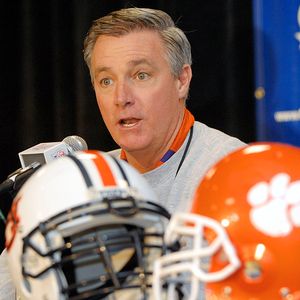 AP Photo/Gregory Smith
What do you mean we're missing a paw pad?
How many does Alabama have?
9. Clemson
Old:
Head coach Tommy Bowden is incompetent.
New:
Defensive coordinator Vic Koenning is incompetent. Or at least the worst recruiter ever. He says now that he was joking earlier this week when
he implied to a roomful of reporters
that Alabama recruits get Escalades. Vic, you dummy. How would such an implication hurt Alabama? You should be implying to recruits that they'll get Escalades if they sign with Clemson.
Also receiving votes:
The Tigers' logo
. Why do you choose to forget the carpal pad, the fifth small pad located on the paw above the large metacarpal pad? It's quite helpful in providing additional traction, you know. Perhaps the additional traction you need to beat a ranked opponent from time to time. Just sayin'. 8. West Virginia
Old:
West Virginia fans burn old couches. Let's put that one to rest, folks. (But not to rest on a couch, lest that couch be set on fire by West Virginia fans.) The burning-couches thing is a stereotype, except for the fact that it's not a stereotype, what with
Morgantown leading the nation in illegal street fires
. But still -- there has to be something else to talk about.
New:
West Virginia fans burn new leather sectionals. They got Rich Rodriguez to cough up $4 million! Time to buy some nicer couches to set on fire!
Also receiving votes:
PatWhitePlaysHere.com. It's the West Virginia quarterback's Heisman campaign Web site. It's a fine site. But it could have been better. For instance, why not the URL GoodMobileAndWhite.com? That would surely convince some voters to consider him. It worked for Tim Tebow. 7. LSU
Old:
Ryan Perrilloux. Can't go after him anymore, LSU haters. He's off the team and gone to Jacksonville State. All that remains is the waning aroma of incense.
New:
Andrew Hatch and Jarrett Lee. These are Perilloux's replacements. Lee is a redshirt freshman. Hatch, the presumptive starter, is a transfer from Harvard's JV team. (Seriously.) And he's about to take over the reins of the reigning national champions. I love a good riches-to-different-kind-of-riches story.
Also receiving votes:
Snoop Dogg and Les Miles.
Apparently the two are tizight
. No doubt Snoop came by to see if Miles kept Perrilloux's stash. 6. Missouri
Old:
Not realizing Missouri had a football program.
New:
Chase Daniel's
generous proportions
. I hate to tell this to you, Missouri fans, but I have seen Chase Daniel's future. And it is
that which you fear most
.
Also receiving votes:
Names. Chase Daniel's backup is also named Chase. Missouri's starting tight end is named Chase, too. A starting defensive end is named Stryker. Their long snappers are named Brock and Beau. Is this a football team or the cast of CBS Daytime?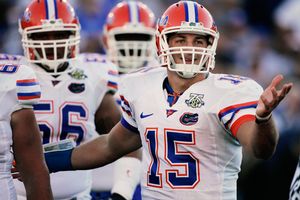 AP Photo/Ed Reinke
It's safe to say that Tim Tebow spent his summer
in a different fashion than the rest of us.
5. Florida
Old:
Relating all Florida fans, players, coaches, and administrators to the "Don't tase me, bro!" UF student.
New:
Tim Tebow as mohel. The Heisman winner spent part of his offseason
cutting the foreskin off of boys
in the Philippines. "Don't 'cise me, bro!"
Also receiving votes:
Tim Tebow as kingmaker. Unlike Chuck Norris, Tim Tebow
chooses not to sway
the presidential election. And here are some facts for you: When
Chuck Norris endorses a candidate
, the candidate loses. When Tim Tebow endorses a candidate, America will have its first unanimously elected president. 4. Oklahoma
Old:
The generosity of Norman, Okla., auto dealers.
New:
The generosity of Oklahoma's defense. Boise State scored 43 on the Sooners in the 2007 Fiesta Bowl. Then West Virginia put up 48 in the 2008 Fiesta Bowl. Bob Stoops needs to get his old defensive coordinator, brother Mike, back from Arizona. In four years at the helm in Tucson, Mike's Wildcats have yet to give up a single point in a bowl game.
Also receiving votes:
DeMarcus Granger. The junior defensive tackle was arrested before last year's Fiesta Bowl in Tempe for shoplifiting a $60 jacket from a Burlington Coat Factory. Why could the young man not afford a relatively inexpensive coat? Are Norman car dealerships not hiring? Oh. Right. Vicious circle, that. 3. USC
Old:
Reggie Bush's old house. Reggie Bush's current failure.
New:
USC's dirty undercarriage. It seems USC's football team has been
beset with jock itch
. WebMD says jock itch can stem from uncleanliness and moisture down below. Best stay away from Matt Leinart's hot tub for the time being, boys!
Also receiving votes:
Shirtless chanting
. Maybe they should chant together pantsless, too, in order to air out their … umm, issues. 2. Ohio State
Old:
Bashing Ohio State's title game performances.
New:
Bashing Ohio State's fans. It seems the new thing to do is attack Ohio State fans and the state of Ohio itself. The litany is predictable: Ohio is boring. It's backward. It's flat. It is rife with voting irregularities. There is a disproportionate amount of vowels to consonants in the name. Well, I've driven through Ohio a few times and I'll say in its defense that it seemed no worse than any other state I've driven through in the dead of night. Even Bengals quarterback Carson Palmer took shots at the Ohio State fanbase earlier this summer on KLAC radio in Los Angeles: "I cannot stand the Buckeyes," he said. "It's amazing to hear what those guys think about that university and what they think about that football program and Tressel and all the crap I gotta put up with being back [in Ohio]." And he went on from there. Clearly Palmer put his foot in his mouth. But I doubt he cares.
The man has no gag reflex
.
Also receiving votes:
James Laurinaitis
playing dress-up in his daddy's work clothes
. 1. Georgia
Old:
Georgia as poor sports
.
New:
Georgia as poor criminals. Six Georgia players have been suspended or dismissed from the team in the offseason. "The reputation of this team has been damaged, no question," said head coach Mark Richt. "I don't think it's beyond repair, and I don't think the reputation has been ruined, but certainly it has taken some hits." Really, coach? Really? How many more Ugas must die of broken hearts?
Also receiving votes:
Knowshon Moreno as a poor Heisman candidate. Moreno is 1/12th of the man (men? people?) Herschel Walker was!
DJ Gallo is the founder and sole writer of the sports satire site SportsPickle.com. He also is a regular contributor to ESPN The Magazine and has written for The Onion and Cracked. His first book, "SportsPickle Presents: The View from the Upper Deck," is on sale now.