I was talking to my 10-year-old son the other night when I told him his cousin, also 10, wanted to hang out together over spring break.
The truth is the boy's grandmother and I were talking and thought it would be a great idea to get the boys together and visit Washington, D.C. My son knew that was the case because he and his cousin had been fighting for weeks and basically were not on speaking terms. I didn't know this, because as a father who lives in another state, I only get the headlines.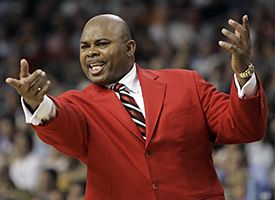 AP Photo/David J. Phillip
How much are fathers like Sidney Lowe, who have heavy demands on their time, missing at home?
On the one hand, it seems like an insignificant detail -- being unaware my son and his cousin were not getting along -- but it's a microcosm of a much larger concern I have.
You see, adults just don't spontaneously excel in school or become lifelong criminals. It's a series of small steps as a child that leads you down a particular path. As a man who spent a good chunk of his youth walking down the wrong path, I know firsthand the effects of not having someone there to guide those early small steps.
The recent allegations surrounding NC State basketball coach Sidney Lowe's 21-year-old son and the struggles of the 23- and 21-year-old sons of Philadelphia Eagles coach Andy Reid helps drive that point home for me. I do not consider myself a bad man, and Reid and Lowe are not bad men either. But we are driven men whose careers require a large amount of time and travel in order to be successful.
The Chicago Bulls drafted Lowe in 1983, and he played four NBA seasons for five different teams before embarking on a coaching career that took him to Minnesota, Cleveland, back to Minnesota, Vancouver, Memphis, Minnesota again, Detroit and now North Carolina.
Reid was a college assistant coach for four teams in nine years before joining the Green Bay Packers in 1992 and then the Eagles in 1999.
The careers of Lowe and Reid, though successful, have inevitably required both men to miss out on a lot of nuances during their young boys' development. For example, my ex-wife and I missed out on our son's first step because we were both in grad school at the time. So the baby sitter saw it and yeah, that sucked. The more you're not there, the more you miss. Honestly, I'm surprised by the relatively low number of missteps the children of coaches, players and even refs take considering the large amount of small steps that are traded away for their careers.
Perhaps instead of manifesting itself in criminal behavior there is just a poor relationship between parent and child, like with Rick Barry and his sons. When I see Patrick Ewing in the stands celebrating the play of his son at Georgetown, I can't help but wonder if he regrets playing and coaching for so long, missing out on so many similar moments. George Karl's 23-year-old son, Coby, talks about how he volunteered to be a ball boy growing up just so he could spend a little more time with his father. If Tony Dungy, whose 18-year-old son James committed suicide in 2005, could to do it all over again, would he?
"To spend more time with my family" is a line we hear often from coaches and sometimes players who are forced to resign or enter "retirement." Then after a couple of months, they're back at it. The retirements of Michael Jordan became a running joke, and even when Steelers coach Bill Cowher and Broncos quarterback Jake Plummer said they were walking away, their announcements were met with great cynicism.
"They can't stay away from the game" is our response. Sadly, it's never, "They really miss their children."
In sports, particularly on the pro level, we celebrate the dedication and sacrifices made by men and women to reach the highest level. But as my own son approaches junior high, I am beginning to understand that not everyone is celebrating. It's a tremendous trade-off, and sometimes the results can be disastrous, like what happened with Reid and perhaps with Lowe. That's not to say if the two coaches lived the 9-to-5 life that their sons would not have stumbled down a less-than-desirable path.
But you just never know. And therein lies the rub.
So, spring break with my kid. He's going to D.C. with his cousin. He might be fighting with him, but he's also only 10 and he doesn't get to dictate what happens to him. I do. For a little while longer anyway. Which is why I have also decided to move back to Michigan to be with him. I am blessed to have a job where I can do that, and I intend to take advantage of it.
No, I need to take advantage of it.
The arrest of Sidney Lowe's son is an uncomfortable reminder that even the smallest of steps will eventually lead you somewhere.
LZ Granderson is a senior writer for ESPN The Magazine and host of the ESPN360 talk show "Game Night." LZ can be reached at l_granderson@yahoo.com.