LZ Granderson at the World Stunt Awards
Chris Daniels was a three-sport athlete at Estero High School near Fort Myers, Fla. He was an all-state strong safety and wide receiver, and also lettered in track and wrestling.
Daniels was hoping to become a professional athlete.
He ended up being Spider-Man instead.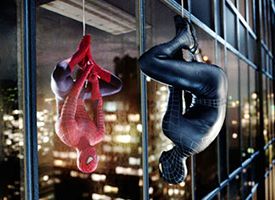 Columbia Pictures
Is that Tobey Maguire, or Chris Daniels?
"Growing up I was a huge fan of the comics," says Daniels, who has been Tobey Maguire's stunt double for all three Spidey flicks. "So when they told me they were looking for a stunt man to play Spider-Man I was really excited. I went back home and looked at all of the old comic books and practiced all of the poses, standing on the table and stuff like that.
"I can't believe I'm Spider-Man."
True, Maguire gets to kiss the hot chicks and cry on Aunt May's shoulder. But it's Daniels who flies in the air, swings on the web and kicks everyone's ass.
"There is no way I could play Spider-Man without all of my experiences playing football, doing gymnastics, all of that stuff," Daniels says. "No way.
"We may not be on the field or on the court, but most professional stunt men are every bit of an athlete as the professionals. The only difference is we get paid not to get noticed."
That is, unless they're walking down the red carpet of the 2007 Taurus World Stunt Awards. The ceremony, held at Paramount Studios in Los Angeles this past weekend, will air Friday on AMC (American Movie Classics). The event recognizes the year's top stunt work in film, including awards for best fight, hardest hit and work with a vehicle. Among my favorite moments: Seeing Burt Reynolds, who played halfback at Florida State, win a lifetime achievement award for performing many of his own stunts -- and a fashion show where bikini-clad models walk the catwalk on fire.
The ceremony really opened my eyes to just how many college and pro-level athletes there are in Hollywood. I also was blown away by the number of stunts that are actually real. People like to debate which sport has the best athletes -- but when you consider the crane-hopping scene in "Casino Royale" was not done in a studio, you begin to wonder whether the best athletes are in sports at all?
Daniels, who has also appeared in "Jarhead," "Charlie's Angels: Full Throttle" and the latest installment of "Die Hard," won in 2005 for Best Overall Stunt by a Stunt Man for "Spider-Man 2." Remember that scene when Peter Parker falls from the top of a building, gets tangled in clothing lines, hits the side of another building and lands on the roof of a car?
That wasn't CGI.
"Yeah, that was probably the scariest stunt I've ever done," he says with a nervous laugh. "I basically fall 180 feet. All you can hope is that the computer system that stops you from hitting the ground at full speed does its job."
So what's harder, going across the middle or jumping off the top of a skyscraper without a parachute?
"I played football and I know if you're lucky, you can go a whole season without getting hurt," Daniels says. "If you're a good stunt man, and you're getting work, you're going to get hurt. That's just the nature of the job."
Tony Angelotti was painfully reminded of the risks while shooting "Pirates of the Caribbean 2." Angelotti, Johnny Depp's double and a former University of Michigan gymnast, nearly died from internal bleeding after a mechanical failure sent him into a free fall of more than 30 feet during the cannibal scene. A little more than a year later he was back at work shooting "Pirates 3."
Let's see Tom Brady do that.
"When people ask me what I do for a living, I tell them I'm a professional athlete," says Angelotti, recipient of this year's Taurus Foundation Award. "There is some acting involved, but really I am being paid to use my body to perform at a high level, like any other athlete."
I happened to run into an old college buddy, Dan Lemieux, at the ceremony. I haven't seen Dan in nearly 15 years, but I recognized him from the way that he sits. I know, it's weird, but no one sits like this guy. Believe me.
"I play hockey every week with a bunch of stunt guys," says Dan, who also played in college. "It's just another way to stay in shape. As soon as you start to lose your physical edge, the work stops coming.
"Besides the check, there's not much that separates pro players and stunt men."
Matt Leonard, a former nose tackle for the Jacksonville Jaguars, agrees.
"I'm not as big as I was when I was in the NFL, but I'm just as fit," he says. "To be able to perform some of the stunts you see in action movies or even commercials, you have to be at least a near pro-level athlete or you're not going to get a lot of work."
Leonard was in the NFL for two years before joining his father, legendary stuntman and former CFL player Terry Leonard, and his brother, Malosi, a wideout at the University of Arizona, in the family business. Matt says playing pro football is harder than being a professional stunt person, because of the added pressure players constantly are under for fear of being cut.
"Guys were being let go every week and I wasn't drafted so I really felt the strain," he says. "When you're a stunt man, at least you have a contract that means something."
Dwayne (The Rock) Johnson, who is the host of the show, says "stunt men are the crazy athletes."
"I played football with Ray Lewis at the University of Miami and he is the baddest man I know. But let me tell you, if someone asked Ray to flip off this balcony and fall to the ground he'd be looking for a double."
Or a stretcher.
LZ Granderson is a senior writer for ESPN The Magazine and host of the ESPN360 talk show "Game Night." You can reach him here.