LZ's Cafe' : U.S. Olympic Shooting Team
Glenn Eller is a lanky, baby-faced 20-something from Katy, Texas, a cushy suburb outside of Houston.
He is friendly, quick to laugh and has an odd affinity for Oreos topped with Cheez Whiz.
He's single.
He's looking.
And when he leaves Beijing after competing in the Olympics, he's going back to Georgia and his day job: teaching other baby-faced 20-somethings how to shoot and, if necessary, kill people.
Walton "Glenn" Eller III -- that is, Army Spc. Eller -- is a marksman trainer in Fort Benning, Ga. And he's one of six members of the U.S. Army Marksmanship Unit (USAMU) that is competing in shooting in the Olympics.
It's not among the sexiest events to watch, so you probably won't catch him on the tube. But just because shooting doesn't make for good TV doesn't mean it's lacking in drama.
Not when you consider that our nation is at war.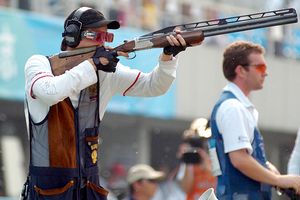 Imaginechina/AP Images
Eller is one of 14 members of the U.S. military slated to compete in Beijing.
And members of our military are competing against military personnel from countries we have strained relationships with.
And we're competing in a country with the kind of human rights record that forced the Olympic torch to be hidden from protesters.
So while the latest incarnation of the Dream Team has garnered the most attention, the 14 Olympic athletes in the U.S. military -- six of whom are in the USAMU -- likely feel the most tension.
Then there's this uncomfortable truth: During times of war, a lot of people die. It's up to military trainers, like Eller and fellow Olympians Maj. Michael Anti and Staff Sgt. Libby Callahan, to help make sure the American casualty numbers stay low.
Not to take anything away from Michael Phelps -- whose surgeon-like focus has received a lot of ink recently -- but the word "focus" takes on a whole new meaning when you're not only representing your country but also juggling life and death to protect that country.
But, fortunately, these athletes don't blink.
When I talked with these officers recently near their practice range, I asked them if "that sound" ever bothers them. They looked at me with blank faces. Then, after a few beats, Callahan finally asked, "What sound?"
"Um, the gunfire?"
"Oh, that."
Oh, that?
"When soldiers join the army, we swear an oath to God and our country that we will support and defend the constitution of the United States," said Anti, an Olympic silver medalist in 2004. "Our primary mission, and one we take very seriously, is to enhance or increase marksmanship skill throughout the military. With this increased skill and confidence, soldiers are better able to protect themselves, their buddies and accomplish their mission."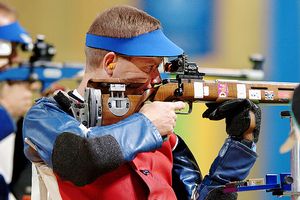 Roberto Schmidt/AFP/Getty Images
Here's Michael Anti at the 2004 Games, where he won a silver medal.
But doesn't your heart get a little heavy thinking about what's involved in accomplishing the mission?
"I do not think it is healthy to think about what might happen," he said. "If you go through life thinking about death, then you are probably not living life to the fullest."
Or, as Eller put it bluntly: "Our job saves American lives."
Callahan, who at 56 is the oldest known woman to compete in an Olympics, said one of the great things about the Olympics is that it helps soldiers from all over the world forget politics and war, if only for a moment. She knows this firsthand from an encounter she had with an Iraqi soldier at the 1992 Summer Games.
While working out on the track, the Iraqi soldier approached her. Callahan (who is competing in her fourth Games) was wary of having a conversation, but she says he was friendly and the talk ended up being pleasant and informative. This, with oil fields still smoldering back in his home country after the Gulf War.
For all the things that are wrong with the Olympics -- and, believe me, I have my issues with these Games in particular -- the foundation remains true for so many competitors.
Think about it.
There are regions of the world that have been warring for so long, peace is an unnatural state. And yet those who risk the most can set aside their differences in the name of these Games. I guess when you train so hard for so long, only those who have made similar sacrifices can fully comprehend the joy, the relief, the commitment and respect that comes with being part of the Olympic fraternity. And so, for about two weeks, all that will matter for many of the other soldiers/athletes in Beijing is the tie that binds them.
Afterward, Eller and company will go back to work. All of their counterparts from around the world will do the same. And if any of their paths shall cross again, we can only hope the circumstances are pleasant.
LZ Granderson is a senior writer for ESPN The Magazine and a regular contributor to Page 2. He can be reached at l_granderson@yahoo.com.