Commentary
Going for the gold, whatever it takes
We all know it's hard out here for a pimp.
But apparently it's not as hard as being an Olympian from New Zealand.
[+] Enlarge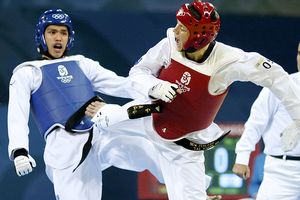 AP Photo/Matt DunhamLogan Campbell, in red, desperately wants to win a medal in London in 2012.
Just ask Logan Campbell, taekwondo athlete, who recently opened a brothel -- perfectly legal where he is from -- to help raise the $300,000 he needs to compete in London in 2012.
According to reports, the 23-year-old's father, Max, an auctioneer, had to work two jobs to help pay the $150,000 needed to get Campbell to Beijing last year, where he lost to the eventual bronze medalist. Feeling the need to increase his training in order to compete for a medal, Campbell decided to open the business. That way, he wouldn't have to burden his parents any further.
Each one of us faces choices of morality every day of our lives, and those choices are guided by our own individual sense of spirituality, parent/guardian direction and lawfulness. If Campbell doesn't have a problem with running a brothel, and the women don't have a problem with being prostitutes, and the law of the land says there is no violation, then I don't understand why John Schofield, the country's taekwondo funding manager, would say "Selection takes into account not just performance but also the athlete's ability to serve as an example to the youth of the country."
Are you kidding me?
An official from a country with legalized prostitution, sending underfunded athletes to compete in an event (the Olympics) that has been tainted by organized crime, steroids and dishonest governments, is suggesting that Campbell is somehow the bad example for kids?
I loved Campbell's go-get-'em attitude so much, I printed out the story and laid it on my 12-year-old son's bed with a note saying, "Next time I tell you to water the grass, remember this." (Now here's an example of a son doing what he can to make it easier for his father.)
Of course, my son came to me later holding the sheet of paper, asking, "Dad, what's a brothel?"
"Remember those women we saw in Vegas? A brothel is where they work."
"Oh … gross, Dad."
Perhaps.
Listen, I'm not advocating for prostitution, but I do take every opportunity I can to have healthy conversations about sex with my son, who's now developing a deeper voice and peach fuzz above his lips. Avoiding the topic doesn't make it go away. And you would think in a place where prostitution is a legal career option, they would know that. I actually find it more disturbing that a world-class athlete representing his country is in that position in the first place.
If Campbell doesn't make the Olympic team, I hope it's because he's been lax in his training, not because a bunch of stuffy Kiwis are trying to save face on the international stage. After all, talk of sex at the Olympics is far from taboo.
There is an old story from Seoul, back in 1988, that there were so many used condoms on the roof terrace of the British team's residential block the night after the swimming competition concluded that the British Olympic Association sent out an edict banning outdoor sex. Last year as many as 400,000 free condoms were distributed throughout the 100 or so Olympic hotels.
And besides, maybe Campbell's notoriety is just the PR push New Zealand needs to bolster its tourism industry?
LZ Granderson is a senior writer for ESPN The Magazine and a regular contributor to Page 2. He can be reached at l_granderson@yahoo.com.
Senior Writer, ESPN The Magazine
Edited NBA and tennis for ESPN The Magazine
Columnist at The Atlanta Journal Constitution
Fellow at Hechinger Institute, Columbia University
MOST SENT STORIES ON ESPN.COM