Commentary
A new beginning for Jamal Crawford
ATLANTA -- Jamal Crawford's summer started the same way every other summer has since he was drafted in 2000 -- early. In nine seasons, he has never made it to the playoffs. He has never even been on a winning team.
So when his agent called to tell him he had been traded from the Golden State Warriors to the Atlanta Hawks, he got excited, but much of the basketball world just went back to sleep. In an offseason in which Shaq hooked up with LeBron, Artest joined Kobe and Vince linked with Dwight Howard, it's easy to see why "Crawford to the Hawks" was ignored.
Barring injury, though, that won't be the case come spring.
[+] Enlarge
Scott Cunningham/NBAE/Getty ImagesWill Jamal Crawford's combination of passing and shooting skills take the Hawks to the next level?
Just as the Magic slowly turned doubters into believers last season, it's the Hawks' turn this season. Not that they'll make the Finals, but they will win enough games over quality opponents to have people wondering whether they could. And Crawford -- the only player in NBA history to score 50 points more than twice and not be an All-Star -- will be the reason.
"My main goal is just trying to fit in," Crawford said. "When you have a team as talented as this one, it's intimidating because you don't want to mess anything up. You just want to help. And I know I can help this team win. And I know they can help me be a better player, too."
Yeah, yeah, enough with the humility. Here's the deal: When it comes to ball, you have guys who pass and guys who can pass. Crawford is the latter, and outside of Joe Johnson, folks in Atlanta haven't seen a player like that since Kenny Anderson was at Georgia Tech. The Hawks won 47 games last season with streaky jump shooting. Add improved ball movement and increased interior scoring, and they have to be good for five to 10 more wins, no?
"I'm from the same area [Seattle] he's from, so we've gotten to play a lot together," Hawks forward Marvin Williams said. "We have a special chemistry on the court, but Jamal's the kind of player that can play with anybody."
Crawford's title of "greatest player never to make the playoffs" is well-earned in the eyes of many around the league.
"Anybody who is paying attention knows Crawford is one of the best combo guards in the league," one Eastern Conference scout said. "The fact that he hasn't played for a winner has nothing to do with him. Chicago was rebuilding; the Knicks were the Knicks …
"The guy can get a good shot off on anybody and can just take over a game with his scoring. But he's not nearly as selfish as he used to be. He understands how to get the guys around him involved, and when you play above the rim like the Hawks, that can be scary."
ESPN THE MAGAZINE NBA PREVIEW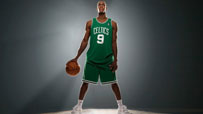 • Chemistry test: Rondo, Celtics


• ESPN The Mag's expert picks


• Eastern Conference preview


• Western Conference preview

A scout out West said, "Crawford will be like a black Ginobili. … He may not start, but you can be damn sure he's gonna finish."
If you only look at the W-L columns, it sounds as if the scouts are on Crawford's payroll. You might even think dude is slipping me a couple of bills, too. But the truth is I've had the chance to see him in action a lot over the years, particularly when he was a Knick. No doubt his shot selection has been sketchy at times -- especially early in his career -- but the one thing that always stuck out was his ability to get the ball to players in spots where they could be successful.
He simply KHP -- knows his personnel. Sounds easy, but it's not.
Take Eddy Curry, for instance. Early in the 2006-07 season, Curry was on a tear, shooting nearly 60 percent from the field, averaging more than 20 points per game and even hearing faint whispers about an All-Star Game appearance. Then, in February, the wheels fell off. Crawford went out for the season with an ankle injury, and all Curry's numbers dropped except one: turnovers. Curry was still getting touches, but no one else knew how to get him the ball in spots where he could be successful. Granted, Curry has always had hands of stone, but in April of that season he was up to nearly five turnovers a game.
Needless to say, Crawford, who averages more than four assists per game for his career, was missed.
"Our bigs love him," Hawks coach Mike Woodson said. "I knew he could score, but he can also run a team. On pick-and-rolls, he's dropping the ball off for easy buckets for our bigs, where in the past they might not have gotten the ball.
"He's still learning what we like to do defensively, but no question, his impact on the team is felt."
Crawford's impact in Atlanta goes beyond the team. His 11-year-old son, Eric, spends the summers with him in his Seattle-area home but lives in Atlanta during the school year.
"This is the first time we've ever lived in the same city," Crawford said. "When I told him I was traded here, we both were so excited because we knew we could see each other more. So it's all good."
After 10 years, it finally seems to be shaping up that way.
LZ Granderson is a senior writer for ESPN The Magazine and a regular contributor to Page 2. He can be reached at lzgranderson@yahoo.com.
Senior Writer, ESPN The Magazine
Edited NBA and tennis for ESPN The Magazine
Columnist at The Atlanta Journal Constitution
Fellow at Hechinger Institute, Columbia University