By Alan Grant
Special to Page 2
A couple of Saturdays ago, in an exhibition game between the 49ers and Raiders, a second-year receiver named Arnaz Battle retreated to his own 39-yard line and fielded a punt. He ran through three defenders, accelerated up field and found himself in the end zone.
He also found himself with an edge on the punt return job currently held by Niners cornerback Jimmy Williams.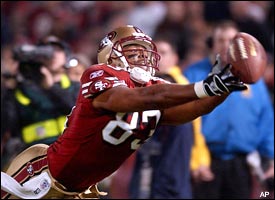 Many players like Arnaz Battle have to fight for their jobs every training camp.
After the game, Niners coach Dennis Erickson was asked if Battle had helped his cause.
"Oh yeah," Erickson replied. "You have to have the best man back there."
The best man.
That's a fleeting concept as it pertains to an NFL roster. My six NFL training camps taught me two irrefutable truths: 1) Training camp is actually one day that lasts a month; and 2) Football really is a man's game, and not just in terms of physicality or violence.
The decision-making process that comes into play when a roster is being put together might be influenced by a certain 'Flavor of the Month' quotient. It's human nature as much as anything else: Men often choose that which is new, fresh and exciting over that which is a proven commodity. That happens most notoriously when it comes to choosing women; but in this context, it happens when a team's coaching staff is choosing its players.
Battle might eventually win the 49ers' punt return job. But will that mean he's a better punt returner than Jimmy Williams is? Or will it mean that he just had a better training camp?
Let's take it farther. If Battle wins the punt return job, does that mean he'll have a better season than Jimmy Williams had in 2002, when he led the league with a 16.8-yard average? While football isn't an exact science, there is a certain formula coaches and management use in determining the final roster. That formula dictates that the best man gets the job.
Most of the time. As with any law -- scientific, social, or otherwise -- there are always amendments.
Take, for example, the Cincinnati Bengals quarterback position. A year removed from taking his team from the depths of the league (2-14 in 2002) to a respectable 8-8 record and playoff contention in 2003, Jon Kitna was somehow "beaten out" by Carson Palmer before this summer's training camp even opened. That's a case of winning being overridden by a financial obligation. Kitna's leadership, experience and 3,591 passing yards last year were no match for Palmer's $10 million signing bonus.
In Jacksonville, Mark Brunell's resume, which includes an "original franchise quarterback" label and two trips to the AFC title game, wasn't quite as sexy as Byron Leftwich's enormous potential. And in Oakland, the loot given Kerry Collins last spring will most certainly end Rich Gannon's reign of geriatric supremacy this fall. (The joke, though, is on the Raiders, because the best man for the job is actually third-team QB Marques Tuiasosopo.)
Then there are times when a roster spot is determined not by money or by status, but by unfortunate circumstance. I had a college teammate at Stanford named Walter Batson. A 170-pound, slight-yet-extremely-swift receiver, Batson (or "Walt B." as he was called) had a chance to make the Washington Redskins as an undrafted free agent. In the final exhibition game of the '92 preseason, he ran a deep post, leaving the corner in his wake. It should have been a certain touchdown, but an over-zealous quarterback overthrew his wide-open target. The ball sailed harmlessly into the end zone.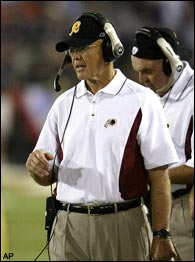 Coaches like Job Gibbs have lots of decisions to make this time of year.
During the next day's film session, 'Skins coach Joe Gibbs, who has a well-documented appreciation for diminutive receivers, watched the play and calmly narrated Batson's fate.
According to Walt B., this is what Gibbs said: "And that was your chance, too."
Batson had done everything he was supposed to do, everything they'd asked him to do. He'd shown up to meetings on time, he'd practiced hard, he'd learned the offense; and when he ran that route, he beat his man. But another man threw the ball, and yet another man made the final decision.
Walt B. was released.
Now, Gibbs probably wouldn't have told him that he had a chance unless Walt had already shown the coach something. But there was that pesky formula with which to deal. You really think ol' Walt B. needed to make that one play to prove, beyond the shadow of a doubt, that he was a bona fide NFL receiver?
Nah. The coach already knew he could play. I just think that play, had it been properly fulfilled, would have made it, you know, official. And I guess that's fair because in the end, it is the best man who gets the job.
Most of the time.