By Alan Grant
Special to Page 2
EDITOR'S NOTE: ESPN's Alan Grant, a former NFL defensive back, played for Tyrone Willingham at Stanford and is the author of "Return to Glory: Inside Tyrone Willingham's Amazing First Season at Notre Dame."
The Domers have spoken and they have declared that Gerry Faust was worth the risk. Tyrone Willingham was not.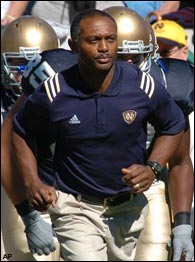 Tyrone Willingham held Notre Dame in extremely high regard -- ND didn't return the favor.
Sure, Faust was a high school coach. Yes, he brought high school assistants to a Division I-A program. Yes, he had no collegiate references and no college experience. And yes, by the end of his five-year tenure, his players were openly laughing at him when he spoke to them. But dammit, the guy just loved the Irish so much and so wantonly kissed up to the powers that be that they gleefully handed him the keys to the program. Then they sat back and watched him turn it into a joke.
In Willingham, they not only had a proven coach, but a man who understood their tradition. He respected what Notre Dame stood for -- on and off the field. Once, while he was signing a Notre Dame poster, Willingham carefully affixed his signature to the bottom of the sheet -- not near the top, where the Golden Dome, the university's most sacred totem, gleamed.
"I don't want to put my name higher than the Dome," he said.
All About the Irish
Commentary:
Willingham knew that any successful program depends to a great degree on its former players. One of his most sterling achievements might be the luring of Joe Montana back into the fold. For years after he left Notre Dame in 1978, Montana hadn't come anywhere near South Bend.
Willingham took over in the wake of some unsavory off-the-field incidents involving players, as well as the university's embarrassing courtship of George O'Leary, who was hired to coach the football team and then resigned five days later when it was learned that he had falsified his academic and athletic resume. He moved Notre Dame beyond all that, and he restored the spirit and enthusiasm of the place. While I was there in 2002, people told me as much. Players, fans, students, athletic department employees, even secretaries were rejuvenated.
But on the field, they struggled. Sure, he was building something. And sure, he made strides towards implementing the offense he had at Stanford -- the one that averaged 35 points a game. That, though, would take a little longer to achieve.
But the Board of Trustees, the boosters and the wealthy, self-important alums -- better known as the Domers -- apparently don't have that kind of time. They want it all, and they want it right now.
That doesn't bother me. It's unrealistic, but it doesn't bother me. It's what they aren't saying that bothers me.
They want to win by any means necessary. They just won't admit it.
Back in the late '80s and early '90s, Notre Dame was the dominant program in the land and the Irish were living off their sterling, holier-than-thou reputation. But the truth is that they were just like anyone else. They were just like Miami was back then, and just like Colorado is right now. One former Irish player laughs about the rivalry with Miami -- the games that spawned the infamous "Catholics vs. Convicts" T-shirts -- and says, "Who were they fooling with that? We were every bit as bad as they were."
But, see, Willingham doesn't recruit that type of player. That type of player -- the renegade who believes he can act without consequence -- just isn't Willingham's type of guy. That type supposedly isn't Notre Dame's type of guy, either. That's what they say, anyway. Notre Dame, mind you, is an institution founded upon spiritual principles.
But all signs now are indicating that just maybe the Domers wouldn't mind having some of those guys in the fold. After all, the stakes are a BCS bowl bid worth $14 million.
That's OK by me. I just want them to be honest about it. Don't insult my intelligence.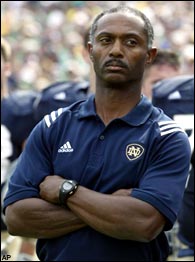 With Willingham gone, don't be surprised if Notre Dame relaxes its standards -- which would be sad.
Of course, race will be an issue. Race is always an issue -- even when unspoken. The sooner we embrace that, the better off we'll be. I've already heard people say that Willingham's color had nothing to do with the decision to fire him. Thanks in advance, all of you who will try to drive this point home over the next few days. But in the meantime, check this out: Faust and Bob Davie got their full five years before they were let go. Willingham didn't.
I was on the radio last night with a guy who noted that Willingham's body language never changed. From that glorious eight-game winning streak in 2002 to the embarrassing opening-game loss to BYU this season, he never changed. It's as if he was happy just being Tyrone Willingham. He didn't try to be Ara Parseghian or Lou Holtz or Steve Spurrier or anyone else.
Of course, this past season, he tried to give the Domers some of what they were looking for, some of the histrionics they apparently wanted. In one game, I saw him get angry on the sideline. He stormed around the bench and threw his hands up and acted like the world was crumbling. I knew that was for the Domers. They like that. They need that. They need it because that's what they would do in his position.
But it upset me as I watched it. Willingham is cool, focused and poised. Funny, those all sound like good traits for a football coach to me. I guess that's the former player in me. I never respected a coach who was quick to panic or prone to sideline hysteria. I didn't need him to act a fool. I just needed him to coach.
Maybe that's just me. But I doubt it.
So now we await the arrival of Utah coach Urban Meyer. Like O'Leary did, Meyer sports a contract that contains the famous "Notre Dame" clause, which means he can be released from his obligation at Utah only to coach the Irish. And it looks as though he will.
As for Notre Dame's pesky recruiting "standards" ... well, you can bet they'll be relaxed, starting this winter. Oh, no one will make an official statement or anything. But young players with suspect character will begin to find their way to South Bend. And Notre Dame will begin to win again.
But the wins will come at a price. How long will it be before the hypocrisy and the scandals once again rear their ugly heads and turn Notre Dame into just another corrupt program?
The Domers have spoken. Apparently, it's worth the risk.