77. 2003 Carolina 400: Ricky Craven outduels Kurt Busch by .002 seconds
In one of NASCAR's greatest endings ever, Craven and Busch pounded on each other for the 1.4-mile final lap. They spun as the crossed the finish with Craven winning the closest race in NASCAR history.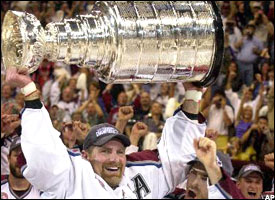 Ray Bourque hoists the Stanley Cup after Colorado's Game 7 win.
76. 2001 Stanley Cup Finals, Game 7: Avalanche 3, Devils 1
Ray Bourque finally won a Cup, Patrick Roy was the master in goal, and Colorado won the final two games to deny New Jersey a second straight Cup. Alex Tanguay was the Game 7 hero with two goals.
75. 2003: Arkansas 71, Kentucky 63 (7 OT)
There have been two seven-overtime games in Division I football and Arkansas has played in both: a 58-56 win over Mississippi and this one, which was a ho-hum 24-24 tie through regulation. The Razorbacks outscored the Wildcats 47-39 in OT.
74. 1995 World Series, Game 6: Braves 1, Indians 0
Tom Glavine allowed one hit in eight innings, David Justice provided the only run with a home run off Jim Poole, and Atlanta won its only World Series during a decade of playoff appearances.
73. 2003 Monday Night Football: Colts 38, Bucs 35 (OT)
A Monday Night Football audience witnessed one of the most amazing comebacks ever, as the Colts became the first team in NFL history to trail by 21 points in the final four minutes and win the game.
72. 1995 AFC championship: Steelers 20, Colts 16
The Steelers scored with 1:30 left to take the lead, but the Colts drove down to the Pittsburgh 29 with one play left. Jim Harbaugh's Hail Mary flew – momentarily – into the hands of Aaron Bailey. He couldn't hold on and the Steelers headed to the Super Bowl.
71. 2005 Super Bowl: Patriots 24, Eagles 21
The game was tied 14-14 entering the fourth quarter – the perfect setup for Tom Brady to pull out another dramatic Super Bowl victory.
70. 2002 Eastern Conference finals, Game 3: Celtics 94, Nets 90
Boston trailed by 21 points entering the final period, but pulled off the biggest fourth-quarter comeback in NBA playoff history as Paul Pierce scored 19 in the period. The Nets won the series anyway.
69. 2001 NBA Finals, Game 1: Sixers 107, Lakers 101 (OT)
The Lakers had won 19 in a row, including 11 straight in the postseason, when Allen Iverson scored 48 points to outduel Shaquille O'Neal's 44 points. Unfortunately for the Sixers, it was their only win of the series.
68. 2003 ALDS, Game 5: Red Sox 4, A's 3
Oakland had led the series two games to none when Boston won Game 3 in 11 innings and then Game 4, 5-4, with an eighth-inning rally. In the series finale, the A's had two men on with nobody out in the bottom of the ninth when Derek Lowe entered. After a sac bunt, he fanned one batter, walked another, and then fanned Terrence Long with the bases loaded.
67. 2003 Western Conference semis, Game 1: Ducks 4, Stars 3 (5 OT)
A hockey game is supposed to last three periods. This one was 48 seconds into the eighth period when Petr Sykora finally ended it.
66. 2001 GMAC Bowl: Marshall 64, East Carolina 61 (2 OT)
OK, the teams weren't big names, but the game was a true classic. East Carolina led 38-8 at halftime, but Byron Leftwich, who finished with 576 passing yards, rallied Marshall to tie the game at 51 with seven seconds left. Marshall missed the extra point to win it; no problem, the Thundering Herd completed their comeback in overtime.