Please, stop the guarantees
Guarantees used to be cool.
You know, like nearly 39 years ago when Joe Namath guaranteed the 18-point underdog Jets would defeat the Colts in Super Bowl III.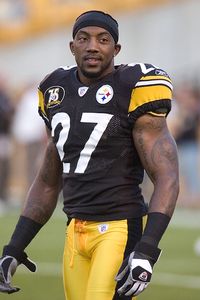 Michael Fabus/Getty Images
Well, this much is guaranteed: People now know Anthony Smith.
Heck, that guarantee got Namath into the Hall of Fame.
But now we have Steelers safety Anthony Smith guaranteeing a victory over the Patriots. "We're going to win," Smith said. "Yeah, I can guarantee a win."
The trouble with this guarantee? Smith then goes on to couch it quite a bit. "As long as we come out and do what we got to do," he said. "Both sides of the ball are rolling, and if our special teams come through for us, we've got a good chance to win."
The other problem? As Patriots safety Rodney Harrison said, "Never heard of him."
No, this prediction can go down on our list of worst guarantees ever -- further proof that it's time to stop this absurdity.
15. Ray Buchanan guarantees Falcons will beat the Broncos in Super Bowl XXXIII.
Unfortunately, he forgot to get Eugene Robinson on board.
14. "We want the ball, and we're gonna score." -- Seahawks quarterback Matt Hasselbeck after winning the overtime coin flip in a 2004 playoff game at Green Bay.
Hasselbeck then threw an interception to Al Harris, who returned it for the winning touchdown. And for one bright, shining moment Elisabeth wasn't the most embarrassing member of the family.
13. Wyoming coach Joe Glenn guarantees win over Utah earlier this season.
This guarantee might not match the global significance of other items on this list, but when you guarantee victory and then lose 50-0, people tend to notice. At least Glenn went out with his head held high, flipping the bird toward the Utah bench. Two weeks later, he did what any great field general would have done when faced with the same situation -- he fired his offensive coordinator.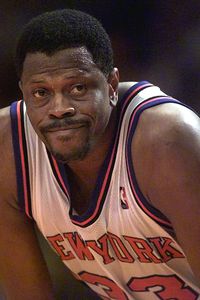 AP Photo/Beth A. Keiser
"It wasn't supposed to go down like this … oh well, let's hit the Gold Club, fellas."
12. Patrick Ewing guarantees a win in Game 6 of the 2000 Eastern Conference playoffs. The Pacers win 93-80, Ewing misses his final six shots, and he never again plays for the Knicks.
And then proceeds to guarantee that Isiah Thomas would one day be hired as Knicks president, trade for the overrated and overpaid Stephon Marbury and Steve Francis, run up the highest payroll in the league, hire Larry Brown as coach, sign Jerome James to a ridiculous $30 million contract, fire Brown after one year, install himself as coach, see his team involved in a huge brawl with the Nuggets, get fined for saying officials don't respect Marbury, become entangled in a sexual harassment lawsuit, see the Knicks' parent company ordered to pay a $11.6 million settlement, lose a game by 45 points, get booed during starting lineup introductions … and keep his job.
11. "You will be home before the leaves fall." -- Kaiser Wilhelm II to German troops, 1914.
Of course, everyone knows that like the Tampa Bay Bucs, the Germans don't play well on the road in cold weather.
10. "There are not enough Indians in the world to defeat the Seventh Cavalry." -- George Armstrong Custer.
Oddly enough, George Steinbrenner said the same thing before this year's playoffs.
9. "I'm just glad it'll be Clark Gable who's falling on his face and not Gary Cooper," Cooper famously said about rejecting the role of Rhett Butler in "Gone With the Wind."
Not only was Cooper completely wrong, but he introduced the dreaded third-person reference speech mannerism -- which is never cool. Unless you're Rickey Henderson.
8. "Peace for our time." -- Neville Chamberlain.
"Err, we're an hour ahead of Czechoslovakia, right?"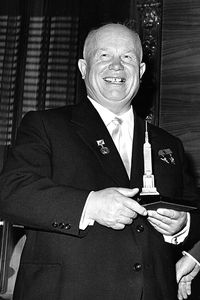 AP Photo/Marty Lederhandler
Nikita Khrushchev's words rang about as true as Ivan Drago's
"I must break you" threat to Rocky Balboa.
7. Soviet premier Nikita Khrushchev in 1956: "We will bury you."
Alongside 500,000 remainder copies of "The Communist Manifesto."
6. "I'm not going to be the Alabama coach."
Surprisingly, these aren't the words of Dennis Franchione in December 2002, but rather Nick Saban, a week before he left the Dolphins.
5. "They couldn't hit an elephant at this dist …" -- Last words of Union commander John Sedgwick at the Battle of Spotsylvania.
Or anyone hunting with Bob Knight.
4. Arsenio Hall: "I'm gonna kick Leno's ass!"
This guarantee might have been easier to take seriously coming from someone who didn't regularly appear on "Solid Gold" and steal a fist-pumping salute from Cleveland Browns fans.
3. "Four or five frigates will do the business without any military force." -- British prime minister Lord North on dealing with rebellious American colonies.
"Business" meaning appropriate staging for surrender documents. U-S-A! U-S-A!
2. Chad Johnson guarantees a win over the 2-5 expansion Houston Texans in 2002.
Namath … Messier … Johnson.
1. "This case is a loser." -- Johnnie Cochran on the O.J. Simpson case, before he became Simpson's attorney.
Bull's-eye!