By Bill Simmons and Bailey
Page 2 staff
A groundbreaking new strategy has The Sports Guy right on The Sports Dog's tail with two weeks left in the NFL.
Bill Simmons went 4-0 by choosing NFL teams based on NBA teams in the same cities. Combined with Bailey's 2-2 mark, The Sports Guy trails The Sports Dog by just five games heading into Week 16.
| | |
| --- | --- |
| | Bill vs. Bailey |
| | Seems like everybody thinks they can handicap NFL games, so Page 2 has decided to turn to its two experts in the field of prognostication. Each week we'll have Page 2 columnist Bill Simmons, the Sports Guy, go head-to-head with Bailey the Sports Dog. Simmons is a die-hard Boston sports nut who represents the common fan. Bailey is a Samoyed husky-black Labrador cross with a nose for pigskin. He's lived in Colorado, Chicago and Seattle while loyally following college and pro football for the past 14 years. Each week, Bill and Bailey will select their four best choices against the spread. We'll also keep a running score throughout the season. Simmons will use his extensive football knowledge, the Internet and key newspapers to come up with his can't-miss picks. Bailey will choose between two dog treats representing teams in each matchup. Of course, these are only predictions and not recommendations for wagering. |
Here are this week's picks:
Bill Simmons' Week 16 NFL predictions
Season record: 30-28-2; last week: 4-0
Continuing with my NBA/NFL theme from last week, I'm leaning toward NFL teams from cities with NBA teams that are currently playing well for this week.
Cleveland at Tennessee
Browns getting 6½ points in Tennessee ... suddenly it seems like the Titans are getting a little too much respect in Vegas. And I like the way the Cavs are playing right now. They might be the best bad team in the NBA.
The pick: Titans 24, Browns 20 (Browns cover)
San Francisco at Dallas
Cowboys
getting 6½ points at home ... meanwhile, the red-hot Mavs have won eight straight (including wins over San Antonio, Milwaukee and two against Houston) and are starting to resemble a legitimate title contender (as long as
Shaquille O'Neal
somehow becomes trapped under something between now and May).
The pick: Cowboys 17, 49ers 16 (upset special)
Seattle at San Diego
It seems like the
Chargers
(1½-point favorites at home) packed it in on
Doug Flutie
or their coaching staff. Maybe a little of both. And
Trent Dilfer
's involved this week! And the Sonics have won five straight! This feels like a layup. Is there a worse coach in football right now than Mike Riley?
The pick: Seahawks 20, Chargers 16
Pittsburgh at Cincinnati
Steelers
laying 7½ points in Cincy against Team Kitna ... the line could be 80 and I'd still take them. The Steelers have officially entered the "We blow out bad teams and our second team comes in and continues the butt-kicking" phase of a memorable season (no small feat -- never seems to happen in the NFL anymore). And yes, I know Pittsburgh doesn't have an NBA team.
The pick: Steelers 31, Bengals 0
Bailey's Week 16 NFL predictions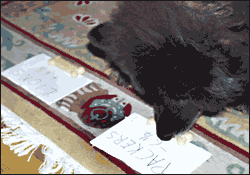 Jim Wilkie
Bailey follows his nose in search of another winner.
Season record: 35-23-2; last week: 2-2
(As told to Jim Wilkie, editor for Page 2.)
Baltimore at Tampa Bay
Tampa has more to prove, so I'll take the
Buccaneers
at minus 1½ points.
-- The pick: Buccaneers 20, Ravens 15
San Francisco at Dallas
Eagerly waiting another hot dog performance by
Terrell Owens
, so I'm going with the Niners at minus 6½ points.
-- The pick: 49ers 28, Cowboys 21
Chicago at Detroit
Even giving up 5½ points, I have to stick with the Bears against these sad-sack cats.
-- The pick: Bears 31, Lions 17
Washington at New Orleans
I'll take the
Saints
minus 5 points because these dogs have more fight left in them.
-- The pick: Saints 24, Redskins 10