By Graham Hays
Page 3 staff
Are you ready for some football?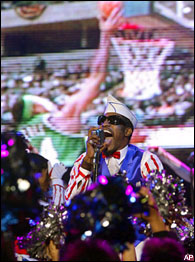 Andre 3000 and Outkast have already played the NBA All-Star Game, so can the NFL be far behind?
Because that's all you're going to get from the NFL at this year's season-opening Thursday night game.
Still steaming over Janet Jackson's Super Bowl exhibition, the league canceled plans for a kickoff concert to coincide with the opening game. We can only wonder if the next step is requiring network television to only show Michael Vick from the waist up when the quarterback takes off on one of his patented scrambles. Thus ends a two-year run of musical showmanship that began with Bon Jovi playing in Times Square in 2002, and Aerosmith, Aretha Franklin and Britney Spears headlining in Washington in 2003. The good news is NFL spokesman Greg Aiello says the league is still considering a different sort of event, possibly even including "musical entertainment." Always willing to lend a hand to our friends in New York, Page 3 has some ideas about who Paul Tagliabue and company should consider for the revamped NFL Opening Ceremonies.
Outkast
The Washington Redskins are the talk of the offseason after luring coach Joe Gibbs away from NASCAR and adding Clinton Portis and Mark Brunell to the fold, so it won't be a shock if the NFL returns to Washington for opening Thursday. And after Outkast's teepee-themed performance at the Grammy Awards, we can't think of a better musical act to get the league back on familiar ground.
Dance retrospective
Excessive celebration was a hot topic after Joe Horn's cell-phone aided performance following a touchdown last season, but one thing you can say for the dozens of players who have made names for themselves with dance moves and routines: they've never exposed themselves. Although it might not be a good idea to plant any seeds in Terrell Owens' brain.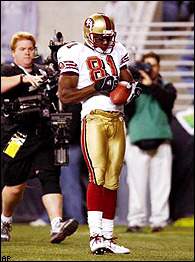 Terrell Owens is eager to sign up for the dance retrospective.
And while the league executives frown on these displays during games, there's no denying they get fans excited. So we'd like to see the NFL take some initiative and tackle the issue in a way that's suitable for family consumption. So how about heading to Houston and enlisting the help of the city's renowned ballet -- tabbed by the N.Y. Times as "one of the nation's best ballet companies" -- in breathing new life into the Ickey Shuffle and Merton Hanks' neck-dance.
Up With People
After shutting down due to massive debts in 2002, Up With People CEO Jeff Hoag announced plans to relaunch in 2004. Perfect timing for their old friends at the NFL offices. Like the Buffalo Bills, Up With People made four Super Bowl appearances. The touring group's saccharine sap is just the sort of positive, wholesome family message the NFL wants people to see immediately before watching a linebacker snap the femur of a quarterback who just had the trainer stick a needle full of cortisone in his back.
Raffi
Chances are "getting naked" isn't going to pop up in songs with titles like "Willoughby Wallaby Woo" and "Bananaphone." The celebrated children's singer is unlikely to offend anything but the musical sensibilities of the NFL's audience, making him a solid choice for the opener. Raffi refuses to play shows in front of more than 3,000 people, but it's about time the league opened a season in Arizona, anyway.
Whitney Houston
Musical acts haven't always generated bad publicity and congressional investigations for the NFL. In fact, few things provided the league with better publicity than Whitney Houston's stirring rendition of the national anthem before Super Bowl XXV. Coming during the Gulf War, the performance seemed to cement football's place as the new national pastime. Recapturing some of that patriotic vigor with a season-opening medley of "Battle Hymn of the Republic," "God Bless America," and "Yankee Doodle Dandy," would go a long way to healing the Super Bowl wounds. One caveat: Whitney has to leave Bobby Brown at home.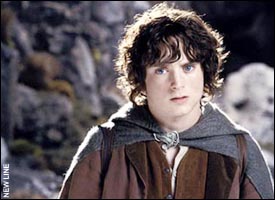 Imagine Martin Gramatica as "Frodo Baggins." It's easy if you try.
The final scene from Lord of the Rings, performed in mime
Why not jump on the Peter Jackson bandwagon while it still has some wheels? We envision an Arizona-Tampa Bay opener preceded by a LOTR reenactment, featuring Martin and Bill Gramatica as Frodo Baggins and Sam Gamgee, respectively. Plus, reminding the audience of Jackson's 201-minute epic -- with no nudity -- would make the subsequent 180-minute snooze fest feel like no time at all.
A quiet reading from "Harry Potter"
British author and "Harry Potter" creator J.K. Rowling's personal wealth was recently valued at better than $1 billion. That's a language the NFL understands. And assuming the league is willing to weather the storm of protests from religious groups concerned about the book's witchcraft, we can think of no better hook for the family audience than Warren Sapp reading selected passages from "Harry Potter and the Order of the Phoenix," complete with accents.
Random drug testing
Baseball is plagued by rumors of steroids and tainted records. Basketball features more potheads than a Cheech and Chong movie. So what better way for the NFL to score points with its audience than by highlighting the toughest drug testing standards of the three leagues? Having the sample-collection process visible to the public before the opening game, followed by seminars and lectures on the testing techniques, would be the ultimate interactive fan experience. What better way to prove to your son or daughter that they don't need steroids than to see the process in action.
Britney Spears, as interpreted by the Vienna Boys Choir
Britney has been good to the NFL, and the league isn't going to want to completely dismiss that audience. And since we all know it's really Spears' insightful and poetic songwriting that draws in the public, why not keep the music without running the risk of any serious wardrobe malfunctions? "Oops ... I Did It Again" would bring down the house.
Ruben Studdard, Clay Aiken and Kelly Clarkson
We know, we know, "American Idol" is as played out as Ashton's trucker hats, but hang with us. Our ultimate season-opening performance begins with the three potentially harmful side effects of the Idol craze. Just the sort of prepackaged, over-managed, soulless sound the league could feel safe signing up. But imagine the absolute chaos that ensues when in the middle of a song, Studdard reaches towards his head and -- ZZZIIPPP -- out of the fat suit pop the Jackson Five. And just as the crowd reaches a frenzied pitch, Clarkson unzips to reveal ... Janet Jackson. Unfortunately, Clay Aiken turns out to actually be Clay Aiken.
Graham Hays is a writer for Page 2 and Page 3.