By Graham Hays
Page 2 staff
Welcome to Remedial Bracketology 101.
You folks sitting in the back rows with your newspapers, please come join us in the first few rows. Plenty of open seats.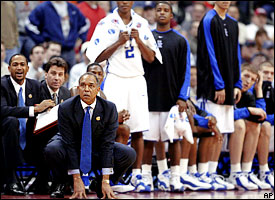 AP Photo
The committee tabbed Kentucky the team to beat. UAB did just that Sunday night.
You all know why you're here. Your brackets are a disgrace. You had more than five months to prepare for last week's exam, but apparently you spent a little too much time goofing off and skipping class. And I don't want to hear about how we never went over Kentucky's vulnerability or the sleeper potential of teams with .500 records in the SEC. It was all in the reading.
Anyway, it takes more paperwork than a tax return for me to flunk students these days, and I don't have time to do both. So you're all getting a second chance. Pass this quiz and we'll forget all about your Arizona upset special and that Kentucky-Stanford final.
No. 2 pencils only, please ...
Memory Recall
To learn from your mistakes, you've got to know what happened. This section of the quiz gauges how much attention you paid during the first four days of the Tournament.
What are the nickname and colors of Manhattan College?
A. Martinis (Red and white)
B. Cabbies (Yellow and white)
C. Jaspers (Green and white)
D. Jespers (Assorted pastels)
Who turned in the best performance in a losing cause?
A. Tim Smith, East Tennessee State
B. Nate Robinson, Washington
C. Rashad McCants, North Carolina
D. Ryan Gomes, Providence
E. Hector Elizondo, Century City
Who is most to blame for Stanford's early exit?
A. Josh Childress
B. Mike Montgomery
C. Matt Lottich
D. Officials
E. Tiger's caddy
What was the most embarrassing aspect of placing No. 6 Wisconsin in Milwaukee?
A. Forcing No. 3 seed Pitt to play what amounted to a road game
B. Bud Selig attempting to call the Pitt-Wisconsin game a tie
C. Wisconsin guard Devin Harris' attempt to bring the Lambeau Leap to press row
D. "Win a bullpen job with the Brewers" halftime contests
E. Playing the first 15 minutes at the Bradley Center before discovering Pitt was beating the Atlanta Hawks
How many points are you awarded for a 3-point shot?
A. 1
B. 2
C. 3
D. 4
E. 0, if you're Gonzaga's Blake Stepp
---
General Bracket Aptitude
Before you're let loose with the Sweet 16 -- or, God forbid, next year's field of 65 -- you need to demonstrate a basic understanding of the general theories and principles involved in filling out a bracket.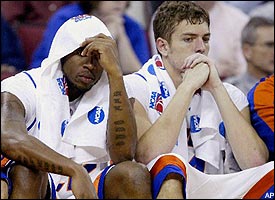 AP Photo
C'mon guys, be happy for those brackets that had you losing to Manhattan.
What should you never do when filling out a bracket?
A. Pick a No. 16 seed to beat a No. 1 seed
B. Pick any team nicknamed "Bulldogs" to win it all. This includes Yale.
C. Use the phrase "overdue" in the same sentence as "Bob Huggins."
D. Pick all four No. 5 seeds to win first-round games (especially when Florida is a No. 5 seed)
E. Leave a paper trail that even suggests it ever existed.
What was the first indication your bracket was going up in smoke?
A. Two No. 1 seeds fall in second round
B. Manhattan beats Florida
C. Pacific beats Providence
D. St. Joseph's avoids early upset
E. By Friday, coworkers referring to you as "Cheech."
Which is the best source of sleepers?
A. Mid-American Conference
B. Missouri Valley Conference
C. Conference USA
D. Metro-Atlantic Athletic Conference
E. Whoever plays a Pac-10 team
What is the best number to rely on when making your picks?
A. RPI
B. Points allowed
C. Shooting percentage
D. Turnover margin
E. Alcohol content
---
Practical Application
Predicting the outcomes of 48 games was obviously a little much for some of you, so we'll cut it down to eight games now. But before filling out your Sweet 16 brackets, it's important you demonstrate recognition of what to look for when assessing a game.
What will be the key to the Wake Forest-St. Joseph's game?
A. St. Joe's senior Jameer Nelson's experience winning out in the battle of the backcourts.
B. Skip Prosser taking out Phil Martelli with a folding chair while the St. Joe's coach argues with Billy Packer.
C. St. Joe's shooters adjusting to the dented rims left over from the preceding Pitt-Oklahoma State game.
D. Wake Forest adjusting to the loss of Chris Paul after he declares for the NBA Draft following a 20-point first half.
What will be the key to the Oklahoma State-Pittsburgh game?
A. Tournament veteran Eddie Sutton getting the best of newcomer Jamie Dixon on the sidelines.
B. Oklahoma State players avoiding unnecessary roughness fouls for leading with their helmets.
C. Momentum shift after Julius Page follows in Jerome Lane's footsteps and shatters the backboard ... on a three-point shot.
D. Pitt's Chevon Troutman maintaining focus when Oklahoma State's band begins alternating between Don MacLean's "American Pie" and Elton John's "Levon."
What is the key to the UAB-Kansas game?
A. Kansas backcourt's ability to deal with UAB's physical, pressure defense.
B. Keeping former coach Roy Williams away from the Kansas bench. In fact, keeping Williams out of Missouri altogether.
C. Little-known rule allowing UAB to add two players from previous upset victim.
D. Keeping players healthy during Courtney Love's rendition of the national anthem.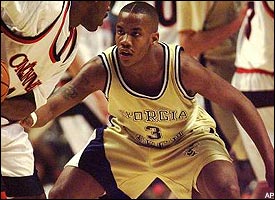 AP Photo
Take it from Stephon, dreams do come true.
What is the key to the Georgia Tech-Nevada game?
A. Nevada guard Kirk Snyder's ability to rise to the occasion and carry the Wolf Pack.
B. Tech coaches convincing Jarrett Jack to pass up the open three-pointer with a one-point lead and the shot clock off.
C. Late arrival of Wolf Pack coach Trent Johnson after security refuses to believe Jerry Tarkanian isn't the Nevada coach.
D. Tips from Georgia Tech alums Stephon Marbury, Kenny Anderson and Mark Price; and Nevada alums ... um ...
What will be the key to the Duke-Illinois game?
A. Illinois shutting down Shelden Williams inside and forcing J.J. Reddick to win it from outside.
B. Illinois finding Marcus Liberty, Nick Anderson, Kenny Battle, Kendall Gill and Lou Henson's combover.
C. Duke avoiding bus accidents, locker room fires and the scoreboard falling on the starting five.
D. How Duke handles the travel fatigue in Atlanta on the heels of last week's arduous trek to Raleigh
What will be the key to the Texas-Xavier game?
A. Texas finding a way to contain Lionel Chalmers despite lack of a true point guard.
B. The crowd in Atlanta storming the court and demanding to see the North Carolina-Mississippi State game they expected.
C. Xavier dealing with the daunting challenge of becoming the first team coached by a guy named Thad to reach the Elite Eight.
D. The President's proposed constitutional amendment to ban all teams beginning with the letter "X" from the NCAA Tournament.
What will be the key to the Alabama-Syracuse game?
A. Alabama's ability to attack Jim Boeheim's vaunted 2-3 zone.
B. Mark Gottfried's innate ability to beat teams beginning with 'S' in March.
C. Alabama releasing the cheerleaders and pep band from spring football duty.
D. Syracuse finding someone from BYU to guard Gerry McNamara.
What will be the key to the Vanderbilt-Connecticut game?
A. Connecticut containing all-SEC forward Matt Freije and forcing Vandy to look elsewhere for points.
B. Keeping Jim Calhoun's pregame meal free of spicy foods.
C. Jenni Benningfield and Hillary Hager's ability to control the paint and keep Diana Taurasi from penetrating.
D. Emeka Okafor's sore back holding up under the weight of four adult males.
Graham Hays writes "Out of the Box" five days a week in--between moonlighting for Page 2. He can be reached at graham.hays@espn3.com.