By Graham Hays
Page 2
Reggie Miller can't be done.
For one thing, I'm not ready to have a mortgage, host dinner parties and savor the bouquet on a nice bottle of shiraz.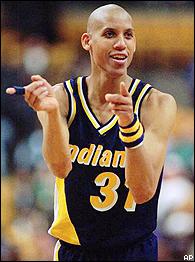 You never knew when Miller Time would take over a game -- but you knew it would happen.
But when Reggie walked off the court at Conseco Fieldhouse on Thursday night to the thunderous and heartfelt cheers of a defeated crowd, it became a heck of a lot more difficult for me to deny the cold embrace of adulthood, with the roadside attraction that is middle age looming off in the distance like Wall Drug or the World's Largest Ball of Twine.
Don't get me wrong, I can (and I will) still wake up late on a Saturday morning with little else on the agenda but watching Fruity Pebbles turn the milk into a consumer-goods impression of a Seurat painting, and I still plan to use plastic funnels for entirely nonproductive purposes from time to time. But it won't be the same without Reggie. Without him launching 3-pointers, hands crossed in a release that made every youth coach in Indianapolis cringe for the past 18 years, I'll just feel like a slacker.
I love watching Marvin Harrison snare touchdown after touchdown in a seemingly effortless exercise in making cornerbacks look like extras from the remake of "The Longest Yard." I'll rearrange my calendar for a chance to watch Diana Taurasi light it up on the court. And I sincerely hope the Pacers keep high-flying Fred Jones around for years to come. But it was different with Reggie. I didn't just root for Reggie, I marked personal epochs by his hairstyles.
A generation of folks from Maryland know what I'm talking about. They went through this with Cal Ripken. Or Walter Payton in Chicago. Emmitt Smith in Dallas and Steve Yzerman in Detroit. And on and on and on. Just as somewhere in Akron right now, there's a kid who will always remember LeBron's first playoff series win – whenever David Stern's dream becomes a reality – as the night he ran over the neighbor's mailbox trying to beat curfew.
But for me, it was Reggie. And sorry about the mailbox.
My family moved to Indianapolis from London just in time for the 1987-88 NBA season, although my parents continue to insist the timing was purely coincidental. At the time, I was more familiar with Diego Maradona than Michael Jordan, but the prearranged marriage that is basketball and childhood in Indiana blossomed into a lifelong addiction. Which is probably a good thing, considering the kind of addiction Maradona might have inspired.
And there was Reggie, just beginning his career and battling Chuck Person, who arrived a year earlier in the apparent "false prophet" role, for control of a franchise moribund since the demise of the ABA. Those were heady times only in the sense that Reggie could still dunk. I think. I might have just imagined that part. But between the Pacers and the Colts, it seemed entirely possible those first couple of years to reach Christmas with the city's two pro teams unable to combine for double-digit wins. But they were our losers, and losing like that almost made it easier to get close to a team and its players. If only because the population density at Market Square Arena often resembled parts of Wyoming ... and not the crowded bits of Wyoming, either.
But slowly, drafting the likes of Rik Smits, Dale and Antonio Davis, adding veterans like Byron Scott and Haywoode Workman, and simply surviving the likes of Scott Haskin, the Pacers introduced something new and wonderful to all of us in Indianapolis: traffic jams caused by home playoff games during the weekend of the Indianapolis 500. And even as I was discovering the joys of driving, dating and college-application essays, Reggie was leading the Pacers to unimaginable heights of national ambivalence, interrupted by brief periods of mild national interest. People were finally looking down at us and not just wondering where they could stop for gas between Cincinnati and Chicago.
I haven't lived in Indianapolis for an NBA season since 1995, when the Pacers fell to Shaq's Orlando Magic in Game 7 of the Eastern Conference finals and I graduated from high school (which is pretty much the order in which I remember those two things). All in all, I've lived there less than half my life, but it's still where I'm from. And that likely has a lot more to do with Reggie and the Pacers than pride in a state whose legislature supposedly once pondered rounding pi down to a more manageable 3.0. I remember watching from a bar in Ithaca as the Pacers crashed out in the first round against the Hawks in 1996 (although that one might not count, since technically my license said I was 30 years old and from Framingham, Mass.). And I remember yelling incoherently to myself in a Seattle apartment when Reggie drained the 3-pointer against Michael Jordan and the Bulls in 1998, and sitting with other Indiana refugees in a cottage on Bainbridge Island, Wash., when the Pacers finally made it to the NBA Finals in 2000.
But wherever I was watching from, there was Reggie in a familiar setting. The same Reggie I watched battle Steve Alford's Mavericks (all right, they were only Steve Alford's Mavericks if you lived in Indiana) in the first NBA game I attended. The same Reggie we used to gawk at when the Pacers occasionally practiced at our high school, and the same Reggie I watched when first given the freedom to take off on my own on a school night in the wilds of downtown Indianapolis.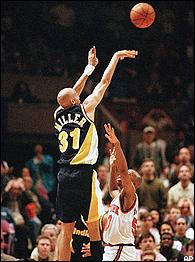 If you grew up with Reggie, you loved the Pacers, hated the Knicks.
And the same Reggie who came flailing off about three screens, one of which might even have been stationary, to hit a 3-pointer with 1:31 left in Thursday's game, cutting Detroit's lead to three points and making all of us believe there was one more miracle left. It was a shot you knew he'd hit, even though you knew he couldn't. Just like he did for 18 seasons.
It's the stuff of WB drama to say I learned about life from Reggie Miller. He was a basketball player. But it's no stretch to say I learned a little about life during Reggie Miller.
I don't often feel burdened with the weight of excessive wisdom after 27 years on this planet. I know just enough to know I don't know squat yet. And at times that makes me worry I'm more the Stuart Gray or Greg Dreiling of life than the Reggie Miller. But mostly it leaves me free to believe life is still full of all the possibilities that ever existed.
But watching Reggie walk down the corridor toward the Indiana locker room for the last time, turning right to oblivion (or a television studio, whichever comes first), I had to accept that I'm older than I was yesterday. And nothing lasts forever.
So what's the deal with fixed-rate mortgages?
Graham Hays is an editor for ESPN.com SportsNation when he isn't moonlighting for Page 2. He can be reached at graham.hays@espn3.com.