RIDING WITH Grayson Boucher
LOS ANGELES -- A notable "Riding With" first was established with Grayson Boucher, who most people know as The Professor from the And1 Mixtape Tour, the modern-day Harlem Globetrotters.
Boucher, whose gifted ball-handling has made him a cult celebrity, is the first sports figure to use a rental car in the occasional Page 2 series where we interview athletes in their cars.
Boucher's real car is a 2005 Mercedes-Benz E-500. Unfortunately the Benz had yet to be shipped from Portland, Ore. -- Boucher's hometown -- to Los Angeles, his new residence. So we cruised around Santa Monica in a late-model Mustang.
As rapper Biggie Smalls would say, The Professor has gone from ashy to classy. When the 23-year-old tried out for the And1 team four years ago in Portland, he was a struggling, scrawny college student working at a grocery store.
Today he's still the same scrawny kid with the absurd crossover, but he's known from Australia to Japan, one of the most popular And1 ballers, and a main attraction on the ESPN reality series "Streetball," which chronicles the craziness of the And1 tour.
The Professor's new life consists of balancing hoop dreams and acting dreams.
Jemele Hill: First question, and probably the most important: How did you get the nickname "The Professor?"
Grayson Boucher: Typically in streetball, it takes years to earn your name, but being that the tour was commercial and trying to give everybody names, so [Duke Tango, the legendary voice from New York's famous streetball court Rucker Park] gave it to me my first game when I tried out in 2003 in Portland. He was saying I was schooling people on the court.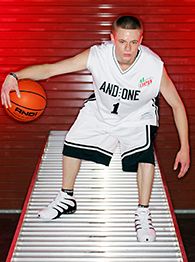 Donald Miralle/Getty Images
Life has changed a great deal for Grayson Boucher, now known as The Professor.
What were you doing when you tried out? What was your life like?
It was totally different than it is now. I was working at a grocery store. I was pretty regular. Working at the grocery store during the summer and going to Chemeketa Community College back in [Salem] Oregon. Just trying to live my hoop dream -- play JUCO and hopefully go Division I after two years.
What made you want to try out for the And1 team?
I was just going out there to have a good time and they had an open tryout where you could play during the game and the top two or three players would make it inside and play against the And1 players. I went up there with my brother. We were just going to chill, check out a game. Everybody, all my friends, were hyping me up, like, why don't you play? Why don't you show them what you got? I went out there and it turned into a career opportunity.
Can you put into words how much your life has changed since then?
Pretty drastically. I went from being a college student, working a summer job, not really having any money to being able to play ball as a career. So many things branched off that -- movies, commercials, video games, all types of stuff. I started my own Web site to get a lot more fan exposure.
What was it like being on the cover of Sports Illustrated?
That was huge for me. The first time I was in SLAM or Dime magazine, I thought that was huge. To be on Sports Illustrated, which is like the father of all sports magazines, that was huge. I couldn't believe it. I couldn't believe we got an article in there, much less the cover.
Do you still aspire to be in the NBA or have things changed?
When I started doing movies, my goals were starting to change. I recently got an opportunity to play for the CBA team in Atlanta called the Atlanta Krunk. I think I'm going to give it another run with regular basketball and see what happens out of that. I'm only 23, so I figure I still got time. It's still a goal, but if I didn't make it I wouldn't be mad because I got so many opportunities from streetball.
What do you think about the stereotype that guys on the And1 team can't play real basketball? Where does that come from?
It comes from watching our highlight tapes. It's so much finesse that you really don't see in a regular basketball game. The perception was, it's not real. I don't think they say that anymore. Everybody on our team has played pro ball, outside of two players. Half the team has played D-1.
Does The Professor have groupies? Or should we call them "students?"
I'm single now so I can say I have groupies. Not to a level that's crazy. It's not at the NBA level or an actor. But, a fair share.
How long before we see a Mrs. Professor?
A long, long time [laughs]. I don't even have a girlfriend right now so I don't want to think about a missus.
What films have you been in and which ones do you have coming out?
My first acting experience I went to this open casting for this movie called "Semi-Pro." It's actually a Will Ferrell movie, a comedy. It's Will Ferrell, Woody Harrelson and Andre 3000 [aka André Benjamin from the rap group Outkast]. It's about the 1970s ABA. They were picking the top 36 players to be in this movie and play against Will Ferrell's team. So I went down there and tried out for an afternoon. I kept making it back to the second cut and the third cut. I made the final cut and got a role. I don't have any speaking lines. I just play ball. That will be out next year.
I actually did a film called "Ball Don't Lie," where I have the lead role, which I'm really excited about. That will also be out in 2008. It's another basketball movie where I play a high school kid who grows up in Venice [Beach] who's actually a foster child, stays in a group home and is placed with these foster families. He just goes through the struggles of life and plays basketball.
Did you have to wear a wig for the Will Ferrell movie?
Yeah because it's the 1970s ABA. I've got a wig that comes to my shoulders. I don't even think people will recognize me when they see the movie.
Did you have to wear the short shorts?
Short shorts. I couldn't even wear boxers because they would come out the bottom.
So what was it like to be walking around in that getup?
It was kind of weird and uncomfortable at times, especially when we first started playing ball. I felt almost naked. Halfway through the first couple days it was no big deal.
Does Woody Harrelson still have some skills left over from "White Men Can't Jump?"
For an actor, Woody Harrelson is good. I wouldn't take him down to the gym and put him on a team, but for an actor, he did his thing. He can shoot a little bit. He can dribble.
Did you all have pickup games on the set?
Yeah, sometimes. One day I played Woody one-on-one. We had a practice day in the middle of filming because they wanted to get down some extra plays for the movie. It was fun. Me and Woody played a game to 50.
You played to 50?
Yeah. He was like, "C'mon, man, I want to play The Professor one-on-one." I was like, all right, if you really want to. It was funny because it was a lot of people around and I started off going easy on him. He hit one shot. I was like, oh, OK. He hit another shot, so I had to get out there a little bit. Then he hit another shot. So I was down 3-0. But I was playing casually. I mean, he's good, but he's not that good. So then I had to get up and I don't think he scored another point. I beat him 50-3. But it was fun, though.
You probably get a lot of that, don't you? I'm sure every time someone sees you they probably think they can take you, right?
All the time. We do this thing called "Crash the Court," where we'll go to different streetball courts all over the U.S. We'll go out and play and there will be so many people hatin' or like, "I'll bust your ass." It's pretty much something I'm used to. You just got to keep it in your head that every time you step on the court you've got to hold it down so you can keep your name.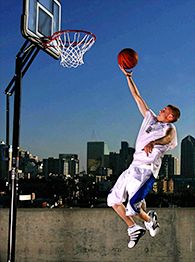 Donald Miralle/Getty Images
Think you can take The Professor? Don't be too sure.
Has a random guy off the street ever beat you?
Yeah. I've lost games one-on-one. I wouldn't say a random guy off the street, but I've been in the gym and played people one-on-one and lost games before. Who doesn't lose a game of one-on-one? If anybody ever says they haven't lost a game of one-on-one, they're lying.
Do you watch NBA games and say, "I could probably take that guy?"
I don't really look at it like I can probably take them one-on-one. But sometimes I watch the games and say, "I could probably fill his shoes." But I have so much respect for guys in the league because it takes so much to get to that level. You have to be in the right place at the right time, know the right people. You have to stay healthy.
Were you stereotyped a lot growing up because you're white?
All the time. That's my main motivation playing basketball. I try to prove people wrong, that I can hold my own against anybody. Before, it was like, who's this kid? He shouldn't be out here. He doesn't look like a basketball player. Then I would go out there and do my thing. Now, even though ballplayers know me, they still underestimate me. So that's still my motivation.
Any theories on why there aren't more white, American-born basketball players in the NBA?
There was an article on this in SLAM magazine two or three issues ago that they quoted me in. I think the conclusion the guy who wrote the article came to -- which I thought was true -- is that a lot of white people are from the suburbs, meaning they have a fair amount of money and go to decent schools. They have more opportunities to play other sports. Maybe a white kid in the suburbs has the option of playing football, basketball, soccer, track and swimming. Then you have a lot of inner-city kids who only have basketball. Some schools don't even have grass.
Is intimidation part of the equation, too? Maybe there are some white kids who want to play basketball, but they aren't encouraged to keep going.
Sometimes that can be the case. It was always funny to me because whenever I play ball, the way I was raised, you are never scared of your competition. Maybe it came from my Pops or something. I never had a problem with that. I played against people of all races growing up. But a lot of kids' parents will come up and ask me, "My son is trying to play ball, and you don't ever seem intimidated, what can I tell my kid?" That question always bugs me out because I was never like that when I was younger. I just tell them it's a matter of having heart and you can't worry about what the appearance is or the guys you're playing against. It's how bad you want it.
What drew you to basketball?
My dad. He was my main influence. He didn't play in college or anything, but he lived and breathed basketball. He played in city leagues and we were Blazers fans, so we were always watching Blazer games. He just really got me into it. I've been playing ever since first grade. It's my only love, my only passion.
So how excited are you about Greg Oden?
I think he'll be good. I think that Greg Oden will take a couple years to be the premier player everybody wants him to be. Supposedly they sold a bunch of tickets since he got drafted, but I don't think he's necessarily exciting to watch because he does the dirty work. He gets rebounds and blocks shots and stuff like that. I think it'll take a couple years for him to develop into a Ben Wallace-type player.
Are you still hurt over the Blazers blowing the conference finals against the Lakers [during the 1999-00 season] after being up 17 in the fourth quarter?
Man, that was crazy. I think one of the refs in that game was one of the refs that got in trouble. I felt like all the calls were going L.A.'s way. I was so bitter after that.
Speaking of Tim Donaghy … what was your reaction to finding out a NBA ref had been fixing games?
My immediate reaction was … I knew it! I don't know if it happens all the time or if it was just that individual ref, but sometimes the outcome of the game is so altered by the refs, you've got to think, were they motivated by gambling?
If you could play two-on-two with anybody in the NBA, who do you want on your team and who do you want to go against?
Aw, man. I'd like to play a guard game. I'd probably say myself and AI (Allen Iverson) versus Steve Nash and Chris Paul. I'd want to compare myself to the guards.
Final score?
Me and AI got 'em. We'd probably split games. I think in the end we'd come out 3-2.
Who's the most overrated player in the NBA?
I get that question asked often. My outlook on that, I think everybody in the NBA is there for a reason. I think they're good. If somebody's overrated, they may be overrated for the league, but I think their résumé and credibility has been built off greatness at some point during their career. As far as overrated for the NBA, I can't really say anybody stands out.
You know that's kind of a punk answer, right?
Kind of. But I really believe that.
How long was your original And1 contract?
Just a year. This last year was the first time I signed a two-year contract.
How much money you making?
A good amount. A nice, six-figure deal.
What did you do with your first paycheck from And1?
I think I just put it in the bank. I took my mother's advice, which is a good thing.
So you didn't want to run out and buy any jewelry? Diamonds? Platinum?
My dad's a jeweler, so yeah, I've got a few diamonds. I've spent some checks that way.
Do you see yourself being a full-time actor?
When I started acting, I found something else I have a passion for as much as basketball and that's never been the case.
How do you handle having fans, having people recognize you when you're walking down the street?
I think I'm so used to it that I handle it well. At first, it was kind of like, a little overwhelming, walking down the street and having people in your business, wanting your autograph at times when you don't feel like doing it the most. I think it's easy now. I expect it.
You ever had any bad experiences with fans?
Yeah, a few times. I've gotten into it with people, but now I look at it, five years into it, as why would I even waste my time? If they're going at me like that, it must be a reason. I must be doing something right.
You were in a pretty bad car accident when you first moved to L.A. Was that a wakeup call? What lingering impact did that have?
It was a wakeup call. When I first moved to L.A., I was excited. I was partying a little bit. Maybe too much. Anyway, I was coming out of the club at three in the morning, going down Sunset and got hit by a drunk driver. It was an intense thing. When I got out of my car, it just looked like a bunch of pieces of metal. It makes you reflect on life and how valuable it is. It probably just made me a little more focused, to be honest.
What's your recollection of the accident?
I don't think I flipped over. I was hit head-on and I spun out across the median where the car had come over and hit me. I just spun out and the car flipped up on the side and came back down.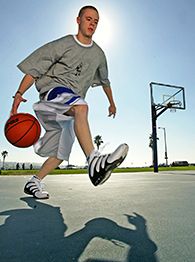 Donald Miralle/Getty Images
You never know, maybe we'll see The Professor in the NBA one day.
You could have died from that.
Oh, definitely. The only part of the car that wasn't damaged the most was the driver's side. All the windows caved in. The passenger's side was smushed. Luckily, nobody was riding with me at the time. I was just fortunate that the door even opened. It started smoking, so I thought it was on fire at first. I was just really fortunate.
Did it take you a long time to go out and enjoy the L.A. social scene after that? Or was it business as usual?
I can't say it impacted me too much. Two days later, I was back out. It made me reflect on life and how valuable it is, just to let you know not to take life for granted.
What do you like to do besides basketball and acting?
I'm pretty laid-back. Whenever I have off time or chill time, I hang out with friends. I like to go to the beach. I like to go to movies. I've seen a lot of movies because when you're in Oregon, there isn't much to do. So a lot of times, you get a flick and watch it with some friends. Just basic stuff. I don't have a passion for a whole lot of things. Basketball is my main thing.
What's the last good movie you saw?
I saw a horror movie called "1408." That was pretty good. I saw "I Now Pronounce You Chuck & Larry," which was hilarious.
What's your favorite movie of all time?
Aw, man. That's tough. I never really can say one movie.
Better way to phrase it: If you're stranded on a desert island, what three DVDs do you have to have with you?
Man, I'd probably take "Dumb and Dumber" to make me laugh. I would take "Scarface," because it's a classic. And I would take "Hoop Dreams" because that was my most inspirational movie.
Did "Hoop Dreams" change your life in a significant way?
It showed me the reality of people in different places trying to make it just like I was. It showed one story that kind of succeeded and one that failed. The movie is 3 ½ hours long, but I used to watch it all the time. It really inspired me to work on my game and try to live out my own hoop dream.
I'll end this on a deep note. When The Professor has hung up his basketball shoes, what would you like people to say about you?
Probably just that I was an inspiration to them. That's the most flattering comment I get from people who know my story, who were inspired to do things and live out their dreams.
Page 2 columnist Jemele Hill can be reached at jemeleespn@gmail.com.