Have you perused the sports headlines today? Depressing stuff. Marion Jones, who has been lying to everyone for years about using performance-enhancing drugs, returned the five medals she won at the 2000 Olympics. Four men have been charged with the murder of Memphis football player Taylor Bradford. Andy Murray, ranked 18th in the world on the ATP Tour, told BBC Sport he believes tennis matches are being fixed.
This year in sports has been defined by cheating, dogfighting, suspensions and fines. Sports has been less about heroes, and more about cowards. Less about love, and more about money.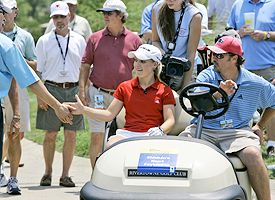 AP Photo/Mary Ann Chastain
MacKinzie Kline's different because she uses a cart -- and because she's a breath of fresh air in sports.
More about us vs. them, and less about all of us.
I needed a break, a timeout from all these awful things. I needed to talk to someone real, not a media or fan creation. So, last week, I went to a luncheon at the ESPN Club at Disney's Boardwalk hotel. It was just a routine public relations thingy -- Disney renamed its annual PGA event at the end of this month after the Children's Miracle Network -- but one name made the lunch a must-attend.
MacKinzie Kline.
You may not know her, or her story. But even if you do, given the polluted sports world we live in, you probably could stand to hear about her again.
Kline is 15 years old and a terrific amateur golfer. Last year she was the best 14-year-old female golfer in the world, according to the Golfweek/Titleist amateur rankings.
And, earlier this summer, she became the first woman to play an LPGA event using a golf cart.
You see, Kline was born with one heart ventricle (instead of two), minus a spleen, and with her liver on the wrong side of her body. She's already had three heart surgeries, the first of which came when she was 11 weeks old.
In other words, she's the human version of the old-school board game "Operation."
I knew Kline had more pressing things to do -- like staying healthy and raising money as the spokesperson for the Children's Heart Foundation -- than bolster the hopes of an increasingly cynical columnist and a sporting public. But the sports universe desperately needs something uplifting and positive. So I approached her.
I asked Kline how she was feeling. And, of course, she refused to complain. "Things are going really well," she said. "I just really have to take my time."
We talked about her life as a home-schooled high school student -- she attended a charter school briefly, but that's all -- and whether she thinks she'll one day regret that she bypassed the awkwardness, uncertainty and low self-esteem that is a rite of passage during the high school experience.
"High school was fun, but I like golf a lot more," she said.
I asked her if she thought she'd have made this big of a difference in people's lives if she were completely healthy. She's already blistered her goal of raising $1 million for the Children's Heart Foundation.
"I really do think about that," Kline said. "I know a lot of girls who are extremely good golfers, who really are incredible, but I wonder if I would have made as much of an impact as a healthy person."
Of course, I had to ask her about Michelle Wie. Does it tick her off to see Wie -- with an ungodly, unfair amount of ability -- waste it because of immaturity and parents who treat her like a show pony?
"You just look at that person and say, 'Wow, that person is so good at that,' but yet they don't really want to do it or really care," she said. "Because golf was the only thing I could do, it's something I worked really hard at and still work really hard at. When you see people have so much talent at something and they're not doing it, it's like, oh my gosh!"
We continued talking -- about Kline's love of the band Maroon 5, why raising money for those less fortunate should be a natural instinct, how playing golf with a cart and an oxygen tank makes her feel insecure about her golf game. It was chicken soup for the wounded sports soul.
"I know I'm a decent golfer," she said. "I know I play golf well, but when you have to use a golf cart and oxygen, you're not thinking about your golf game. You think about other things. You think about what others think about you and how it's not fair you have to use this and you can't walk like normal people. It takes awhile to get used to."
It took some time, but I finally got Kline to complain about something, to show that even the most golden-hearted athlete harbors at least one selfish desire.
"Because of my heart condition, I can't go on roller coasters," she said. "So I'm at Disney World and I can't go on any of the rides. I'm so upset about that."
Refreshing, isn't she?
Page 2 columnist Jemele Hill can be reached at jemeleespn@gmail.com.