ORLANDO, Fla. -- Jay-Z once rhymed, "When the streets is watching blocks keep clocking."
If the streets were watching Friday evening in Orlando before the Knicks-Magic game, what they would report doesn't exactly reinforce the idea that we're living in an economic downturn.
Cameron Hope, a ticket broker in Orlando, had three lower-bowl tickets left and was hustling for more. The game was sold out, which was a dangling carrot for online and street-corner ticket brokers (scalping is legal in Florida). Hope had spent $2,000 purchasing tickets to resell, and within hours, he was well on his way to doubling his investment.
"People still spend money to entertain themselves," said Hope, who runs the 2ticketmen.com Web site. Whatever Hope can't sell online, he sells at the venue.
A Magic-Knicks game might not sound like a hot ticket -- not with the Knicks out of the playoffs -- but in Orlando it's a different story. In this market, Disney World brings tourists, many of whom are New Yorkers or foreigners who've never seen a live NBA game.
And who doesn't want to see Krypto-Nate?
"If the box office doesn't have anything, we'll sell for way over the price," Hope said. "If they do have something, we'll beat the box office. A game doesn't always have to be sold out for us to make money."
CRUNCH TIME 2009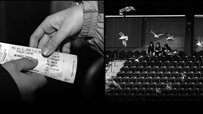 You might think those in the secondary ticket market would be hurting in this limping economy, but it's just the opposite -- especially in markets like Orlando, where the Magic are 58-22 and hold title hopes. And the real winners are sports fans.
The economy has eliminated some extras for people, but not the thirst for live sporting events. The good news for sports fans is that they are now able to get ticket deals that are almost unbelievable.
"People absolutely still want to be at the Super Bowl, Opening Day, all the popular sporting events," said Sean Pate, a spokesman for StubHub, one of the leading secondary ticket marketplaces. "They just don't have the same expendable income. But those same people who were buying from StubHub in the past few years, they are not only coming back, but so have additional consumers, and others who weren't able to afford tickets on the secondary market."
It is truly a buyer's market. Pate said the Final Four this year was the least expensive in StubHub history. At last year's Final Four with North Carolina, Kansas, Memphis and UCLA, the average cost for a ticket was $600. This year, it was $200 less. But while the prices may be lower, volume is high; StubHub said it had a record number of page views on April 6, the day of the Final Four championship game and Opening Day in baseball.
In 2007, the average NFL ticket sold for $150. In '08, it dropped to $138. Pate already is anticipating that most tickets for the NBA playoffs will be sold at face value. And depending on matchups, tickets to the Finals may be much lower than anticipated.
"The economy that we're in right now is providing fans with significant opportunity to find dramatic bargains they haven't seen before," Pate said. "That ranges all the way up from the Super Bowl, where tickets were $1,100 less than last year, or all the way down to an NBA game where tickets are going for pennies on the dollar. What it's done is attracted more people to the secondary market who may have had a misperception of what the secondary market is like."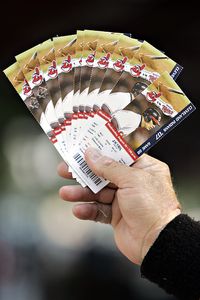 AP Photo/Tony Dejak
Prices are down in the secondary market -- but demand is high, which is perfect for scalpers and buyers alike.
Supply and demand rules the market, and as long as the demand remains consistent, the sports ticket industry is impervious to the pinch.
The Sports Business Journal's Turnstile Report shows that the 30 NBA teams are playing to 90 percent of venue capacity, a slight increase in overall league attendance (0.6 percent) from last season. In 2008, every NFL venue reported being more than 90 percent full -- including the 0-16 Detroit Lions, whose home is in a city facing one of the highest unemployment rates in the nation.
"The fans do say they have been affected by the economy," Hope said. "But yet and still, it's all about demand. People will spend for something they want."
Even for street-corner ticket brokers -- who in some states operate as illegal scalpers -- their fortunes remain determined by matchups, star players and team success. No matter what the economy looks like, LeBron James or Kobe Bryant is a hot ticket.
If anything, ticket brokers like Hope have been able to use the economic downturn to their advantage. A lot of season-ticket holders signed up for expensive packages when times were good, but now can no longer afford them and are unloading their tickets in hopes of just breaking even.
"[The economy] has had a seismic effect on people who are season-ticket holders," said Mike Baggot, founder of Ticketbag.com, an online marketplace in which sports fans can buy and sell tickets. "A lot of people are nervous about their season tickets, so they come to us."
According to brokers, companies that purchased tickets for sporting events are "double dipping" -- writing off their tickets as a business expense, but then selling them to ticket brokers to make extra cash.
It means that even scalpers are offering big bargains.
"Everybody wants to portray the scalper as the villain," Hope said, "and that's just not the case."
Jemele Hill can be reached at jemeleespn@gmail.com