Commentary
Another sad chapter of athletes & guns
Updated:
August 5, 2009, 5:10 PM ET
By
Jemele Hill
| Page 2
Truth has a way of bringing us to conclusions we'd rather escape.
I say that because the tragic death of boxing champion Vernon Forrest has opened up some uncomfortable questions that most of us would rather ignore.
[+] Enlarge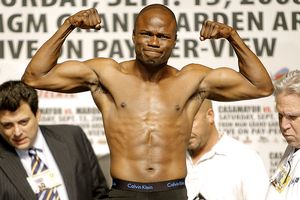 AP Photo/Jae C. HongCan't help but wish Vernon Forrest didn't go after that robber.
Forrest was gunned down during a robbery in Atlanta on Saturday night. According to reports, he was robbed at a gas station, where he had stopped to put air in his tires and allow his 11-year-old godson to use the bathroom. A man approached Forrest and demanded his Rolex and championship ring, and after the man took the items Forrest pulled out his .45 and chased the man on foot.
That's when another man, presumed to be with the robber, had a verbal confrontation with Forrest, and the two exchanged gunfire. Forrest was shot eight times. Thankfully, Forrest's godson was in the store at the time of the shooting.
By all accounts, Forrest was a good man. He was a fierce competitor, a phenomenal boxer and, according to those who knew him, an exceptional father to his 12-year-old son. Forrest also created the nonprofit organization Destiny's Child, which provides homes for mentally disabled adults.
It's because Forrest was such an exemplary man that we've avoided a difficult question: Would he be alive right now if he hadn't chased the robber with a gun?
I pose that question with all the respect in the world for Forrest. He did not deserve to die, nor am I saying he caused his own death. This ugly incident would never have happened if the robbers hadn't targeted him in the first place.
But I was struck by something Charles Watson, Forrest's manager, told a reporter about his former client. "Vernon always was the type of guy who wasn't going to let anybody take anything from him," Watson said. "He would give you the shirt off his back, but if you tried to take something from him, he was going to fight you for it."
That competitive fire served Forrest well as a boxer, and was one of the reasons Shane Mosley couldn't beat him. But what role did those instincts play in convincing Forrest to seek out his attacker, which ultimately cost him his life?
I have no problem with athletes or anyone else protecting themselves with a firearm, as long as they do so legally and responsibly. But unfortunately, there have been a number of cases in which athletes have ignored the law and/or common sense when brandishing a gun. And the results have sometimes led to irreversible and disastrous consequences.
The reason Plaxico Burress is probably facing jail time is because he failed to exercise good judgment and didn't follow the law. Considering one of his Giants teammates had recently been robbed, I'm sure when Burress ventured out with Antonio Pierce on that fateful night last November, all he thought he was doing was protecting himself from becoming a victim of a crime. Instead, he shot himself in the leg and put his freedom and football career in jeopardy.
Forrest certainly didn't act as foolishly as Burress, because he was properly licensed to carry his weapon. But once Forrest decided to chase the man who robbed him, he put himself in a tenuous situation. Man code says Forrest did the right thing, but a Rolex and a ring aren't worth your life.
More than anyone else, athletes believe they can handle themselves in any situation. And that sometimes makes it difficult for them to discern when they're in real danger.
A sense of bravado and a weapon can be a dangerous combination. When ESPN's "Outside the Lines" did a story on athletes and guns, Baltimore Orioles outfielder Luke Scott said, "How do you combat a man with a firearm? You don't combat him with a golf club, baseball bat or a knife. You combat him with another firearm."
Unfortunately, it doesn't always turn out the way you expect.
Jemele Hill can be reached at jemeleespn@gmail.com
ESPN.com, ESPN The Magazine
Co-host of ESPN2's "Numbers Never Lie" and His and Hers podcast
Columnist for ESPN.com
Columnist for Orlando Sentinel (2005-06)
Writer for The Detroit Free Press (1999-2005)
MOST SENT STORIES ON ESPN.COM