Commentary
Mercury Morris, where are you?
Updated:
December 2, 2009, 3:05 PM ET
By
Jemele Hill
| ESPN.com
Any minute now, we can expect former Miami Dolphins running back Mercury Morris to emerge and engage in one of his predictable buffoonish tirades because the Indianapolis Colts and New Orleans Saints are both still undefeated.
[+] Enlarge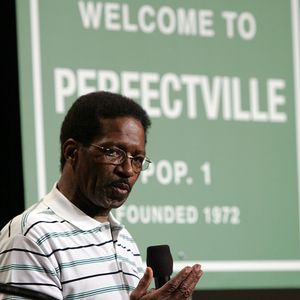 Jim McIsaac/Getty ImagesWe'll be hearing from Mercury Morris very soon, no doubt.
In case you're not familiar with this practice … every time an NFL team is in the vicinity of the 1972 Dolphins' historic undefeated record, members of that Dolphins team take a healthy gulp of Hater-ade, run to various media outlets and make it known for the 4,967th time that they don't want any other team to go undefeated. And in true hater-iffic fashion, the '72 Dolphins pop champagne as soon as that undefeated team is defeated.
Morris, though, is the worst of the bunch. He once busted out a freestyle rap on "SportsCenter" about how much he doesn't want another team to break the record, and sounded like a bitter old man with this tired neighborhood analogy. "Like I said, don't call me when you're in my town, call me when you're on my block and I see you next door moving your furniture in," Morris said during the Patriots' run at an undefeated season in 2007.
I'm not a Saints fan or a Colts fan, but I'll gladly don a Drew Brees jersey or wear Peyton Manning pajamas if it'll help either of them finish undefeated, because hopefully it will end Morris' rap career and force him to return to being a Hair Club For Men spokesperson. In a perfect world, the Saints and Colts would play in the Super Bowl, both with undefeated records, sending Morris peacefully off the deep end.
Whether or not the Colts or Saints are your team, silencing Mercury Morris is a cause we all can believe in. And with the way the Colts and Saints are playing, let's just say they're not only in Morris' neighborhood, they're in his kitchen, making a turkey sandwich, drinking his Kool-Aid, and they've left the cap off the mayo.
All they've got to do now is run up the DirecTV bill and take a nap in his bed.
Jemele Hill can be reached at jemeleespn@gmail.com.
ESPN.com, ESPN The Magazine
Co-host of ESPN2's "Numbers Never Lie" and His and Hers podcast
Columnist for ESPN.com
Columnist for Orlando Sentinel (2005-06)
Writer for The Detroit Free Press (1999-2005)
Nike Men's Home Game Jersey Indianapolis Colts Coby Fleener #80 Shop »
MOST SENT STORIES ON ESPN.COM