By Patrick Hruby
Special to Page 2
"Let me tell you about the very rich. They are different than you and me."
-- F. Scott Fitzgerald
If that's the case, then very rich sports stars are different still.
You just got perk'd!
Some perks are unnecessary. But here's a list of much-needed perks star athletes would receive if Page 2 were in charge.
Forget the signing bonuses, shoe endorsements and multiyear, megabuck contracts that compare favorably to the GDPs of some developing nations. Fact is, many athletes and coaches don't need the loot. Not when the athletic world provides perks large and small, a moveable feast of freebies to shame the very worst -- or is it best? -- excesses that Hollywood and Rock 'n Roll have to offer.
"The best perks? There's a lot of them.," says Bob Bryan, a top-ranked doubles player on the ATP Tour. "The money's great. You get so much free clothes. Hotels are awesome, and you get free food. In Indianapolis [at the RCA Championships], they give you a free stereo and a camcorder. It's a great lifestyle. I'd rather be doing this than working in an office."
Unless, of course, it's your own personal office space at the Ballpark in Arlington, a goodie the Texas Rangers once gave to catcher Ivan Rodriguez. Or perhaps a private luxury suite at Seattle's Key Arena, a privilege formerly enjoyed by Gary Payton. In their standard concert contract, the band Van Halen once included a famous clause forbidding brown M&M's anywhere in the backstage area. When it comes to sweet deals, however, Eddie & Co. have nothing on another Brown -- namely, baseball's Kevin.
As the New York Yankees labored on a trade for the then-Los Angeles Dodgers ace last December, they ran into a major hurdle: the pitcher's perk-laden contract, a seven-year, $105 million deal that reportedly included free premium game tickets and a dozen complimentary rides on a corporate jet.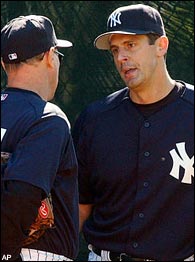 Another perk for Kevin Brown? Working for the Boss.
Though the Yankees generally frown on extras -- unless they involve adding another Hall of Fame-caliber shortstop -- they completed the swap by securing jet service for Brown. Not that the seven-time All-Star was unfamiliar with extra attention.
During his free-agent courtship with Los Angeles, Dodgers execs discovered that the pitcher was a fan of the "Star Wars" film series, distributed by the team's then-parent company Fox. While negotiating with agent Scott Boras, the club sent Brown a movie poster autographed by George Lucas; after Brown signed with Los Angeles, he was allowed to tour the top-secret set of "The Phantom Menace."
"The sporting world is full of graciousness and people who want to do things for you," says Renaldo Nehemiah, a former world record holder in the 110 meter hurdles. "I still enjoy the amenities of my former status. I like to play a lot of golf, and I get to play for free on some of the finest courses in the world."
While managing Olympic gold medalist Michael Johnson in 1999, Nehemiah and the sprinter were guests of the former U.S. Ambassador to Sweden, Lyndon L. Olson. The pair stayed at Olson's residence, had dinner with Olson and his wife and later enjoyed a three-hour cruise on Olson's private yacht.
"It was nice," Nehemiah recalls.
Nicer still was the treatment afforded to Nehemiah at a 1979 track meet in Budapest, Hungary. Having missed a flight, Nehemiah arrived late to the event -- so late, in fact, that his featured race had already been run.
A lost cause? Guess again.
"When I got there, they asked me how much time I needed to warm up, and I told them," Nehemiah said. "They said 'OK, when you're ready, let us know,' got all the other hurdlers together and ran the race again. I won. Whoever got the first place award had to give it back."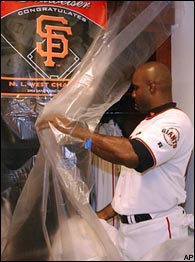 Greg Anderson could just hide in Barry's locker and no one would ever know.
In the NBA, superstars get the calls; in sports, the biggest names get the best goodies. Barry Bonds, for example, lords over four lockers and a $3,000 black leather massage recliner in the San Francisco Giants' clubhouse; his teammates enjoy single lockers and standard-issue folding chairs. Yankees third baseman Alex Rodriguez reportedly once had an arrangement with Giorgio Armani that allowed him to take whatever he wanted from any of the high-end clothier's stores -- free of charge.
Some other notable freebies:
New York Mets slugger Mike Piazza has his own luxury box at Shea Stadium, while Chicago Cubs outfielder Sammy Sosa gets a Wrigley Field mezzanine box four times a season.
While pitching for the Seattle Mariners, reliever Kazuhiro Sasaki had a $50,000 allowance for a personal trainer.
San Diego Padres first baseman Phil Nevin receives a free golf club membership, as did recently-retired Arizona Diamondbacks first baseman Mark Grace.
Major League Soccer once signed goalie Jorge Campos to a contract that entitled him to a pair of cars, one of them a Ferrari.
Former Houston Astros reliever Charlie Kerfeld once was given 37 boxes of Jell-O, the better to play pranks with.
Florida State football coach Bobby Bowden reportedly receives a complimentary Mercedes, a $4,000 home security system and a lifetime supply of Golden Flakes potato chips -- thereby ensuring that he will never suffer the unspeakable horror of ... eating just one.

"In tennis, it could be sending a private plane to pick a guy up," says Weller Evans, the ATP Tour's Executive Vice President of Player Services. "Many of the sponsors of these tournaments have company jets and might send them into action. Or, it could be paying for the gas that a player's own private plane might use. That's been known to happen.

"In all sports, the top players receive the best treatment. But what's happened over the last 10-to-15 years is that the amenities available to all the players have improved tremendously."

Call it trickle-down Perk-o-nomics. When cash-soaked Washington Redskins owner Dan Snyder used his private plane to shuttle first-round draft picks LaVar Arrington and Chris Samuels from New York to Virginia -- and then ferried the pair to team headquarters by helicopter -- it was only a matter of time before equally wealthy Dallas Mavericks owner Mark Cuban did likewise for his draft selections.

At an indoor tennis tournament in Paris a few years ago, Pete Sampras lost an early match. Before departing, he loaned his complimentary luxury suite at the swanky Intercontinental Hotel to now-retired countryman Jeff Tarango.

"Jeff used [the suite] to considerable advantage," Evans recalls with a laugh. "He managed to attract one of the French gals who was working at the transportation desk to the suite. He ended up marrying her."

Patrick Hruby is a sportswriter for the Washington Times.