By Patrick Hruby
Special to Page 2
NEWS ITEM: Former Chicago Bears coach Mike Ditka said Wednesday he would not run for the U.S. Senate, despite an effort to draft the tough-talking Illiniois icon ...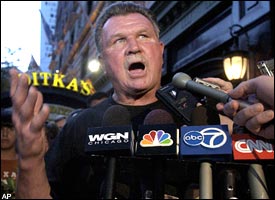 The U.S. Senate would have been much more amusing with Mike Ditka.
Too bad. Iron Mike coulda been a contender.
After all, if distinguished gentlemen such as Tom Osborne have taught us anything -- beyond the electoral utility of a well-known name -- it's that what works on the field can work in Washington.
With that in mind, Page 2 examines the potential political fortunes of Ditka and some other well-known coaches:
Mike Ditka
Position: United States Senator.
Qualifications: The name you know; comfortable with public speaking; knows where to find a good cigar (but not from Cuba -- that would be a clear violation of U.S. trade policy, right?)
Pros: Straight-shooter takes no guff from the punks in the press corps; Senate dress code relaxed to include Bahama shirts, a must in steamy D.C.; midnight appropriations bill rider ensures that both Bears and Saints make the playoffs.
Cons: Might make Dick Cheney's F-bomb drop on the Congressional floor look G-rated; Levitra prescription drug benefit leaves millions of Viagra users out of luck; trading Alaska, Manhattan and the original Louisiana Purchase for the draft rights to Ricky Williams not the brightest idea.
Page 2 Verdict: Has our vote, but only if he teams with Osborne to form the Congressional Coaches' Caucus.
Bill Belichick
Position: Secretary of Homeland Security.
Qualifications: Specializes in defense; will cut dead weight with zero remorse; looks sufficiently surly.
Pros: Willing to spend long hours in the office, pouring over tedious -- but vital -- minutiae; replaces duct tape and plastic sheeting with a ticked-off Rodney Harrison; fondness for nondescript sweatshirts means terrorist assassins won't be able to draw a clear bead.
Cons: Deals away government-issue kevlar vests for more cost-effective, salary cap-friendly Members Only jackets; won't be able to count on Tom Brady to take care of half his job; confused and disheartened when Osama and friends don't fold every December, a la the Miami Dolphins.
Page 2 Verdict: Breezes through confirmation hearings. After all, the guy is a Patriot.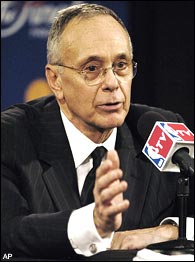 Larry Brown could run the CIA. But how long would he stay?
Larry Brown
Position: Director, Central Intelligence Agency.
Qualifications: Diligent and analytical; has won at every level; puts together a more accurate scouting report than some CIA directors we could mention.
Pros: Emphasis on unselfish team play reduces internal squabbling among CIA, FBI and whatever "special" intelligence shop the Bush Administration has set up this week; mindless Predator drones replaced by skeptical, flinty-eyed European basketball scouts; open to licensing name and likeness to next "Splinter Cell" video game.
Cons: Insistence on doing things "the right way" doesn't jive with spying, torture and other dirty spook tricks; probably hasn't seen a James Bond movie in 20 years; turns blind eye to double-agents if they're part of the "Carolina family"; jumps ship mid-term to take over Britain's MI-5, then drops them for Israel's Mossad.
Page 2 Verdict: Hire him. The guy said yes to the Clippers -- so clearly, he's not afraid of a rebuilding project.
Phil Jackson
Position: Secretary of State.
Qualifications: Expert at conflict resolution; tolerant and understanding of foreign cultures and religions; well-read, even if it's his own literary musings.
Pros: Uses Shaq-Kobe experience to forge Mideast peace between Jews, Arabs; finds an international use for Ron Harper; tallest, broadest-shouldered Sec State ever; an imposing, persuasive presence when reading the United Nations general assembly a bogus bill of intelligence goods.
Cons: Makes Tibet a central focus of U.S. foreign policy; overseas leaders annoyed when diplomacy consists of handing them books; reluctance to call timeout while letting players "figure it out for themselves" not a viable option in places like Kosovo; soul patch invites international ridicule and scorn (though not in France, which immediately awards him a National Medal of Honor, like the one Sharon Stone got).
Page 2 Verdict: No go. Red Auerbach would be a better choice.
John Madden
Position: Speaker of the House.
Qualifications: Good talker; can simplify complex issues; eponymous video game gives him cross-generational clout; has a manly name like "John," as opposed to a weasely moniker such as "Newt."
Pros: Uses telestrator to explain arcane legislative procedures; ACE Hardware discount ends era of $500 Pentagon screwdrivers; National Turducken Day.
Cons: "Madden" cover curse levels U.S. economy; concludes national addresses with "Boom!"; National Turducken Day.
Page 2 Verdict: Why not? Can't be worse than Gingrich.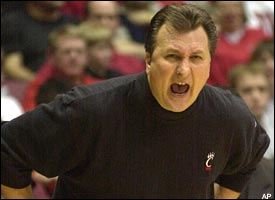 Bob Huggins would definitely spice things up in the Supreme Court.
Bob Huggins
Position: Supreme Court Justice.
Qualifications: Familiar with adjudication process; quiet, stern and serious; very comfortable in black.
Pros: Intimidates flashy lawyers with ease, same as refs; brings mock turtleneck back into fashion; outside of John Grisham's overactive imagination, when was the last time a Supreme Court justice was involved in a good ol' fashioned scandal?
Cons: Court roiled, disrupted by influx of JUCO transfer clerks; might bully the pasty, puny likes of David Souter; hard to get vomit out of judicial robes, even with dry cleaning; dissenting opinion to "sweep the leg!" not applicable as a point of law.
Page 2 Verdict: Incomplete. Never mind abortion -- where does he stand on the NCAA's proposed fifth year of eligibility?
Steve Spurrier
Position: Head of Internal Revenue Service.
Qualifications: Good at making money disappear, with nothing to show for it. Ask Dan Snyder.
Pros: Acerbic wit shames Corporate America into paying its fair share; speedy Florida receivers dispatched to deliver yearly returns; Form 1040-EZ replaced with four-man scrambles.
Cons: Puts Danny Wuerffel on the federal payroll without offering credible explanation; hard to take a man in a visor seriously; if he can't figure out a Brian Dawkins blitz, how can he figure out Dawkins' tax return?
Page 2 Verdict: Patently unqualified. But rank incompetence might be an improvement, if only because we get to watch his face scrunch up like a dried apricot on April 15th.
Jerry Tarkanian
Position: Chairman, Securities and Exchange Commission.
Qualifications: Comes from a city of gamblers; looks a little like Alan Greenspan, which could command banker respect; takes a cheat to catch a cheat, right?
Pros: Soft-spoken, nebbish manner tricks investment crooks into inadvertently confessing, like on "Columbo"; Ivan Boeskys of the world no match for "Amoeba Defense"; federal prosecutor Moses Scurry scares the bejeesus out of Martha Stewart. Aieeeeee!
Cons: Distracted by ongoing NCAA investigations; samurai swords not allowed in government buildings; appears in compromising hot tub photo alongside Mike Milken, Ken Lay.
Page 2 Verdict: Belongs somewhere less corrupt. Like Vegas.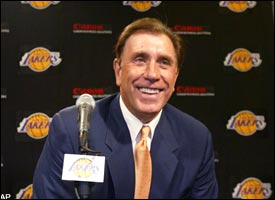 Rudy T would probably rather stay in LA, instead of going to Iraq.
Rudy Tomjanovich
Position: Ambassador to Iraq.
Qualifications: Tough and adaptable; willing to put a Muslim front and center; not afraid to walk into a rapidly deteriorating situation.
Pros: Likable, which helps when people want to shoot you; cool under pressure, which helps when people go from wanting to shoot you to actually pulling the trigger; rumpled mien won't look any worse after harrowing near-escapes from RPG alley ambushes.
Cons: Insurgents don't care if you're a "players' coach"; nation loses stature at home and abroad when press discovers Kobe Bryant is actually running the show; if decidedly unglamorous hair won't impress Jack Nicholson, how will it impress the interim government?
Page 2 Verdict: Ship him out, the better for the Lakers to go after Tim Floyd.
Mike Krzyzewski
Position: President, United States of America.
Qualifications: Consistent winner; leads from "the heart"; no stranger to being the Supreme Grand Poobah.
Pros: Absence from ACC adds 10 years to Gary Williams' life; Dick Vitale appointed Presidential press secretary; future aircraft carrier christened the "U.S.S. Coach K"; would look slightly less nerdy in an Abrams Battle Tank than Mike Dukakis.
Cons: Unsightly tent village outside White House doubles as security risk; American forces dispatched to Chapel Hill in "Operation Tar Heel Freedom"; in live, postwar news conference, refers to Al Qaeda foes as "special, special kids who played their hearts out"; if Christian Laettner, Trajan Langdon, Will Avery and others are any indication, entire nation runs risk of becoming massive draft disappointment.
Page 2 Verdict: Coach K in '04! (Hey, it beats the alternatives.)
Patrick Hruby is a sportswriter for the Washington Times.