One is irritatingly inescapable, inescapably irritating, more than a little dirty and quite possibly the most detested person in the whole wide world, at least for this week. The other is Paris Hilton. With the moronic heiress back in the slammer and Bruce Bowen handcuffing opposing scorers en route to yet another NBA championship ring, it's time to ask: which person is more worthy of public disdain? Herein, the head-to-head: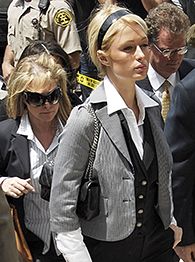 AP Photo/Dan Steinberg
Time in the slammer adds street cred to Paris Hilton's portfolio.
Catch Phrase
Bowen: Lets his feet do the talking … from underneath opposing jump shooters

Hilton: "That's hot"

Edge: Hilton. Broken ankle not as bad as a thicket of dead neurons.
Hey, How'd That Happen?

Bowen: A karate kick between your legs

Hilton: Fire in your crotch

Edge: Even. Some types of pain can't be quantified.
Talents Best Appreciated

Bowen: On film

Hilton: On film

Edge: Even. Use freeze-frame, super slo-mo to see the really nasty stuff.
Totally Redundant

Bowen: Finished second in voting for NBA Defensive Player of the Year for three straight seasons

Hilton: Has a full-time publicist. Seriously

Edge: Hilton. Heck, why not hire personal paparazzi as well?
Not As Dirty As

Bowen: The mid-'90s New York Knicks

Hilton: Lindsay Lohan

Edge: Bowen. Knicks did permanent damage to the NBA; Lohan only doing permanent damage to her nasal capillaries.
Did You Know?

Bowen: Averaged 16 ppg as a Cal State Fullerton senior

Hilton: Actually earned a GED

Edge: Bowen. Kevin Federline has a GED, too.
Oh, The Irony!

Bowen: Puts opponents on the line, but is a terrible foul shooter (.570 career percentage)

Hilton: Teamed with Puffy Combs in 2004 get-the-kids-out-to-vote drive; did not vote or even register herself

Edge: Hilton. "Teamed with Puffy Combs." 'Nuff said.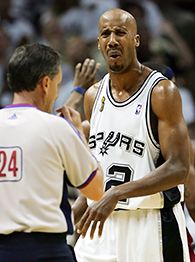 Lisa Blumenfeld/Getty Images
There isn't "a dirty bone" in Bruce Bowen's body? Amare Stoudemire and many others don't agree.
You CANNOT Be Serious
Bowen: A former teammate once told SI.com that "if anything, Bruce is too nice … there's not a dirty bone in his body"

Hilton: Told Regis that "one-night stands are not for me"

Edge: Even. Oh, and the Iraqis will greet us a liberators. For sure.
Unexpected Brilliance

Bowen: Hasn't missed a game since 2002

Hilton: Once observed that "only fat people drink Diet Coke"

Edge: Hilton. Sorry America, but she's right.
Dream On

Bowen: "Bruce Bowen: Come Fly With Me" opens in IMAX theaters

Hilton: "House of Wax II" green-lighted, Anthony Minghella to direct

Edge: Even. And thank goodness.
Nice Work If You Can Get It

Bowen: Earned $3.75 million this season to help send the Phoenix Suns packing

Hilton: According to Forbes, earned $15.5 million over the last three years

Edge: Even. When they win, we all lose.
Semi-Redeeming Qualities

Bowen: Nice guy off the court; can knock down the open trey

Hilton: Hasn't released follow-up album; doesn't own 24-hour cable network. Yet

Edge: Hilton. There's really no redeeming "Stars Are Blind."
Personal Kryptonite

Bowen: Creating a shot

Hilton: Sidekicks, storage locker fees, speed limits, showing up to court on time

Edge: Hilton. Note to self: When the judge is already ticked, do not be late to scheduled hearing.
Grace Under Pressure

Bowen: Doing an admirable job against ascending LeBron

Hilton: IT'S NOT RIGHT! MOMMY! WAAAAHHHH!

Edge: Bowen. Though "grace" is not a word usually associated with either person.
Someone Ask For A Recount

Bowen: Undrafted in 1993, the same year Acie Earl, Rex Walters and Geert Hammik were picked in the first round

Hilton: In 2006 AP poll, voted second worst celebrity role model, behind Britney Spears

Edge: Hilton. Where did the AP poll take place, Florida?
Suggested Birthday Gift

Bowen: A copy of "Edward Scissorhands"

Hilton: A "Monopoly" get-out-of-jail-free card

Edge: Hilton. Though she'd probably attempt to use the card.
FINAL SCORE
No contest, as Hilton drubs Bowen 8-3. Pity that Hilton's probation violation can't be punished with a life sentence. Is it too late to start up an online petition?
Patrick Hruby is a columnist for Page 2. Sound off to Page 2 here.