Have you paid attention to the week in sports -- and other stuff, like Prince Harry's heroic one-man struggle against an avian-dominated, Hitchcockian future? Put your powers of observation and recall to the test with our weekly quiz: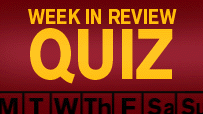 1. According to the New York Post, Lance Armstrong and Ashley Olsen were spotted:
(a) At a bar, with Olsen sitting on Armstrong's lap, the couple "making out all night," then leaving together around 2 a.m.
(b) There is no God
2. Facing a fourth-and-1 and leading the Washington Redskins 38-0 in the fourth quarter of an eventual 52-7 victory, the New England Patriots:
(a) Kicked a field goal
(b) Went for a first down
(c) Bulldozed an orphanage
3. Which of the following headlines is made up?
(a) Court Says Spider Bite No Excuse For Rape
(b) Texas Town Up For Sale On eBay
(c) Councilman Wants Birth Control For Pigeons
(d) Kobe Booed At Home
(e) None of the above
4. Agent Scott Boras announced that Alex Rodriguez would opt out of his New York Yankees contract:
(a) During Game 4 of the World Series
(b) Through unauthorized use of the Emergency Broadcast System
(c) While Googling himself in front of a full-length mirror
(b) By holding a nighttime parade in downtown Gotham, with music by Prince, a $20 million giveaway and Smilex gas-filled balloons
5. Which of the following statistics is least likely to appear in Boras' free-agent book for Rodriguez?
(a) Four-for-15 with one RBI in New York's first-round playoff loss to Cleveland
(b) Eight-for-59 in the postseason dating back to 2004
(c) Hitless in last 18 postseason at-bats with runners in scoring position
(d) Amazon.com sales rank of Rodriguez-penned children's book: 12,333
(e) All of the above
6. During an interview on ESPN's "First Take," Boras blamed Rodriguez's postseason futility on:
(a) Yankees closer Mariano Rivera failing to get three outs in the ninth inning of Game 4 of the 2004 ALDS
(b) The entire Yankees organization, for making the playoffs in the first place
(c) Tlaloc, the Aztec god of rain, for not causing a torrential downpour before the ninth inning of Game 4 in 2004, thereby preventing the Yankees from winning via the game being called off
(d) A, B and C
(e) Just A ... Sniff. Boras is losing his touch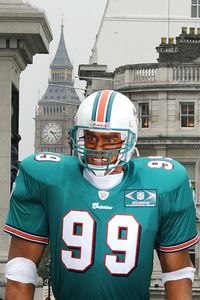 7. Identify the image to the right:
(a) An animatronic Jason Taylor, used to promote the Miami-New York game held in London
(b) The Dolphins' last, best hope for winning a game this season
(c) Humanity's last, best hope for stopping Godzilla
(d) Uh-oh. "Madden NFL" has finally become self-aware
8. The Rutgers men's basketball team received a verbal commitment from:
(a) A 14-year-old high school freshman from Las Vegas
(b) Chris Hansen of "Dateline NBC"
9. A Kansas high school football team:
(a) Scored 72 points in the first quarter of an 83-0 victory
(b) Is clearly being coached by Bill Belichick
(c) Is clearly not being coached by Bill Belichick, otherwise it would have won the game 288-0
(d) A and C
10. Who was fined $2,000 for a "lack of effort"?
(a) Tennis player Nikolay Davydenko, after a loss at the St. Petersburg Open
(b) The Washington Redskins defense, upon seeing Mike Vrabel line up in a goal-line package
(c) Notre Dame coach Charlie Weis, after allegedly having gastric bypass surgery
(d) Britney Spears, for "Blackout"
11. When Spears lamented about "how cruel our world can be" during a radio interview with Ryan Seacrest, she was referring to:
(a) Mothers who feed their infants soda, then attempt to whiten said infants' teeth
(b) Her cover of "My Prerogative"
(c) Seacrest signing a three-year, $21 million deal with E!
(d) Oddly enough, none of the above
12. The World Series averaged:
(a) A 10.6 rating, the second-lowest mark in Series history
(b) More than 70 percent viewership among homes in the Boston area with the TV turned on
(c) A and B
(d) Maybe this whole "America has become Red Sox Nation" thing is a wee bit overhyped
13. Before random drug tests of players, the New York Times reported, Major League Baseball teams regularly receive:
(a) Up to nearly two days of advance notice
(b) A complimentary carton of Whizzinators
(c) Forty "GET OUT OF JAIL FREE" cards
(d) Detailed legal instructions regarding plausible deniability and how it relates to flaxseed oil
14. San Diego center fielder Mike Cameron blamed his second positive test for a banned stimulant on:
(a) A tainted supplement
(b) A tainted supplement that -- according to Cameron's logic -- he continued to take after his first positive test
(c) A and B
(d) Not getting baseball's customary two-day notice before his random drug test
15. Three Romanian boxers were given lifetime bans for:
(a) Shoplifting in a Chicago department store during the world amateur championships
(b) Acting like promoters as opposed to fighters
16. Former NFL quarterback Jeff George reportedly:
(a) Called Minnesota's play-by-play announcer to gauge the Vikings' interest in signing him
(b) Is really happy the NBA lockout is finally over
(c) Thinks it will be a crime if "Gladiator" doesn't win best picture
(d) Has been stockpiling bottled water and rescue flares. Y2K bug, you know?
17. George also told the St. Paul Pioneer Press that he:
(a) Looks at the quarterbacks around the league, and wonders why he isn't still playing
(b) Looks at the quarterbacks in Minnesota and Chicago, and wonders why Otto Graham isn't still playing
18. Informed of George's desire to play for Minnesota, Vikings coach Brad Childress advised George to:
(a) Go to "a fantasy camp or something like that"
(b) Go stick his head in a cement mixer
(c) Go find Vinny Testaverde's agent, and let him do the talking from now on
(d) Go play intramurals, brother!
19. The managing partner of the Arena League's Arizona Rattlers:
(a) Announced that he would provide season-ticket holders with a full refund if the team doesn't make next season's playoffs
(b) Is lucky he isn't the managing partner of the Arizona Cardinals
20. In an interview with ESPN, NBA commissioner David Stern said:
(a) Warren Buffett is wealthy
(b) Baghdad is dangerous
(c) Water is wet
(d) The New York Knicks are not a model of intelligent management
21. Which of the following is the most serious problem facing the NBA?
(a) Referee integrity
(b) Declining television ratings
(c) Non-intelligent management of Knicks
(d) Jacob the Jeweler pleading guilty in a federal drug case
22. In an interview with British GQ, California Gov. Arnold Schwarzenegger said that marijuana is not a drug, but rather:
(a) A leaf
(b) A helluva leaf
23. A new book claims the 1962 University of Kentucky football team:
(a) Was slapped and hit by a brutal, physically abusive coaching staff
(b) Fixed a game against Xavier
(c) Had some players performing oral sex on gay men, including Rock Hudson, for money
(d) All of the above
(e) Is totally going to be featured on "E:60"
24. After being beaten unconscious and robbed at a Halloween party where three people were shot to death, Nevada basketball player Tyrone Hanson was:
(a) Kicked off the team, because he had been told not to go out that night
(b) What do you want Nevada to do? Kick a field goal?
25. In an interview with MSNBC's Jim Gray, Barry Bonds said:
(a) He would boycott Cooperstown if the Baseball Hall of Fame displays his record-breaking home run ball with an imprinted asterisk
(b) When he retires "five years from now," he may reconsider, but that it will be the Hall of Fame's "position and where their position will be will be the determination of what my decision will be at that time"
(c) Huh?
(d) A and B
(e) Wait -- five more years of this [expletive]? Pass the hemlock
26. When Bonds said in the same interview that he has "nothing to hide," he was referring to:
(a) Pages 71-72, 74-75, 111, 113-116, 121, 128, 178-79, 182, 195, 202, 219-21, 249 and 271-75 of "Game of Shadows"
(b) The reason Greg Anderson remains silent and in prison
(c) None of the above
27. According to the Palm Beach Post, the Miami Dolphins:
(a) Are offering "A-list" celebrities airfare, rooms at a five-star resort, per diem and team gear in exchange for attending their games
(b) Have reached out to Kevin Federline and Lauren Conrad
(c) Seem slightly confused by the term "A-list"
(d) All of the above
28. A lawsuit filed in federal court accuses the CEO of a leading Japanese ad agency of:
(a) Secretly snapping crotch shots of tennis star Maria Sharapova as she posed for a Canon camera ad
(b) Sharing those photos with colleagues
(c) A and B
(d) Handing sports blogs the near-equivalent of the O.J. Simpson murder trial
ANALOGIES

29. Tony Romo : partying with Britney Spears
(a) Odysseus and crew : dinner with Circe
(b) Sampson : haircare with Delilah
(c) John Lennon : hello, Yoko!
(d) All of the above
30. Houston Texans punter Matt Turk : falling on ball in end zone
(a) Schwarzenegger : tossing coin before Chargers game
(b) Karen Hughes : improving America's image in Middle East
(c) Jonathan Papelbon : securing World Series-ending ball
(d) All of the above
31. O.J. Simpson co-defendants : cutting plea deals
(a) Tom Brady : tossin' touchdowns, wearin' ascots
(b) Fall foliage : changing color, accumulating on sidewalks
(c) "SportsCenter" : special report -- what's new with the Yankees?
(d) All of the above
EXTRA CREDIT

32. A Georgian athlete:
(a) Reportedly may have set a world record by dragging a 17,000-pound military helicopter 26.3 meters with his ear
(b) May have?
33. Following a World Series sweep that saw Boston outscore Colorado 29-10, Rockies owner Charlie Monfort said that:
(a) His team is better than the Red Sox
(b) Coors Field is more historic than Fenway Park
(c) His name is more manly than "John Henry"
(d) Marijuana is not a drug, but rather a leaf
34. After announcing that she tested positive for cocaine at Wimbledon, tennis player Martina Hingis said that she was innocent, had never taken drugs and that:
(a) "My only performance enhancer is the love of the game"
(b) "The only lines I put my nose to are on the court"
(c) "I've never had a spontaneous nose bleed that wasn't the result of spirited practice"
(d) "Cocaine is not a drug. It's a powder"
ESSAY QUESTION
Singapore Airlines has asked passengers in the first-class suites aboard its new Airbus A380 jumbo jet to refrain from having sex -- even though the suites are private and feature the world's first airborne double beds. In 800 words or less, compare Singapore Airlines' request to recent pleas for the New England Patriots to stop running up the score, even though the team features Brady and Randy Moss and plays in the woeful AFC East.
ANSWER KEY: 1, a, to borrow a phrase, there are no atheists in foxholes with a clear view of Olsen and The Lance sucking face; 2, b, like Bill Belichick knows how to drive a bulldozer; 3, d; 4, a; 5, e; 6, a or d, though at least he didn't blame tainted supplements; 7, a, and why not just use "Faces of Death" to promote American football?; 8, a, though b can't be far behind; 9, d; 10, a; 11, a, and this from a woman who probably thinks Sartre is a new nightclub; 12, c; 13, a, but don't worry, the Steroid Era is over!; 14, c, all those lawyers at the MLBPA, and this is the best excuse they could muster? For shame, fast-talkin' law guys; 15, a; 16, a, and Rose can't wait for the next Third Eye Blind album; 17-19, a; 20, d, you think so, professor?; 21, d, who's gonna make diamond-encrusted platinum weeping Jesus pendants now?; 22, a; 23, d; 24, a; 25, d; 26, c; 27, d; 28, c; 29-31, d; 32-34, a, and forget the usual nominating rigamarole, Hingis goes directly into the drug excuse Hall of Fame, no ballot required; Essay Question: any variation on "while you're at it, might as well ask fans to remain calm and peaceful even though we're detonating a mound of disco records in center field" is acceptable.
Patrick Hruby is a columnist for Page 2. Sound off to Patrick here.