Commentary
At least Pat McAfee wasn't driving ...
Originally Published:
October 20, 2010
By
Patrick Hruby
| Page 2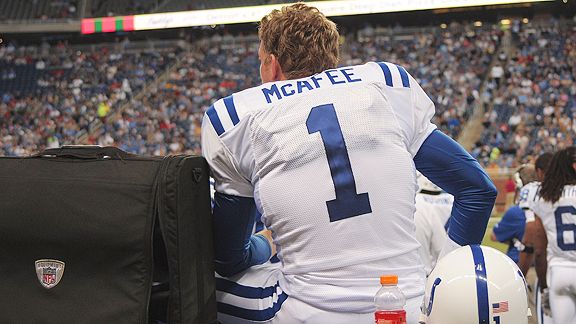 Mark Cunningham/Getty ImagesAfter Pat McAfee's arrest for public intoxication, we wonder what's in that bottle behind him.
From the Department of It's Not an Outtake from "Old School," It's Real Life, we bring you the following update: Indianapolis Colts punter Pat McAfee was arrested for public intoxication on Wednesday after police said he took a pre-dawn swim in a city canal -- what, sucking on a bar squeegee was too hygienic? -- and then allegedly told officers "I am drunk" as he attempted to explain ... why he was sopping wet.
On one hand, Page 2 would never condone irresponsible drinking, no matter how giggle-worthy the results; on the other, we're inviting McAfee to join these sports figures in our At Least They Weren't Driving Hall of Fame:
Gary Moeller
Former Michigan football coach was arrested at a Detroit-area restaurant in 1995 after he: (A) banged drink glasses so hard against a table that they broke; (B) sang loudly with the band and tried to dance with women who were strangers; (C) told a waitress who served him as many as eight drinks that she was "beautiful," then tried to hold her at his table; (D) tried to pick a fight with another diner; (E) badmouthed his wife -- who already had left to protest his drinking -- to police; (F) cursed and shoved police; (G) threw a lampshade at a manager who tried to get him to switch from alcohol to coffee. Gary, Gary, Gary: Don't you know the lampshade is supposed to go on your head?
Aftermath: Moeller resigned from Michigan and was later sentenced to a $409 fine after pleading no contest to disorderly conduct and assault and battery.
Ed Belfour
While police were arresting the former NHL goalie at a Dallas hotel in 2000, an intoxicated Belfour offered officers "$1 billion" to let him go. Police report gives no indication if Belfour held pinky to mouth while making offer.
Aftermath: Belfour was sentenced to two years' probation and a $3,000 fine.
Tyler Patrick Thomas
Former Oregon State football player was found naked and intoxicated in a stranger's home earlier this year; when police ordered him to the ground, Thomas instead dropped into a three-point stance and lunged at the officers. Shockingly, Thomas was then Tased.
Aftermath: Thomas was kicked off the team by coach Mike Riley. His legal case is still pending.
Dion Rayford
Former University of Kansas football player was arrested in 1999 for disorderly conduct and having an open container of alcohol after he got stuck in the drive-thru window of a Taco Bell while attempting to charge employees who left a chalupa out of his order. Rayford was 6-foot-3, 270 pounds; the window measured 14-by-46 inches; do the math. Or don't, if you're just that drunk 'n' hungry.
Aftermath: Rayford pleaded guilty to a misdemeanor charge of criminal damage to property and was sentenced to a year of probation.
John Riggins
At a Washington Press Club dinner in 1985, intoxicated former Redskins running back famously told Supreme Court Justice Sandra Day O'Connor, "loosen up, Sandy baby" before passing out under the table. Riggins later claimed that a speech from Sam Donaldson was so boring, it put him to sleep. In D.C. this is known as plausible deniability.
Aftermath: Riggins was arrested for allegedly being drunk in public, but the charge was later dismissed.
Brandon Hefflin
Former University of Toledo football player reportedly was so intoxicated that police took him to a hospital, where he threw a portable urinal at an officer before attempting to flee. In related news, "Jackass 3D" is now in theaters.
Aftermath: Hefflin was charged with one count each of escape, assault, resisting arrest, and criminal trespass. He later pleaded no contest to a reduced charge of disorderly conduct.
Joe Namath
Intoxicated former NFL quarterback famously asked to kiss ESPN sideline reporter Suzy Kolber during a live interview on "Monday Night Football." Showing tremendous professional restraint, Kolber didn't respond by asking Namath if he had a designated driver.
Aftermath: Namath entered a rehabilitation program for alcoholism.
Jerry Jones
Seemingly inebriated Dallas Cowboys owner was caught on video earlier this year trash-talking Bill Parcells and Tim Tebow to a group of fans. Also called Tony Romo a "miracle," adding credence to the "seemingly inebriated" part.
Aftermath: Jones called Parcells to smooth things over, although Parcells said he was never upset over the incident.
Patrick Hruby is a freelance writer and ESPN.com contributor. Contact him at PatrickHruby.net.