Commentary
The inaugural Page 2 Hall of Fame ballot
Originally Published:
November 8, 2010
By
Patrick Hruby
| Page 2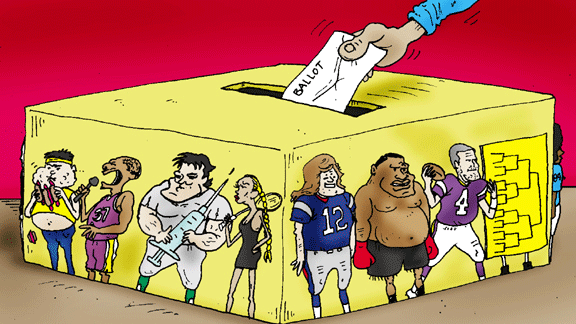 Kurt Snibbe/ESPN.com
Pro wrestlers have a Hall of Fame. So do mascots. And Canadian baseball players. And American field hockey players. And even adult film performers.
Why not Page 2?
To celebrate our 10th anniversary -- and no, we didn't expect to last this long, either -- Page 2 is inducting its inaugural Hall of Fame class, a distinguished group that has provided us with more material than we could have ever dreamed over the past decade.
Anyway, we need your help.
Below are 25 nominees, culled from our first decade of existence. Read through the list, then cast your ballot. We'll formally recognize the top 10 vote-getters in a special ceremony article on Friday, with each inductee receiving a garish blazer absolutely nothing.
Ready to take a trip back in time? Or at least kill your lunch hour? Then batten down the DeLorean doors and let's begin:
• RANK 'EM: Page 2's Hall of Fame Ballot
1. Anna Kournikova

Résumé: Without James Madison, there would be no Constitution; without inventor Robert Adler, no remote control; without Kournikova, no Page 2. Simple as that. The divine Miss K was a stalwart of our early years, practically our raison d'être. If Congress ever accused Page 2 of being an elaborate excuse to run Kournikova pictures, we'd have no choice but to look sideways and decline to talk about the past.
Key stat: Kournikova was once the face of -- and most searched individual on -- Lycos. (What's "Lycos"? Think Google, only without the catered spreads and world domination. Or just ask your parents.)
2. Isiah Thomas

Résumé: How have we made fun of the former New York Knicks comedy Godsend executive? Better question: How have we not made fun of him? From comprehensive legal analysis to questionable photography to dubiously obtained office documents, Thomas has been the gift that keeps on giving -- well, unless you're a Knicks fan, in which case he's more like an incurable body rash.
Key stats: Jerome James, five years, $30 million; Eddy Curry, six years, $60 million; Jerome Williams, three years of not playing, $21 million; Anucha Browne Sanders, six years, $11.5 million.
3. Alex Rodriguez

Résumé: Linked to Madonna? Check. Inspiration for New York City tabloid headlines we wish we wrote? Check. Alleged owner of centaur-themed self-portrait hanging above own bed? Check. Steroid follies, narcissistic magazine photo shoots, possibly fictional cousins, bush-league glove slapping: Rodriguez has been as good to Page 2 as we've been bad to him. (Except for the one -- and exactly one -- time we came to his defense).
Key stat: Rapidly closing in on Mike Tyson's career record for "stuff we're not creative enough to make up that actually happened. No, really."
4. The bathroom stall Carolina Panthers cheerleaders

Résumé: Just as Gale Sayers was inducted into the pro football Hall of Fame on the basis of his short-term brilliance -- as opposed to long-term longevity -- so too are the Bathroom Stall Carolina Panthers Cheerleaders worthy of Page 2 HOF consideration, if only because their highly publicized antics presaged the Internet-fueled sex scandal sports landscape to come.
Key stat: 0.38 seconds -- the time it takes Google search to find 29,600 results for "Carolina Panthers cheerleader bathroom."
5. Brett Favre

Résumé: Speaking of the Internet-fueled sex scandal sports landscape, that's probably the only thing we haven't mocked Favre for. Mostly because we've been too busy chronicling his short, overexposed, attention-seeking ... retirements.
Key stat: As is the case with his NFL career, Favre figures to walk away from Page 2 with every major career record -- words, punch lines, painfully fake correspondence, office jokes unsuitable for publication on a family-friendly website. Of course, all of us will be dead by the time that takes place.
6. Roger Clemens

Résumé: Forget the World Series bat shard-tossing, the Rapture of Suzyn Waldman, the funny-then/hysterical-in-retrospect SI Swimsuit Issue picture. Anyone who can prompt both an epic 8,000-word treatise and a Page 2 writer to futilely search for a life-sized human ear costume -- the better to confront Clemens in person on Capitol Hill -- is doing something very, very wrong. And by wrong, we mean so very, very right.
Key stat: Holds all-time record for slam-dunked footballs, with Andy Pettitte a close No. 2.
7. Jennie Finch

Résumé: Not to say that we made the lovely softball ace a star, but ... we kind of made her a star. Oh, and it probably helped that she was charismatic and photogenic and a super good sport about our shameless crush.
Key stat: Finch's victory over Kournikova in our 2003 Hottest Female Athlete contest remains the greatest upset in Page 2 history.
8. Barry Bonds

Résumé: We attacked him. We defended him. We pondered what it all meant. We pondered his hat size. We tried to do the math -- with actual science! -- on his career home run total. We even lobbied him to join our softball team. In short, we had a fever -- and the only prescription was more Barry.
Key stat: Sadly, Bonds' biggest career highlight -- a cameo on "Beverly Hills, 90210" -- took place before Page 2 existed.
9. Mike Tyson

Résumé: Inspired Bill Simmons to coin the now popular term "the Tyson Zone"; also inspired Simmons to write a thoughtful, comprehensive look at Tyson's boxing career and cultural significance. Mike Tyson as muse? Only on Page 2. (Well, unless you're James Toback.)
Key stat: Never did follow through on a possible second career in adult films. Alas!
10. Tom Brady

Résumé: Cuddled goats. Dated Gisele. Wore funny ascots. Married Gisele. Wore tiny hats. Got dissed, Tupac vs. Biggie-style, by Justin Bieber. Led DJ Gallo to attempt some goat cuddling of his own. We'd like to call our Brady obsession a man crush -- but sadly, there's nothing manly about it.
Key stat: 18-1.
11. Jose Canseco

Résumé: As is the case with Bonds, Page 2 has both ridiculed and praised the self-described Typhoid Mary of the Steroid Era -- sometimes in the same article.
Key stat: Leads all Page 2 HOF nominees in both "Surreal Life" appearances (1) and alleged martial arts action movie demo tapes featuring the subject twirling nunchakus as a sultry, nightgown-clad woman lounges nearby (1, and we really hope to see it someday).
12. Derek Jeter's paramours

Résumé: Mariah Carey, Lara Dutta (Miss Universe 2000), Jessica Alba, Jordana Brewster, Joy Enriquez, Vanessa Minnillo, Scarlett Johansson, Jessica Biel, Adriana Lima, Vida Guerra and Minka Kelly. That's not an impressive résumé -- that's 11 impressive résumés.
Key stat: Jeter's sabermetric rating of CPGOAWA (compiling photo galleries over actually writing articles) is the highest in Page 2 history.
13. Pete Rose

Résumé: On one hand, Rose's I-didn't-do-it/of-course-I-did shenanigans make him a reliable punch line; on the other, Charlie Hustle makes a sweet, easy living signing autographs in Las Vegas. He's also dating a Playmate. So maybe the joke's on the rest of us.
Key stat: Already a member of the WWE Hall of Fame, so really, how can we keep him out of ours?
14. The New York Yankees

Résumé: Football coaches have turnovers and discipline. Conservative pols have Big Government. "Charles in Charge" had Willie Ames. In life, everyone needs a whipping boy -- and in good times and bad, the Yankees have been ours.
Key stat: Jim Caple wrote an entire book about Yankee hatin'. In related news, a Page 2 writer produced something that was not a bracket, list or lookalike contest.
15. Stephon Marbury

Résumé: Ate Vaseline. On camera. Willingly. We could say more, but why?
Key stat: Shot a perfect 1-for-1 with team interns in the back of his sport utility vehicle.
16. Matt Millen

Résumé: Architect and mastermind -- or metaphorical Captain Hazelwood, take your pick -- behind arguably the worst team in the history of professional football. How bad was Millen's tenure as el jefe of the Detroit Lions? So bad that we never even mocked his moustache.
Key stat: Drafted Joey Harrington over Ed Reed, Charles Rogers over Andre Johnson and Mike Williams over DeMarcus Ware. Some people dig their own professional graves with a metaphoric shovel; others use a tactical nuclear device.
17. The Original Whizzinator

Résumé: The plastic penis made famous by former Vikings running back Onterrio Smith that captured America's heart. Or at least ours.
Key stat: At $150 per, provides much better cost-to-laugh ratio than Jerome James.
18. Britney Spears

Résumé: Sift through the dustbin of pop culture history -- above the Baby on Board stickers, but below the Rachael Ray-as-sex-symbol magazine shoots -- and you'll find not one, not two, not three, but four Page 2 photo galleries devoted to Spears ... along with a three-way debate over whether the one-time pop tart was overexposed. No, the irony isn't lost on us.
Key stat: Spears also prominently featured on the short-lived Page 3, which we will now go back to pretending never existed. Much like "Playmakers."
19. Randy Moss

Résumé: Walked off the field early. Forever scarred the delicate psyche of Joe Buck. Starred on Page 2 as both a video game character and romantic letter writer. Temporarily turned Simmons into a Twitter-era Bob Woodward. Coined the immortal catch phrase, "straight cash, homey." Moss may have dogged it on some routes, but he never went less than full speed for us.
Key stat: Among current or former Minnesota Vikings, leads Favre 1-0 in career moments of only pretending to pull his pants down ... allegedly.
20. Takeru Kobayashi

Résumé: Japanese competitive eating champion made abject gluttony even more acceptable within America.
Key stat: At the 2006 Fourth of July Nathan's Hot Dog Eating Contest at Coney Island, Kobayashi won by scarfing 53¾ wieners and buns -- approximately 50¾ more than we managed when attempting the same thing.
21. Congress

Résumé: When future Chinese historians seek to explain the decline and fall of the American empire, they likely will hold our duly elected national legislative body responsible for: (A) running up a crippling budget deficit; (B) putting short-term political gain over long-term problem-solving; (C) producing the funniest two days in the history of C-SPAN, thanks to the 2005 congressional steroid hearings and the Roger Clemens inquiry. Rep. Stephen Lynch (D-Mass.), you had us at abscess.
Key stat: Thanks to the magic of modern Internet polling, Page 2 was prompted to hold imaginary congressional hearings about athletes not hustling, a topic sports fans actually care about.
22. Moises Alou

Résumé: Baseball player's self-professed practice of urinating on his own hands to toughen his skin inspired Page 2 to engage in the single most important, eloquent debate since Lincoln-Douglas.
Key stat: Alou is a career .303 hitter, so maybe he's on to something with the hand non-sanitizing.
23. Ron Artest

Résumé: During an epic road trip, Ron-Ron made Page 2 writer Sam Alipour an honorary Tru Warier -- so the least we can do is return the symbolic favor.
Key stat: Sold just 343 copies of his debut album during its first week in release.
24. O.J. Simpson

Résumé: He's O.J. Simpson.
Key stat: He's O.J. Simpson.
25. Lists and brackets

Résumé: Without the above story devices, we'd have to, you know, work.
Key stat: We've been doing this for 10 years, and haven't gotten around to producing a bracket to determine the top 10 Page 2 lists of all-time -- which, come to think of it, is a great idea for our next anniversary celebration.
Patrick Hruby is a freelance writer and ESPN.com contributor. Contact him at PatrickHruby.net.