Commentary
Page 2 quiz: Are you a Jet or a Patriot?
Originally Published:
January 14, 2011
By
Patrick Hruby
| Page 2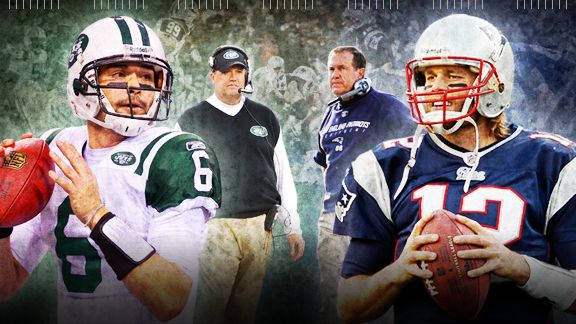 ESPN.com Illustration
Maybe you've heard: This weekend's NFL playoff game between the New England Patriots and New York Jets is kind of a big deal. And if you've managed to click this far, you're probably going to watch.
Question is, which team will you root for?
Perhaps you're not a fan of either club. Could be -- and we know this is a stretch -- you don't even have a financial interest in the outcome. Either way, you may feel rudderless. All dressed up with a giant foam finger and no place to wave it.
Not to worry. As a high-minded public service, Page 2 presents the following quiz. Take it to see which team you're most compatible with:
1. Tom Brady is like:
(a) A Greek God
(b) An opinion
2. I am most comfortable wearing:
(a) A hoodie
(b) A strength and conditioning shirt, draped over my manteats without irony
3. A man should:
(a) Settle down with a nice supermodel
(b) Endeavor to keep his supermodel-dating options open
4. Football games are:
(a) A good backup entertainment option if you can't score tickets to "Lombardi"
(b) Personal
5. A football team should practice:
(a) In the snow, to prepare for inclement weather
(b) To the montage music from "Benny Hill"
6. The world is:
(a) Forever against me, even though books, articles and televised punditry praising my professional acumen, organizational competence and winning ways make up a profitable cottage industry
(b) Forever indifferent to me, even though I will literally say anything to make it otherwise
7. My favorite political press secretary is:
(a) Scott McClellan -- clichéd, bland, evasive, effective
(b) The former Iraqi Information Minister -- over the top, probably doesn't even believe what's coming out of his mouth, wildly entertaining
8. I feel a special kinship with:
(a) Any undersized wide receiver whose determination, work ethic and sheer moxie are matched only by his on-field effectiveness
(b) Wayne Chrebet
9. The New York Giants:
(a) Ruined the perfect season
(b) Ruin every season
10. The best way to gain three yards is:
(a) Sideways pass on a bubble screen
(b) Running up the middle, falling down
11. Pete Carroll:
(a) Makes me angry and uncomfortable -- in part because he reminds me of a time when a mere 9-7 record was a significant improvement on a previous decade of near-total futility, in part because I am inherently suspicious of anyone who approaches something as important as men in numbered pajamas chasing a ball with sunny optimism and fearless exuberance
(b) Was at least better than Rich Kotite
12. I briefly felt hopeful about:
(a) The possibility of the Chicago Bears losing Super Bowl XX
(b) Browning Nagle
13. Mark Sanchez is:
(a) Admittedly dreamy but not causing me to lose sleep
(b) The winningest postseason quarterback in franchise history, and you can look it up!
14. There's no way:
(a) Bill Belichick spoke more than five words to Matt Walsh, or even remembers who Walsh is
(b) Anyone could pull off a conspiracy to fix the Super Bowl to give the NFL-AFL merger needed legitimacy, even though then-Baltimore Colts owner Carroll Rosenbloom was a known sports gambler
15. The ultimate scrappy:
(a) Danny Woodhead
(b) Doo?
16. My favorite gate is:
(a) Anything not Spy-
(b) D
17. My psychological relationship with New York City is:
(a) Complicated, in that I have much to be proud of yet struggle with a nagging, loathing-and-envy-fueled inferiority complex vis-à-vis the Big Apple
(b) Complicated, in that I have much to be proud of yet struggle with a nagging, loathing-and-envy-fueled inferiority complex vis-à-vis the Big Apple -- even though I live there
18. My favorite football team's current respectability can basically be traced back to:
(a) Bill Parcells
(b) All of the above
19. I approve of:
(a) Getting draft picks in exchange for diva wide receivers
(b) Giving up draft picks in exchange for diva wide receivers
20. Tactic that is more misunderstood and ahead of its time:
(a) Employing a director of football research
(b) Sideline wedge formation
21. After throwing for 300-plus yards and four touchdowns, a quarterback should be:
(a) Free to celebrate by pointing in the general direction of the other team's sideline
(b) A quarterback did that? Are you sure you don't mean unicorn?
22. I would rather see a Monday morning New York Post back page headline that reads:
(a) BOSTON TEAM PARTY
(b) PRETTY FEAT!
23. Professional football is an adequate holdover until:
(a) Red Sox pitchers and catchers report
(b) The Mets begin another season of buffoonery by assembling in Port St. Lucie
24. I prefer the 21st Century American workplace:
(a) As it is -- a fear-driven, results-oriented, everyone-is-replaceable, young-and-cheap beats old-and-expensive environment where management holds all the cards, every employee falls in line (or else!) and being five minutes late because of a massive snowstorm is a perfectly good reason to be sent home for the day
(b) As it could be -- a realm where the boss makes a fool of himself for everyone's amusement, cheeseburgers are plentiful and even the harshest verbal dressing down is followed by delicious snacks
25. Playoff football is:
(a) WWIII
(b) Armageddon
Answer key: If the majority of your answers to questions 1-24 were "a," you should root for the Patriots; if "b," you should root for the Jets; if you answered "a" or "b" to question 25, you should really watch the Pittsburgh-Baltimore game instead.
Patrick Hruby is a freelance writer and ESPN.com contributor. Contact him at PatrickHruby.net.