Commentary
A lecture on finance from the Yankees?
Updated:
January 31, 2011, 11:52 AM ET
By
Patrick Hruby
| Page 2
Does the New York Yankees' brain trust actually style itself as a group of self-made, John Galt-shaming money-making geniuses who really ought to be teaching courses at the London Business School, if not for the special, special talent it takes to outbid nonexistent suitors by about $60 million for aging slugger Alex Rodriguez?
Just askin'.
[+] Enlarge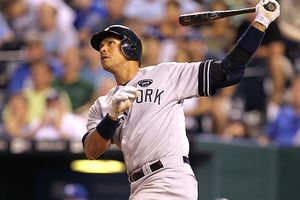 Jamie Squire/Getty ImagesAlex Rodriguez: One of the Yankees' great "finds."
Actually, scratch that: I'm not just asking. I'm asking because of Yankees president Randy Levine's assertion that he'll be impressed with Texas Rangers owner Chuck Greenberg when he "demonstrates he can keep the Rangers off welfare" -- that is, keep the Rangers from being a revenue-sharing recipient that also takes financing from baseball and "advance money" from television networks.
Um, hello?
This is not about the Rangers' skill and/or ability to generate revenue. This is about the Yankees' colossal arrogance and complete lack of self-awareness when it comes to the same. Seriously, who is Levine to call out anyone when it comes to "welfare"?
I could make a killing running the Yankees. You could make a killing running the Yankees. Anyone with a pulse and a checking account could make a killing running the Yankees. It's really not complicated: They have the good fortune of playing in the country's biggest television market, a market they did nothing to create yet profit handsomely from, both in terms of revenue and franchise value. To wit: According to Forbes Magazine, the Yankees earned $441 million in revenues in 2009. The No. 2 franchise? The New York Mets.
Great job, Yankees! Let's make you a Wharton case study!
In terms of on-field product, Yankees fans -- the annoying ones, anyway -- like to assert that their team wins because the club's front office tries harder, that guys like Levine just want it more, that the Yankees are simply more willing to pay top dollar for primo talent. Er, no. As sports writer Joe Posnanski points out, New York's percentage of revenues spent on player payroll is a whopping 0.3 percent higher than the league average. Translation: Everything's relative, and the Yankees only spend more because they start out with more to spend. (Which is peachy if you're Carl Pavano).
Oh, and as for "welfare"? According to USA Today, the $1.5 billion construction of New Yankee Stadium was funded with $1.2 billion in tax-exempt bonds -- a nice deal if you can get it -- and the city's budget office estimated that the total cost of the stadium to New York City was $362 million.
But please, Yankee execs: Keep beating your pinstriped chests about your heroic self-sufficiency.
In a way, the Yankees are the perfect match for the Wall Street investment bankers and -- ugh -- financial engineers who snap up (read: can afford) the club's most expensive tickets, a gilded group that believes it is doing "God's work," that borrows free money from the government and considers its group to be financial wizards for loaning it out with interest (wow!), that mostly manages to extract wealth while self-righteously insisting it creates value. Put another way: The Yankees are a rich kid dealt a winning hand, whose primary accomplishment is not screwing things up, who somehow believes that the silver spoon in his mouth makes him the smartest guy in the room.
Patrick Hruby is a freelance writer and ESPN.com contributor. Contact him at PatrickHruby.net.
Nike Men's New York Yankees Dri-fit Authentic Collection Flash Fly Navy Performance Shorts Shop »
MOST SENT STORIES ON ESPN.COM