By Patrick Hruby
Page 2
EDITOR'S NOTE: Page 2's Patrick Hruby is spending his All-Star break at … well, the All-Star Game. During the festivities in Detroit, he'll post occasional updates on the sights and sounds from behind the scenes at the Midsummer Classic.
Posted: Tuesday, 9:20 a.m., ET

INSIDE COMERICA PARK, Monday, July 11, 4:30 p.m., ET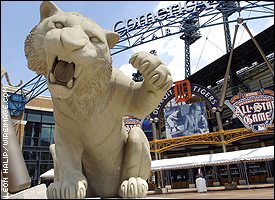 Note: No cement tigers were harmed during the writing of this blog.
Billy Bob Thornton is in town, here to promote the new "Bad News Bears" movie. Granted, the twangy actor isn't Angelina Jolie. But he's as close as I'll ever get. His handler says Thornton will be on the field in 10 minutes. Meet us, he adds, behind home plate. Ask a few questions.
Can do. So I think. A security guard stops me just inside the home plate tunnel.
The field's not open till 5:40.
No problem. If I can't get to Thornton, who can?
AL BATTING PRACTICE, Monday, July 11, 6:06 p.m., ET
Players and media congregate behind the batting cage. It's impossible to walk 5 feet without tripping over a cable; no matter where you stand, you're blocking someone's lens.
Frankly, I don't think Kenny Rogers is going to make it through the evening.
Shea Hillenbrand steps in, sends two balls into the left field bullpen. Impressive. But where's Thornton?
For that matter, where are those cute kids in the Bears uniforms I saw running around at the celebrity softball game?
Billy Wagner walks past, blowing bubbles, son in tow.
Dontrelle Willis throws an arm around a teenaged cousin, laughing and grinning.
Hmmm. These guys have youngsters with them. They seem to be enjoying themselves. And they don't even have a movie to promote. What sort of bizzaro America have I stepped into?
AL BATTING PRACTICE, Monday, July 11, 6:20 p.m., ET
Drew Johnson says hello. As Jennie Finch's media relations person, he might have the second-most coveted job among Page 2 readers. (No. 1? Amanda Beard's towel boy.)
I last saw Johnson at the Stuff Magazine party. Did he have fun?
"I don't want to sound spoiled," he says. "But after a while, all these parties are the same."
Must be tough. The VIP room, Johnson adds, was nice. Not too small. Not too crowded. Juuust right.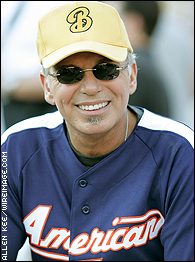 When you're Billy Bob, that mean's you've been with Angelina. And that means you always have a smile on your face.
"Sometimes you're crammed in like this," he says, bunching his shoulders. "But they were great about being selective."
No kidding. I never did score one of the coveted blue bracelets -- unlike Derrick Coleman, who outfitted his entire 10-man entourage. Of course, Coleman also gave us the immortal line, "Whoop-di-damn-do." Perhaps special treatment is in order.
AL BATTING PRACTICE, Monday, July 11, 6:29 p.m., ET
Still no Thornton. What gives? Aren't famous people supposed to be conspicuous? Has Paris Hilton taught us nothing?
Greg Couch, a Chicago sports columnist, tells me I haven't been looking hard enough.
"Billy Bob was just over there talking to Jennie Finch," Couch reports. "For about 15 minutes."
Great. Just great. I'm not sure what's worse: Missing Thornton, or realizing that an actor has spent more time talking to Finch than me, a so-called professional journalist.
Emphasis on "so-called."
AL BATTING PRACTICE, Monday, July 11, 6:45 p.m., ET
The line must be drawn here! I track Finch down, which is pretty easy considering she's talking to every camera crew in a 10-foot radius.
Softball was just cut from the 2012 Olympic program. Finch is bummed. I ask if Page 2 can do anything to help. Maybe, just maybe, we can put together some sort of joint project.
I'm nothing if not munificent.
"I don't know," Finch says. "I wish we could do something, find someone to contact, write letters. We need to save Olympic softball. It's heartbreaking."
Finch makes a sad face. I'm convinced. Any ideas?
"We should start a petition," she says. "I'll be on Page 2 if it will help. It all started for me with that [hottest athlete] poll. Thanks for everything."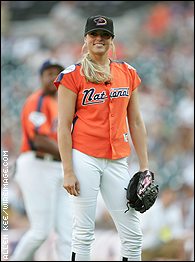 No, Jennie. Thank you. Really.
Actually, I'm the one who should be thanking Finch: Every time she's on the page, hits go through the roof. Which helps sell ads. Which pretty much pays my salary.
Finch, bless her heart, won't hear it.
"Hey," she says with a smile, "thanks for helping pay mine."
A weaker man might melt. Me? Stoic as an Easter Island statue.
Oh, and I also encourage readers to petition Jacques Rogge, head of the International Olympic Committee. Write early and often. Save Olympic softball. It isn't too late.
AL BATTING PRACTICE, Monday, July 11, 6:55 p.m., ET
Leaving the field, I run into Couch. "I've got a great Billy Bob quote," he says. "For you."
Sadly, he isn't joking.
COMERICA PARK TUNNEL, Monday, July 11, 6:57 p.m., ET
I pass Chris Chelios on the way to the media workroom. Whoa. Wasn't celebrity softball yesterday?
COMERICA MEDIA WORKROOM, Monday, July 11, 6:58 p.m., ET
At the table next to mine, a television crew is editing an on-field interview with -- you guessed it -- Thornton. Really, that guy will talk to anyone.
COMERICA SEATING, RIGHT FIELD, Monday, July 11, 7:48 p.m., ET
Jon Secada sings the national anthem. Which means he's still getting work. Who knew?
COMERICA SEATING, RIGHT FIELD, Monday, July 11, 8:02 p.m., ET
Chris Berman attempts to pump up the crowd.
ARE YOU READY FOR SOME HOME RUNS?
Well, yeah. That's why we're here. Except for Thornton, who'd probably be satisfied with not getting creamed by "Fantastic 4" next weekend.
Next comes the Home Run Derby. Some highlights:
8:06 p.m.: Johnny Damon and Mike Piazza join Alter Bridge for a short set atop a makeshift infield stage. Believe it or not, Damon has the look of a guy in a band.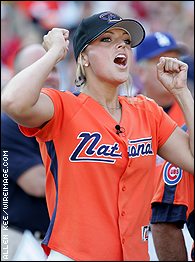 Seriously, Jennie. Thank you.
8:25 p.m.: For much of the past week, this year's Derby was pre-emptively written off as a dud: anonymous competitors, no 'roids, homer-unfriendly ballpark. Bobby Abreu didn't get the memo. He launches a 517-foot shot into the porch above the right field bleachers.
8:29 p.m.: Abreu keeps swinging, balls keep going out. The place is buzzing.
8:33 p.m.: Abreu holds his bat aloft. There appears to be a smoking hole through the middle of the sweet spot. (Actually, it's a rather large chip.)
8:38 p.m.: The final numbers? Seventeen minutes at the plate. Three standing ovations. Twenty-four home runs, a new single-round record. The crowd chants. Bobby! Bobby!
8:46 p.m. Jason Bay finishes with zero taters. I think I could do that.
8:47 p.m.: Forget Bay. The Comerica scoreboard just flashed a Bo Jackson montage: lifting the 1990 MVP trophy, hammering a home run to dead center at old Tiger Stadium, literally running along an outfield wall. The only thing missing? Footage from Tecmo Bowl.
9:06 p.m.: Hee-Seop Choi smacks a home run down the left field line. Jason Jorgensen reaches for the ball, which bounces off his glove.
"I don't know what happened," says Jorgensen, 29, a Tigers season-ticket holder. "It just bounced away."
Sitting one row in front of Jorgensen, Sue Krause ends up with the prize. Two fans playfully give her a hard time.
You caught it in the air, right?
Well, no.
Your hand was up, right?
Uh, sure.
"The guys were all jumping," says Krause, who hopes that Choi will sign the ball. "I'm not really sure what happened. I didn't close my mitt when the ball hit. It landed on the bench next to me."
9:15 p.m.: Hometown favorite Ivan Rodriguez steps in. After every home run, the outfield fountain spurts water. The twin tigers atop the scoreboard light up. The pirate ship cannons go off. I made the last part up.
9:34 p.m.: David Ortiz hits a ball to left field. A half-dozen ball kids give chase, gloves raised.
"Don't collide," smirks a nearby reporter, clearly wishing for a pileup. This is why I love the media.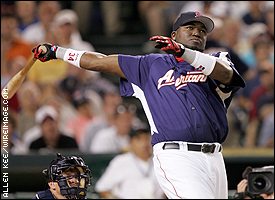 "Big Papi destroyed my laptop" almost replaced "my dog ate my homework" Monday night.
9:35 p.m.: Ortiz passes on three consecutive pitches. The boozy fan sitting next to me erupts.
"Swing the [expletive] bat!"
When Abreu was hitting bombs, Mr. Beer Breath was drunk and happy. Now, he's just drunk.
9:40 p.m.: An Ortiz blast strikes a sign about 15 feet above my perch; drunk guy nearly falls into my lap while reaching for the ball. If nothing else, maybe he'll shut up now.
9:41 p.m.: Nope.
9:45 p.m.: Another Ortiz shot lands above and to the right, knocking over someone's beer.
9:46 p.m.: Ortiz's last three homers have landed nearby. Drunk guy is still loud. Time to stow the laptop, before someone gets hurt. G'night.
Posted: Monday, 8:55 p.m. ET

THE RITZ-CARLTON HOTEL, Monday, July 11, 1:10 p.m.
Baseball's black eye looks into a camera. Scott Podsednik narrowly edged Derek Jeter in Internet fan voting, capturing the final spot on the AL squad.
His reward? Outraged columns from coast-to-coast, and a series of questions that all ask the same thing.
How did you beat out Cap'n Intangibles?
"It's unbelievable," Podsednik says. "I get goosebumps just thinking about being on the field."
Peter Gammons leans against a table. Podsednik gives credit to Chicago's pitching staff. His modesty is disarming, but it can't obscure the truth. Mr. Black Eye has arrived.
THE RITZ-CARLTON HOTEL, Monday, July 11, 1:15 p.m.
I'm pretty sure you could place a beer on the bony ledge that juts from Johnny Damon's forehead. Gaze upon it, Barry Bonds. And despair.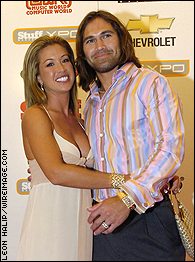 All Johnny is missing from his rock star resume is actually being a rock star.
THE RITZ-CARLTON HOTEL, Monday, July 11, 1:16 p.m.
Pressed slacks. Navy sport coat. A crisp blue shirt, unbuttoned just so. From his smooth cheeks to his perfectly-coiffed 'do, Alex Rodriguez appears to have grown up in a different solar system than the scruffy Damon.
Frankly, the effect is a little creepy.
If fans have trouble warming to Rodriguez, this could have something to do with it. When Damon speaks, he comes off as honest and unassuming, even when he's spouting claptrap; when Rodriguez talks, every answer seems filtered, processed and perfectly packaged, like the end product of a verbal assembly line.
To put things another way: It's tough to trust a guy who sounds as though he's running for office.
Someone asks Rodriguez about the World Baseball Classic. He nods, lifting a water bottle to his lips. Even his sips seem measured.
"I think it's a great idea," he says. "I do have some reservations, which I'll save. I have to get more information."
What about Jeter's absence?
"Both [Podsednik and Jeter] deserved to be here," Rodriguez adds. "And [Hideki] Matsui. It's just one of those things."
Just one of those things. In sports and politics alike, the slickest position is often not to take one.
THE RITZ-CARLTON HOTEL, Monday, July 11, 1:21 p.m.
The Los Angeles Angels of Anaheim, California, the United States, North America and the Planet Earth just might be the best team in baseball.
Naturally, almost no one is talking to their trio of All-Stars.
Garret Anderson stifles a yawn, then apologizes to the four -- you can count them on one hand, with a thumb to spare -- reporters at his table. Forget the pennant chase: someone asks him about fantasy baseball.
"We never talk about fantasy baseball," Anderson says. "If anything, we talk about fantasy football. I don't even know how the points system works."
Two tables over, Vladimir Guererro entertains a Spanish-language television crew. My two spotty years of college Spanish don't stand a chance. Bartolo Colon, on the other hand, sits next to a translator. I decide to make a go.
Ask Bartolo, once and for all -- Los Angeles or Anaheim?
Just for good measure, I gesture like a moron. The translator laughs. So does Colon.
"He says he pitches for Anaheim," the translator says.
"Gracias," I add.
"De nada," Colon replies. I hope that means something good.
THE RITZ-CARLTON HOTEL, Monday, July 11, 1:30 p.m.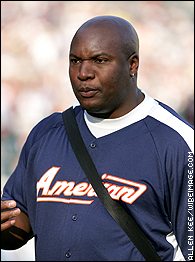 Forget about Abreu and Big Papi. None of these guys could hold a candle to Super Tecmo Bo.
Security asks us to clear the room. The NL All-Stars are coming soon. I head toward a set of double doors. The handles have been tied together with a napkin. Talk about high-tech.
THE RITZ-CARLTON HOTEL, Monday, July 11, 1:35 p.m.
Back in the holding pen. I'm hungry. The hotel has set up a snack table. I reach for an apple -- only to discover that the fruit isn't free. To the contrary, it's selling for two bucks.
At least Sir Francis Drake was an honest thief. If this was the NHL All-Star Game, I could understand. But baseball? Don't they make money?
THE RITZ-CARLTON HOTEL, Monday, July 11, 2:35 p.m.
In honor of the upcoming "Bad News Bears" remake, I ask Brad Lidge for his most embarrassing Little League memory.
It's a doozy.
"One time I had to go to the bathroom so bad during the game, and I was coming up to bat," Lidge recalls. "I had to be 7 or 8 years old. I asked somebody where the nearest bathroom was. It was like a mile away, in an elementary school.
"So I ran over and came back. It was like three innings later. I didn't even tell anybody where I was going."
THE RITZ-CARLTON HOTEL, Monday, July 11, 2:55 p.m
Chad Cordero could be the Washington Nationals' MVP. The NL Player of the Month in June, he's on pace to tie the single-season saves record (57).
Not surprisingly, Washington residents are starting to take notice. Sort of.
"If people see me with my hat on, they recognize me," says Cordero, whose on-field signature is a low-slung cap. "If I'm not wearing it, they don't."
OUTSIDE THE RITZ-CARLTON HOTEL, Monday, July 11, 3:05 p.m.
Some 60 reporters are stuffed into a single bus, heading for Comerica Park. I am among them, standing in the aisle. This can't be legal. Or safe.
Look up: If the bus flips, I'm going right through the emergency hatch.
ABOARD A BUS, Monday, July 11, 3:29 p.m.
After 20-plus minutes on a crowded bus with scant air-conditioning, the emergency hatch is looking pretty good.
Posted: Monday, 7 p.m.

THE DEARBORN INN, Monday, July 11, 12 p.m., ET:
Sportswriters are some of my favorite people, in part because most of them can't stand covering sports. The reason? Like everyone else, they start their careers young and idealistic, vowing to work hard, make a difference, never sell out.
Unlike everyone else, they end up standing around for three hours after practice, all so athletes who make more in a day than they make in a year can feed them a canned, clichéd quote while walking to their second Ferrari.
Some writers are a little bitter.
As I wash my hands in the hotel bathroom, another reporter comes through the door. He has just returned from the nearby Ritz-Carlton, where Major League Baseball is holding media events throughout the day.
"It's an [expletive] down there," he says in a lilting Caribbean accent. "No one can do these things in one day. They have to be events."
What about this afternoon's player roundtables? Bud Selig's news conference?
"It's all crap."
Like I said: Some of my colleagues are a little bitter.
* * * * *
THE RITZ-CARLTON HOTEL, Monday, July 11, 12:30 p.m., EDT
I was wrong. Crap is an understatement. More than 100 reporters have been herded into a lobby hardly bigger than a basketball court: radio guys, Japanese video crews, more middle-aged white dudes than you would expect to see at a Journey concert. Or even on stage at a Journey concert. It's standing room only, and not even that.
Between the hovering boom mikes and swinging camera battery packs, death by decapitation and/or massive cerebral hemorrhage seems imminent. Suddenly, I can relate to Kenny Rogers.
"This is probably, in my mind, the worst day of the year," says Mark, a friend who covers the Washington Nationals. "It's a mob scene. If Rogers is here, everyone is going to swarm."
* * * * *
THE RITZ-CARLTON HOTEL, Monday, July 11, 12:32 p.m., EDT:
Rogers is here. Everyone swarms. We surge into a ballroom that has been split in half, with American League players stationed behind tables around the room.
Two crowds quickly form: one around Ichiro (the Japanese media), one around Rogers (everyone else).
The throng around Rogers runs six deep. In the back row, three cameramen stand on step stools; one holds his equipment high above his head, like Venus Williams with the Wimbledon championship trophy.
I head toward the far end of the room, past an empty table and a placard reading MANNY RAMIREZ. Manny late? Shocker. David Ortiz sits in the corner, next to Ichiro. Ortiz, the leading All-Star vote-getter, is holding court with a handful of reporters -- and thanks to the 30-plus mob around Ichiro, the rest of us can't get any closer. Someone taps my shoulder.
"Excuse me," says a photographer. "Can I get a shot?"
I told you to get those cameras out of my face!
Actually, I move aside. The photographer hops on a step stool. Almost as quickly, a security guard orders him down.
"Don't put David in a corner next time!" the photographer snaps.
Ortiz speaks into a tape recorder. He could be discussing the hope he inspires in Latin American children; he might be exchanging barbecue tips. Fact is, I'm too far away to hear anything.
Of course, this doesn't stop the reporter next to me from taking copious notes. Perhaps he's bionic.
* * * * *
THE RITZ-CARLTON HOTEL, Monday, July 11, 12:44 p.m.
Earlier this morning, MLB announced plans for a World Baseball Classic, a 16-team international tournament that will take place next March. Color me unimpressed: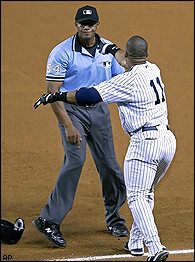 Odds are Gary wasn't discussing salary injustice in the World Baseball Classic.
I missed the news conference, just as Team USA missed the Athens Olympics.
Besides, the International Olympic Committee just axed baseball from the 2012 Games. I'll miss those thrilling Italy-Netherlands matchups. But if the guys who prop up synchronized swimming and modern pentathlon think global baseball is a shaky idea, who am I to argue?
Apparently, Gary Sheffield agrees. Asked about the World Classic, he shakes his head.
"My season is when I get paid," Sheffield says. "That's when I need to be healthy. This ain't the Olympics. Do we get a medal for it? If we did, it would be different. But this is something you made up.
"A lot of guys feel this way. But they ain't going to say it like I will."
That much seems certain. Clad in a diamond-encrusted platinum ensemble (necklace, wristwatch, bracelet) that is probably putting Jacob the Jeweler's great-grandkids through college, Sheffield is on an outspoken roll.
Another reporter mentions Yankees teammate Derek Jeter, who is conspicuously absent from this year's game.
"I said that's a black eye for baseball," Sheffield says. "And it is."
Patrick Hruby is a Page 2 columnist.