Commentary
A championship, and a great escape
Originally Published:
August 17, 2009
By
Matthew Iles
| Special to Page 2
Everyone back home knew our football team was blessed. It was supposed to be a rebuilding year, but there we were, one game away from history. A win in the final week would not only clinch the school's first conference championship, but also complete its first undefeated season since 1939.
TOUGHEST HIGH SCHOOL SPORT

Each day this week, ESPNRISE.com will rank the difficulty of high school sports:
• Monday: Fall sports
Cheerleading is tougher than you think
• Tuesday: Winter sports
Girls wrestling growing rapidly
• Wednesday: Spring sports
No hurdle too high

• Thursday: Non-sanctioned sports
Rodeo athletes cowboy up

• Friday: Future sports
Five toughest high school sports of all
Everyone on our team knew we could do it; we had already overcome every obstacle thrown at us between the stripes. Our team -- and only our team -- also knew we had overcome at least one major off-the-field obstacle as well.
Some high school secrets might be better left untold. This one probably qualifies.
Before every game day, we had Team Night. Sometimes it was dinner, sometimes just a movie, but it was always, always all of us together.
As the year's final Team Night began, we were still buzzing about how our archrivals -- winners of the last eight league titles, whose 46-game conference winning streak we had snapped earlier that season -- had stopped by to drop off the traveling trophy. When we went to check it out later, our coach just said, "You can touch it, but it's not yours until you earn it tomorrow."
Riding high, we were starving for something new to do on this most adrenaline-fueled of Team Nights. And since we had already hit every restaurant, gone to every arcade, and settled on bowling one too many times, it was going to have to be good.
Of course, when you're 18 years old, cocky and chaperone-less, ideas such as the one we hatched always seem fantastic.
Our boredom and hubris eventually spawned the brilliantly conceived Reckless Scavenger Hunt. We sang Christmas carols outside a synagogue, we walked two-by-two down a drive-through, we tried to purchase just one egg from a grocery store … you get the idea.
A couple hours in (surprise! surprise!), several teammates and I were in serious trouble, with our heads down and tails between our legs. Three cops were writing down our information and asking what we had done with a video camera and an egg that had prompted a 911 complaint for disturbing the peace.
(Keep in mind, neither my coaches nor my parents have ever heard any of this -- until now. Aren't secrets fun?)
Younger players were crying, older players kept saying, "Yes, sir, sorry sir," and I was certain my mother would murder me long before my coach had a chance to bench me.
By some divine grace, though, the police let us go. We quickly disbanded and headed for bed. After all, kickoff was just 14 hours away, and we'd had enough Team Night revelry to last us a lifetime.
Dressing for the game the next morning, I remember the other two captains and I wore a look that just said, "Don't. Say. Anything." The brush with the law was soon pushed from my mind, and I prepared for what I knew was the biggest game of my soon-to-be-complete football career. Some players vomited just from the nerves.
[+] Enlarge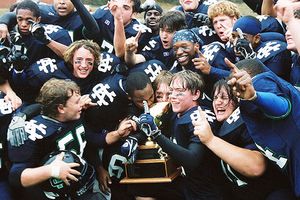 Matthew IlesA memory Matthew Iles and his teammates won't soon forget.
The game featured the two highest-scoring teams in the conference. Nevertheless, with less than a minute left, we had only a razor-thin lead at 13-7, and the bad guys were at the goal line on third down.
In front of the largest crowd I've ever seen at my tiny school, the opposing quarterback dropped back and quickly threw to his left. Our defensive end swatted the pass down, though, drawing loud cheers from the stands. But then he just gripped his hand and grimaced. The hard-thrown ball had broken one of his fingers; nevertheless, he had no intention of leaving the field.
Before the next snap, fourth down, the students had gathered en masse right on the sideline. With 2 yards to go, the play of the game, the quarterback dropped back and threw the exact same pass.
And again, our guy with the busted paw deflected it safely to the ground. Bedlam ensued as the fans rushed the field. One player even chucked his helmet high into the air in celebration as tons of people ran toward us. It's a miracle someone wasn't clobbered.
The three captains gathered at midfield to receive the trophy, and we again exchanged a knowing look. "We did it," it said, in the most all-encompassing way possible.
We won the conference title. We went undefeated for the first time in 65 years. And we avoided serious jail time. All's well that ends well, right?
Yep, my mother should be calling me any minute now …
Matthew Iles is an editor at ESPN.com.
MOST SENT STORIES ON ESPN.COM