By Scoop Jackson
Page 2
Heaven. Hell. One minute.
You have no idea what he's been through. None of us do. No disrespect, but Bruce Weber's moment came in an instant, without warning, and ended tragically. Plus, Weber is 48 -- not 19.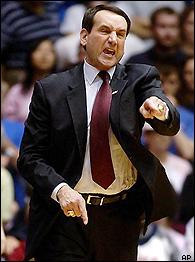 'Hey! You over there! Why aren't you paying attention to me?!'
Everything was right, for once in his life. Sports Illustrated had dissected it, given him the literary equivalent of a SportsCentury segment. He was on Jerry Stackhouse pace, J.R. Reid status, on the verge of never not being mentioned as a living legend in the (sorry, UConn) college basketball capital of the world. He'd listened to Tupac, loved Jay-Z. All eyes were on him because his gift was too often his curse. He was the most feared man player in unprofessional basketball. Then it happened.
"Your moms has ... "
Sometimes, dealing with cancer is easier for those who have it than it is for those who love the ones with the diagnosis. The cancer, for Rashad McCants' mother, was discovered in December. A sick Christmas gift. Since then, two surgeries. The doctors say it's all gone, but it never is. Her, she's good. Him? He's a whole 'nother story.
"You know how kids are; they think cancer means death," Brenda Muckelvene says of her son. "When it really doesn't at all."
Tell that to his body, tell that to his mind. Tell that to the infection that ran through his intestinal system and kept him out of the last four games of the season and took 10 pounds off his frame in less than two weeks. It's like secondhand chemo. But Clemson and Georgia Tech didn't care. Not supposed to.
That's why the one minute will sit with him until Friday, when the tournament begins for him. Heaven. Hell. He survived it. But to go further, he has to return to he.
Last weekend, Roy Williams had a decision to make in less than a minute. He knew he had the most talented player in the country on his bench, but is the conference title that important when something bigger is part of the plan? Williams can't look at anything other than Rashad's eyes. They are more than windows to the kid's soul; they are what will determine the fate and future of the University of North Carolina basketball program over the next three weeks. So with one minute left in the game against G-Tech, the game that would put him in the conference finals -- which in some parts of town is bigger than winning the national championship -- for the first time in his Chapel Hill reign, Williams knew the calling.
UNC down, 76-72. McCants stood at the free-throw line. The ref handed him the ball three times. He missed two -- just as Darius Washington did for Memphis. The difference for McCants: more time on the clock. And a higher power intervened on his second miss, gave UNC the ball on a turnover. On the left side of the court, from 23 feet away, Rashad released. Nylon. 76-75. Down one. Thirteen seconds left. Timeout called. Heaven. The Man is back.
Yet Rashad stood on the court, no smile. Angry that he missed those two free throws.
With 4.6 seconds left, 78-75 the score, McCants made a curl around a pick set exclusively for him. In the exact same spot where he'd found Heaven less than 12 seconds earlier, he found Hell. Iron. He stood there as Tech celebrated around him, hands on hips, flashing back to the last month of his life. He grabbed the front of his jersey and put it in his mouth and followed his teammates through the tunnel. Afterward, he only had one thing to say: "You know ... that was supposed to go in."
Think Bobby Brown. Think Mike Tyson. Think that Rashad McCants is college basketball's answer to those two. Misunderstood. Manic-depressive? Moody. Unpredictable. Issue-oriented. Bipolar? Think that he is the one player who will win or lose the entire tournament for the Tar Heels. Think of the chance they'd have without him. Think none.
Think St. Louis next month.
The road to the Final Four does not go through an ACC team, or through UNC specifically. It goes through him. Son of Jimmy and Brenda. Brother of Rashanda, a high school All-American who will attend Chapel Hill next year. All season long, Rashad McCants has carried the weight, the weight of a season on his shoulders. On Saturday -- 22 minutes, 17 points. In the game before -- his first game back after being cleared by doctors to practice -- he played less. And scored less.
In every mirror he passes, he sees a player he doesn't know, a player very different from the one that once was. He's been relegated to jump shots, his movement gone. He no longer attacks the basket. What Will Bynum and J.J. Redick were doing Saturday (each scoring 35) was supposed to be him. His fire cut to a flame, a shell of what he was only 30 days earlier. His reaction to loose balls, his movement with the ball, his interaction with the ball -- all different. All gone.
Still, he's the most important player left in college basketball.
Of the 780 players who will begin playing for the shining moment, none is he. None can do what he's about to do. None could carry the load he carries. None -- not Redick, not Dee Brown, not Nate Robinson, not Salim Stoudamire, not Hakim Warrick, not Wayne Simien, not Joey Graham or John Lucas -- will be the difference he will be in his team's success or failure. None will suffer like he will if his last shot finds Hell again. None will feel the emancipation McCants will feel when his last shot finds Heaven.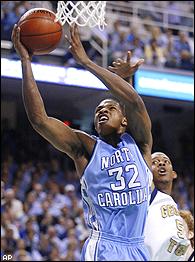 Only March will tell if the critics were right about Rashad.
But somehow, no one will mention the word "courage" when he plays. Just as they didn't mention it this past weekend. None of the inspirational adjectives that precede the names of March Madness heroes will be heard during broadcasts. "Brave." "Valorous." "Heroic." Not even "heavyhearted." McCants will not get that total "benefit of understanding" for what he must be going through. They won't see a halo hovering above his dome. A coach loses his mother and coaches through it; a player finds out his mother has cancer and plays through it. Do the math. Why will the Nile not cry for the latter?
In his own words -- as etched on both 'ceps -- Rashad will tell you it's because he was born to be hated while he's dying to be loved. But that isn't enough. Too empty. Everything goes back to his moms. Her situation, her health. His existence.
Cancer has a funny way of never escaping your mind once you hear the word. It has a funnier way of affecting your purpose once you find out it's your mother who might die from it. Instantly, basketball is not that important. For a month, basketball takes a backseat to the life that gave you life. Then that month is over. And you have to play basketball to live.
Heaven. Hell. Six games. His mother's life. Born to be hated. Dying to be loved ... or just understood. Or just given another shot -- at life. All Rashad McCants needs is one minute. Or 4.6 seconds, so that "You know that was supposed to go in" has a whole 'nother meaning.
Scoop Jackson is an award-winning journalist who has covered sports and culture for more than 15 years. He is a former editor of Slam, XXL, Hoop and Inside Stuff magazines; and the author of "Sole Provider: 30 Years of NIKE Basketball," "Battlegrounds: America's Street Poets Called Ballers" and "LeBron James: the Chambers of Fear." He resides in Chicago with his wife and two kids. You can e-mail Scoop here.