By Scoop Jackson
Page 2
It began at a time unknown. But in 1975, is when it started.
The apologue starts with stories of the great Connie Hawkins (supposedly) coming to the south side of Chicago in the summers to battle against the great Cazzie Russell on a court on South Park Boulevard. They wanted to see not who was better, but who was the best.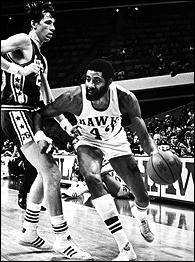 Library/Getty Images
The Hawk's path to NBA fame began on New York City concrete.
Connie would have his boys from New York; Cazzie, his crew from the crib. They'd go at it, doing the amazing things that they couldn't do in NBA games. Barbershops would close, fried-chicken shacks would shut down for the day. All eyes would be on them. Waiting to see who would leave the court with a title more mythical than anything J.K. Rowling could imagine. Which city was best, Chicago or New York? The game of basketball lived for an answer.
Then two known gods, gods larger than Connie and Cazzie, found themselves looking into each other's eyes only to see images mirrored beyond the stories that made them very familiar with one another. James "Fly" Williams was from the streets of New York, Billy "The Kid" Harris was from the blocks in Chicago. They were the best both cities had ever seen on concrete. To be honest, according to some, they were too good for the NBA.
The stories told of them were ghetto mythology of Zeushizzle nature. On the streets of NY, Fly was better than Julius Erving, in CHI, "The Kid" was better than the Bulls ... the whole team! And when it came to whose city had the greatest playground player of all time, each city claimed their own as P.I.M.P.
Then during the summer of 1975, mythology hit the fan.
"That game ... was probably the greatest exhibition of just raw total offense that maybe happened anywhere," The Kid remembers. "I think we had a stretch where both of us went something like 13, 14 straight. back and forth, back and forth.
"We had about 47 apiece," Fly said. "I remember that."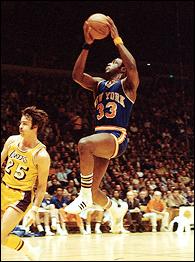 Wen Roberts/Getty Images
As a Knick, Cazzie repped the Second City with first-class flair.
The game was so mythical, it was chronicled in Dime magazine in an Isaac Paris-penned story titled, "The Greatest Game Never Told." NY verses CHI. Neither remembers who won the game, but they both know that that game gave rebirth to the debate: player, game, passion ... who reigned?
Thirty years later, the question remains unanswered. But one city is about to gain an advantage. The best high school ballplayers from New York roll into the Crilla to battle against the best high school players Chicago has to offer. For six years, this battle has taken place. The series is tied 3-3. One city is about to talk mad "ish" for 12 months.
The Old Spice Red Zone Shootout is a game created specifically to answer the question that has remained unanswered for half a century.
"There's always been a natural rivalry between Chicago and New York," says Paragon Marketing Group event director T.J. Cohen, organizer and creator of the game. "It's which city has the best pizza, hot dog, baseball team, tallest building ... it goes beyond basketball."
Which city has the best fashion scene, civic leaders, bars, artists, transit system, mayors, architecture, neighborhoods. But basketball remains at the core.
Over the last six years, some of the best from both cities have battled against one another to lay claim to which city has the other's math (number). Chris Taft, Allen Ray, Brandon Knight, Luis Flores, Curtis Sumter have all repped for NY. Dwyane Wade, Will Bynam, Luther Head, Andre Iguodala, Cedric Banks have held it down for CHI. This year the weight falls on Kyle McAlarney of Moore Catholic in Staten Island (who's headed to Notre Dame), Geoff McDermott of New Rochelle High (who's headed to Providence) and Tyrell Biggs of Don Bosco prep (who's headed to Pitt) to outball DeAndre Thomas of Westinghouse (who's undecided, but has Illinois, Kansas, Georgetown and Florida State on hold), Gerell McNeal of Hillcrest (who has signed with Marquette) and Jeremy Pargo of Roberson (who has signed with Gonzaga).
The winner ...
NY this year, 102-84. Not even close. And even though Biggs and McDermott got Player-of-the Game honors (12 points apiece), it was Chris Lowe who stole the show. He might be the one, years from now, whose game will come up in debate. Who's best, Chicago or New York? Right now, Chris Lowe may have NYC separated. Until May 2006.
So from the summer days in the '50s to that unbelievable game in 1975. From the argument over 1989 high school player of the year, NY Archbishop Molloy's Kenny Anderson or the only player on USA Today's All-American team to average a triple-double, Chicago King's Jamie Brandon to the epic battles of Jordan and the Bulls against Ewing and them Knicks. The stories remain without an end... and without an answer.
It takes The Kid to it all in perspective. He brings it back to that one game between he and Fly. "[Ain't] nobody out here [today] tryin' to get 10 jumpers, 12 jumpers, 13 jumpers in a row put in your face. Ain't nobody tryin' to do that. So, what you were seeing [was] one spectacular thing after another, after another ..."
Which will probably continue for at least another 50 years.
Scoop Jackson is an award-winning journalist who has covered sports and culture for more than 15 years. He is a former editor of Slam, XXL, Hoop and Inside Stuff magazines; and the author of "Sole Provider: 30 Years of NIKE Basketball," "Battlegrounds: America's Street Poets Called Ballers" and "LeBron James: the Chambers of Fear." He resides in Chicago with his wife and two kids. You can e-mail Scoop here.