By Scoop Jackson
Page 2
Editor's Note: Scoop Jackson knows enough about shoes to fill a book. And before he joined Page 2, he did – authoring "Sole Provider: 30 Years of Nike Basketball." He also has worked on commercial campaigns for Nike.
The Diary of Sole Brotha No. 1, 1970-1979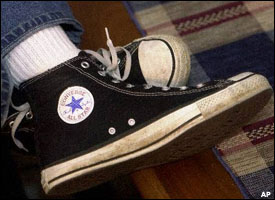 Everybody had Chucks back in the early '70s.
Chuck Taylor to me was like James Naismith or Abe Saperstein when I was coming up.
Savoy Sports, off the corner of 79th and Cottage Grove, was the store that always had 'em – $9.99. White, black, blue or red. Flap flipped down so that the red outlines box inside the tongue ould be on display for the world to see who you be.
The first job I ever had was cutting grass in my neighborhood with a rusted-out non-electrical manual push lawnmower – to make enough money to go to Savoy and cop. Size 5, back then. The more creative you got lacing your Chuck's the flyer you were. We crocheted ours with coordinated colored strings.
By 1972, the gym-shoe world expanded. Every lawn in my hood looked like George Gobel's hair on "Hollywood Squares." Walt Frazier began rocking the low-cut suede Pumas. We called them "buddies," the company named them "Clydes." In 1973, I begged my moms for them. In 1974, I got my first pair. And being Afro-American in the middle of the Black Power movement, the pair my moms got me were red, black and green. I was the only one in Chatham Biddy Ball to have a pair. I had Clyde's number, now I had his shoes. Couldn't tell a 10-year old nothin.' I remember scoring 12 points in the '74 all-star game, thinking it was all about my shoes. My boy Bobby Nash got the MVP in the game. He was still rockin' the Taylors.
There was a ballplayer by the name of Darryl Sigh. He was the first to blow my mind, first to blow a lot of people's minds. His game was that of Erving's at Rucker without the dunks. He was special. So special, that the shoes he wore never matched. Every game he'd come to play in mismatched Chuck Taylor Converse All-Stars: one blue, one white; one red, one white; one black, one white. Whenever we asked him why he always wore his sneaks like that he'd say, "It's the sign of a star." He averaged more than 30 a game in the senior biddy league. All I wanted to be was a star – just like him.
Never got there. Never could afford to buy two pairs of Chuck's at the same time because Savoy wasn't selling All-Stars for $9.99 anymore; $19.99 was more like it. That's how a young brotha got introduced to inflation. Thank you, Richard Nixon, is how my mother always explained it to me.
In 1976 my father moved to Denver, home of the Nuggets. On one of my visits out there from Chicago, he got me in to see the ABA All-Star team practice. I was blown away watching Julius Erving do dunks from behind the backboard, but the image that stuck was the shoes David Thompson had on his feet while he was practicing dunking the ball by "punching it through his elbow." They were white leather high-tops with a funny black swoosh on the sides. Everyone in Denver seemed to be wearing them. I was clueless. After I watched DT do the first 360 I'd ever seen any human do in a dunk contest, I ran to my father's crib and said, "Dad, I gotta have those shoes."
My first pair of Nikes would be red suede. Bruins. Size 7 1/2. Wore them until they faded to fuchsia. Came back to Chicago with kicks no one had ever peeped. Large? Me? That was an understatement. "Who's the little kid with the red suede sneaks?" they'd say at the park and at the new school I went to in seventh grade.
All I knew was that if my game lived up to the shoes, I'd be a'ight.
I was a'ight. Held my own, held it down. From 1976 to 1978, Nikes and Chuck Taylors ruled my basketball world.
Until Converse created a television commercial for Dr.J: "Hey, hey, Dr.J, where'd you get those moves? Are you wearing magic shoes?"
Didn't take much. Every kid on every basketball team in the city of Chicago had to have the Docs. It was the closest thing to the perfect sneak we'd ever seen. Plus, it was Doc's shoe. Made you do what he do. $39.99. Everyone on my high school squad got their hustle on, by hook or crook, to get our Docs on our feet. A lot of stores had a lot of Converse Julius Ervings unaccounted for, because we were lifting every chance we got. They were our game shoes. Not for practice, not for school, not for ballin' outside, not for walking around the hood. Strictly for the official: games.
For two years I stayed in this mode. Never thought I'd leave. Then one day a sports store called Morrie Majors had a sale on adidas.
My world would never be the same.
Scoop Jackson is an award-winning journalist who has covered sports and culture for more than 15 years. He is a former editor of Slam, XXL, Hoop and Inside Stuff magazines and the author of "Battlegrounds: America's Street Poets Called Ballers" and "LeBron James: the Chambers of Fear." He resides in Chicago with his wife and two kids. You can e-mail Scoop here.