Coincidence?
It's beyond that.
The championship rings are still on her fingers -- the rings she won as the WNBA's version of Dennis Rodman.
On her left wrist, LIVESTRONG. On her wall, Tupac.
Her head shakes from time to time when she reflects. How the last three years of her life have been. How one person's word got believed, instead of hers. How it all got lost.
Or taken away.
She looks at the screen again. Larry King is on talking to a "refugee" in New Orleans. A people forgotten. Left for dead.
She knows the feeling.
To save herself, she went over to Turkey. Ball or fall, you know.
There, she won the TBL (Turkish Basketball League) MVP. Spent seven months there. Created a fan base that showed love. Appreciation.
A female A.I.
But she wants back in. Back here.
Instead, she has been blackballed by the WNBA. Faced with almost the exact same charges that were placed on Kobe Bryant, Byears has not been able (or allowed) to play professional basketball in America during the pretrial investigation of the accusation against her.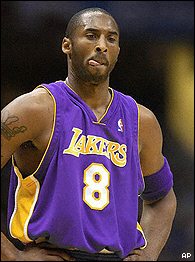 Same accusation, same sport, same time, same organization. Different treatment?
The case was officially dropped in July. "Insufficient evidence," L.A. district attorney Gina Satriano claimed after more than two years of LAPD investigation. No charges were ever filed against Latasha. She was never arrested.
Still ... she got the Craig Hodges treatment. The Mahmoud Abdul-Rauf.
She feels, believes might be a better word, she was ostracized by the WNBA because she's gay. And open about it.
Specifically, her beef is with the Sparks. It's the correlation between her situation and Kobe's that keeps her heated.
Same accusation, same drama, same sport, same time, same organization, same owner.
Totally different treatment.
While Kobe was able to "do his thing" during the investigation of his alleged sexual assault, Latasha wasn't able to do jack.
According to the Sparks, they released Latasha because of "dissension among her teammates."
Nothing else.
Her lawsuit against the LAL Women's Basketball LLC for wrongful termination is set for trial in February.
Two days after the NBA All-Star Game.
Unless it gets settled.
There never has been a player in the WNBA like her.
Not one close.
She gained fame by snagging 11 rebounds in the only two games of the 2001 Finals. Playing Dennis Rodman to Lisa Leslie's Michael Jordan.
She got famous by a story in GQ.
In 1997, Rodman graced the cover of The Advocate. The national gay and lesbian news magazine. He stood there with a white faux mink draped over his naked shoulders, leather Katharine Hamnett pants unbuttoned, hands covering his Howard Stern: private parts.
A gold dobbs lay titled on top of his red and gold hair. Makeup precise, foundation blushed, eyebrows arched, mascara and eyeliner golden, all courtesy of the Elite Modeling Agency. The title of the piece: "Dennis Rodman: The Gay Interview."
In the interview, Rodman was asked if he fantasized about sleeping with men. His answer: "Oh of course. I've done it. It's easy to do. I kiss guys. I mean, it doesn't frighten me at all."
Then, when asked whether he thought he'd eventually have sex with a man one day, he said: "I think the more I keep exploring myself in that area, maybe one day it will happen."