By Scoop Jackson
Page 2
CHICAGO -- How do you unring a bell?
If you're Doug Eddings, you simply uncall a third strike. Baseball is supposed to be the one sport that is absolute. Yes, there are always questions about umps and strike zones and kids at Yankee Stadium who interfere with home runs. But other than that, the game -- not the players -- is supposed to be pure. Mike Scioscia ain't trying to hear that right now. Neither is anyone in an LAAOA uniform. And what makes baseball so absolute are the rules.
Third Strike Rule 6.05 (b):
A batter is out when a third strike is legally caught by the catcher...
Third Strike Rule 6.09 (b):
The batter becomes a runner when the third strike called by the umpire is not caught ... When a batter becomes a base runner on a third strike not caught by the catcher and starts for the dugout, or his position, and then realizes his situation and then attempts to reach first base, he is not out unless he or first base is tagged before he reaches first base...
...regardless of the umpire's initial, definitive and
absolute
motion.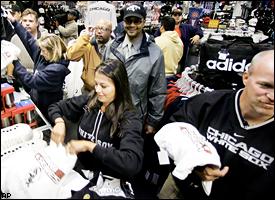 AP
White Sox Fever is catching on at the Grandstand souvenir store near U.S. Cellular Field.
But still, they played it cool. Under the fire of those red caps, a crew of angry men acted like the name blasted across their chests.
"We didn't play well enough to absorb something like that," is the high road Scioscia took at the podium 15 minutes after Joe Crede's blast to left field won the game. "We didn't play well enough to win that game." While outside the stadium, one fan among thousands can be heard screaming: "The miracle lives on!!! The miracle lives on!!!" While home-plate umpire Eddings, umpire crew chief Jerry Crawford and umpire supervisor Rick Rieker testify that they are absolutely sure Kelvim Escobar's pitch hit the ground before it entered Josh Paul's mitt. "Doug ruled that the ball was trapped," Rieker said. "I never called him out," Crawford claimed. "That's my 'Strike 3' mechanics," Eddings added. Three umps, protecting each other, all sticking to the same script. Like LAPD. The only difference is that in this game ... three strikes, you are absolutely not out.
---
They were supposed to be tired.
Three games, three cities, three time zones, three nights. Consecutive. They were supposed to lie down. Play dead. Go back to the OC down 0-2 and try to save themselves in a series against the best road team in baseball this year.
But somehow, "deliria" carried over. Getting into a town in the vampire hours after emptying cases of champagne, then having to be back on the dirt and grass less than 12 hours after taking out sport's biggest dynasty ... it meant nothing to them. It was just the Yankees. It was just a chance to play for the AL pennant. It's just a shot to go to the World Series. It's just sleep. So they won Game 1 because ... it's just the Sox. White, not Red. Game 2 ... yeah, that's the one in which they were supposed to be tired. Reality was supposed to set in by now. The euphoria that carried over from winning a Game 5 on Monday, that allowed them to win Game 1 on Tuesday, was supposed to be gone. They were supposed to lie down. Play dead. In the minds of the 41,013 Bridgeport Second-Cityers, everything was supposed to go their way. Not only were they sitting on an eight-game winning streak (with the last six against the two teams that were
supposed
to end their season), but they had Billy Sawilchik (guitarist for the Lovehammers) give tribute to the country, the Sox and Jimi Hendrix all at the same time during the national anthem, and they had Barack Obama (U.S. senator and "it" politician of the new millennium) loop a left-handed, Wakefieldish, un-fastball ceremonial first pitch over the plate to Juan Uribe. Mark Buehrle's record on the mound in the Cell: 11-2. Jermaine Dye: a .447 BA and .737 slugging percentage, lifetime, against Jarrod Washburn.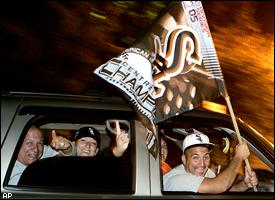 Sound the sirens again. The Sox are in the Series.
Angels' 2005 American League Cy Young candidate Bartolo Colon: out for the series.
Eddings on your side. Vlad, damn near asleep at the plate and in right, with his non-stretch-to-beat-the-throw groundout at first base on his first at-bat, followed by his misplay, his fumble of Aaron Rowand's almost-inside-the-park home run; Washburn's two-base error to begin the game; Lake Michigan's 50-degree temp creeping into those used-to-90-degree SoCal bones. The half-step of slowness, mishaps, October weather and an early Sox score -- regardless what type of motion a home-plate umpire makes two outs and two strikes into the ninth inning -- was supposed to stop the Bloods from performing cap-letter-level baseball while they were visiting Disciple country. If you're the Los Angeles Angels of Anaheim in Orange County, there's no way you win. Not even one game here. But you
do
win at least one because you have nothing to lose. The second one, they had to take from you.
---
Advance the runner.
Make the other team always play from behind. Small ball better than your mirror image. That's Oz's wizardry. But ain't no yellow brick roads leading to 2000 Gene Autry Way. Just a lot of brains, heart, courage and anger coming from a team that feels as if it got call-jacked. Because of Eddings' call/no-call, Games 3, 4 and 5 are going to take on "Nightline" proportions rather than "OTL." For the next 48 hours, we are going to hear every excuse in the book used, and every rule in the book explained. As A.J. Pierzynski said when they asked whether he feels lucky to have won Game 2: "Do I feel lucky? No. Did they feel lucky last night [after winning Game 1]?"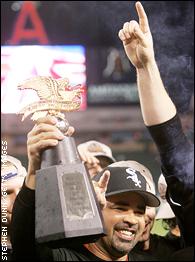 Hail the conquering local hero, skipper Ozzie Guillen.
And yes, if the second-base umpire makes the correct call on Orlando Cabrera's illegal "roll" into second to break up a double play late in Game 1, the Angels possibly don't win.
But they, the team coming from the Left, have to remain cool as Dodger blue to stay in this. A call like the one made to steal the game Wednesday night can destroy all 100 wins it took to get them here. And Scioscia, being a former Dodger, knows how to keep it blue. He knows his team is going to feed off his reaction. If he sticks to his belief that they simply didn't "play well enough to win," they might not have to come back to Chicago. Their next stop will be St. Louis. It's up to No. 14 to be the anti-Lasorda for the next two days. Which is absolutely how Angels second baseman Adam Kennedy was playing it as he left U.S. Cellular, goin' back to Cali. After he answered a few last questions from the media, I dapped him twice on this side of his chest and said, "Don't let this one get to you." To which he calmly replied, "I won't. We'll get 'em."
Scoop Jackson is an award-winning journalist who has covered sports and culture for more than 15 years. He is a former editor of Slam, XXL, Hoop and Inside Stuff magazines and the author of "Battlegrounds: America's Street Poets Called Ballers" and "LeBron James: the Chambers of Fear." He resides in Chicago with his wife and two kids. You can e-mail Scoop here.