By Scoop Jackson
Page 2
She walked into Ford Field knowing her life was about to change.
At 10 a.m. the curtains opened.
AP
There she is ... (Luis Martinez/AP Photo)
She looked down at the field before she descended.
"Wow," was her first word.
A couple of steps down, she stopped. "Hold on for a second," she said to her producer. "I need to marinate in this for a moment."
Twenty-one rows down was something she never thought she'd see. Not like this, anyway. An empty field. "Steelers" painted on one end zone, "Seahawks" painted on the other. A big-ass XL in between.
And it hit her. Like Lofa Tatupu hit Clinton Portis in that clip the NFL Network seems to have on a continuous loop.
She tried not to get caught up in the moment. But she couldn't help it. A football fanatic all her life, this was the birth of a dream come true. Being at the Super Bowl. Press credential 'round her neck.
She closed her eyes, as if about to pray. She marinated.
Seconds later, her eyes opened. She looked at her BET Madd Sports producer, then said the only thing a new-to-this-game female sports reporter is supposed to say to herself before descending on the largest media event in all of professional sports: "I'm about to conquer the world."
Tuesday was the beginning.
*****
What happens when a non-football player turns media day at the Super Bowl into her coming-out party?
As much as Melyssa Ford wanted to conquer the world on Tuesday, she had no idea -- nor was she prepared for -- what was about to happen to her.
Her icon status rose to another level.
Figuratively. Get it?
Somewhere between Pam Oliver/Ahni Luv, Jillian Barberie/Vida Guerra, Suzy Kolber/Buffie The Body, Ford -- known by many as Jessica Rabbit -- descended on this Super Bowl with mike in hand, and with the mission and vision to be the sports world's next Jayne Kennedy.
"Nobody in the business of sports journalism has done it with as much class, with as much beauty, with as much eloquence as Jayne Kennedy," she said. "No one has been able to follow her success. I want to come right behind her."
She paused. "Only bigger and better."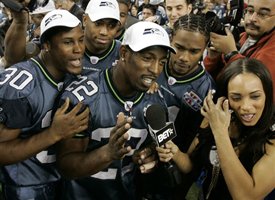 AP
The Seahawks were swarming around Melyssa. (Gene J. Puskar/AP Photo)
No other reporter got the attention Ms. Ford did on Tuesday. No one got the "gets" she got.
No one else had MVP Shaun Alexander, offensive guard William Henry, defensive tackles Chartric Darby and Rocky Bernard, defensive end Rodney Bailey, linebacker D.D. Lewis and cornerbacks Jeremy LeSueur and Jimmy Williams in a circle spitting original Super Bowl lyrics for his/her camera crew -- and getting on their Nextels to brag to their boys about who they were hanging with.
With every step, the "ooohs," "aaahs" and "oh snap!s" followed. From players and media cats alike. Even white journalists who had no idea who she was wanted to know who she was. Once seen, once experienced, they all understood why, between the hours of 10 a.m. and 2 p.m. on Tuesday, there was a buzz on the field that was appropriately named after her.
Even Jimmy Williams admitted, "I was trying not to look at her, but I had to. That's Melyssa Ford! She's at the Super Bowl!"
As ESPN's Michael Smith said, "Everyone thought this was going to be a regular, boring media day. Then she showed up."
But it wasn't the booty -- excuse me, that was a Freudian/Mike Epps slip -- the beauty that threw all who came in contact with her. This is what messed us all up: her skills.
"Tremendous talent," were the words used by Rams wide receiver Torry Holt, who was on assignment for the NFL Network. "The girl is deceptively bad [meaning good]. I can see her being the next one [in sports reporting] without a doubt."
"Captivating," is one word ESPN's Stuart Scott used. His other words? "And not just her looks. She was the star of the day."
All of a sudden, the most downloaded black woman on the planet … the one who keeps Black Men, Smooth and King magazines flying off newsstands whenever she appears in them … the one whose claim to worldwide fame is her appearances in Jay-Z's videos and Nelly's jeans … the one who played a hoochie mama in Showtime's "Soul Food" … has to be taken seriously.
Because her entry into the sports world just got serious.
"There's never been a challenge that I haven't been up to," she said later in the day, tossing back a red wine, with a salad in front of her. "As far as sports is concerned, I want to go deeper than what everyone is doing. I want to capture complete stories about players' lives. Not just the things we continuously see on television.
"A lot of professional athletes come from, how can I say [it], less-than-desirable living situations. A significant number of players, especially in the NBA and the NFL -- had it not been for their circumstances, Lord knows what they'd be doing right now. Driving a bus, selling crack, who knows? Telling these stories is what drives my interest. Getting behind the facade that's behind the image that's presented in the media."
What Jayne Kennedy did … only deeper.
"Anything Bryant Gumbel's doing, I'm watching! Anything Christiane Amanpour, the CNN war correspondent [does], I'm watching, learning. I really focused a lot of my attention when it came to delving into the profession of television journalism on Oprah and where her success as a journalist comes from."
But is the barrier of her being her going to be too big to hurdle?
"No," she said in response to that question. "At first it was a hindrance, but now it works to my advantage. I know, I sell fantasy. So people don't expect me to be able to do this, to venture into broadcast journalism seriously. I'm the underdog. I love being underestimated. I study and analyze everybody. From Katie Couric to Tyra [Banks] to local news coverage to Anderson Cooper, I try to find their strengths and weaknesses, how they get the best out of people in their interviews, how to keep all of my questions relevant. I'm not in this to be a tabloid journalist.
AP
Melyssa's got more to offer than just the visual.
"And people that are too caught up in the visual of me, I don't think of that as a lost opportunity. I just think those people aren't ready yet."
Then I pressed her about the upcoming game. Only to find out her knowledge of sports is as balanced as the stats on her comp card.
"I feel that Pittsburgh is going to win," she said. "From Ben Roethlisberger being 24 years old and having so many wins to begin his career, to Jerome Bettis who's at the opposite end of the spectrum, about to retire having never won a Super Bowl … this team got so close last year, and they've been able to put aside any differences they had last year and have been able to focus on solely getting to this game. I saw both teams today and the energy was leaning more towards Pittsburgh."
"But still," I said to her, "you turned out day one of the Super Bowl."
In an almost embarrassed state of shock, the girl from Toronto who went to college and studied forensic psychology and minored in English literature and is about to take classes in classical music, said, "I would never have believed that media day would have gone down the way that it did. From me being afraid to take those steps down to the field -- like, 'I don't want to go down there, I'm terrified,' because I see CNN, Fox News, NBC -- to having no idea the majority of players even knew who I was, to finding out how many of them were fans was flattering. I didn't know."
Now the entire NFL knows.
*****
OK…
So this wasn't the story you were expecting when you looked at the image of the three-dimensional Jessica Rabbit at the top of your screen.
You were probably expecting a shallow story about her being shallow. An interview about her measurements (perfect-perfect-unreal), what she likes in a man (No. 39, Baltimore Ravens) and what she likes to sleep in (her boyfriend's underwear). A Maxim joint.
Something about her being in the next Playboy (not nude), not about her passion to be the next Lesley Visser or Lesley Stahl.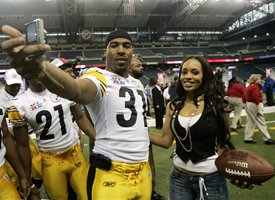 AP
Mike Logan was one of many who wanted a photo with Melyssa. (Elaine Thompson/AP Photo)
You weren't expecting this.
Like someone told me Tuesday: "You need to start your column on her with one word: Damn."
So the question becomes: Is the sports world ready for this?
Is the world of sports journalism ready for a sista this bad (meaning good), this focused, this prepared -- packaged like this?
Can we get past Melyssa Ford's exterior and extracurriculars, and deal with her interior and intellect? Will she be good enough to force us to?
On the NFL Network, Rich Eisen said, "One of the words you hear a lot during the Super Bowl is 'distraction.'"
Damned if that don't fit like the Hudson jeans she was wearing.
Can the "distraction" that Melyssa Ford created during media day transfer into something bigger? Something that won't have professional athletes losing their minds when she shows up on the scene? Something HBO's "Real Sports" might consider?
Or will Melyssa have to deal with what she said earlier: A sports world that ain't "ready yet."
Only time will tell. Time … and the appearance on "Oprah" that she knows is one day going to happen.
Before she called it a night Tuesday, I asked her why she has such a passion for football. She launched into this soliloquy about how the players are modern-day warriors, how all other professional athletes are soft compared to football players, and how studying plays and breaking down film fascinates her.
I asked God, why in the hell are we cloning sheep while this woman is alive?
OK, so maybe I'll end this the way it should have started.
Before I started writing this column, my boy Harvy Allbangers called me.
"I heard you interviewed Melyssa Ford, dawg. How was she?"
My one-word response: "Damn."
Scoop Jackson is an award-winning journalist who has covered sports and culture for more than 15 years. He is a former editor of Slam, XXL, Hoop and Inside Stuff magazines and the author of "Battlegrounds: America's Street Poets Called Ballers" and "LeBron James: the Chambers of Fear." He resides in Chicago with his wife and two kids. You can e-mail Scoop here.