By Scoop Jackson
Page 2
Editor's note: Scoop Jackson spent four more days immersed in the NCAA Tournament. Here's his recap of the past four days.
THURSDAY
The plan was to hit I-180 to Peoria and be on the campus of Bradley University while it played Memphis in the first Sweet 16 game in the school's history.
Streeter Lecka/Getty
The Duke dynasty ends with tears. (Streeter Lecka/Getty)
But I got a call. Let's just say that when the president of one of ESPN's properties calls and says he read your column last week and wants to watch a game with you, taking him to a college campus where you are not an alum to watch two of the biggest games of the college basketball season (unless that company president's name is R. Kelly) would be, as my nephew Patrix says, "strignorant."
Straight ignorant -- as opposed to "calculated ignorance," which was the experience last week -- is what I tried to avoid. But somehow -- especially during the NCAA Tournament -- it seems to find me.
On the corner of Dearborn and Hubbard, across the street from Billy Deck's Rocket club (if you are ever in the Chi, stop by, order the Nike Run Hit Wonder, tell them Mark Prior sent you and put everything on his tab) is a restaurant called Sullivan's. It's an upscale steak house, maitre d' at the door, white linen on the tables. Not a popular place with the brothas who don't wear Prada and don't have initials after their first names. But when royalty comes to town, you gotta move up like George and Wheezy.
In Sullivan's there is a cigar lounge upstairs. A thing of beauty. Leather couches and chaises, cherry oak tables and chairs, flat screens and 30-year aged Macallan, and an angel named Rose to make sure we got dibs on the best spot in the spot.
By the time we sit down, Bradley is down by five at the half, Duke is down by four.
"Scoop," the anonymous ESPN presidential royalty said to me after a Rose look-alike clipped the end of his Hoya de Monterrey, "don't you think Flavor Flav set black folks back 100 years with that show?"
Here we go.
"No, he didn't!" I said, never removing my eyes from the screen.
"Yes he did! As a 'brotha,' how can you defend Flavor?"
"Uh, uh, I can't, but you gotta look past Flav as a representative for the race. He's just Flav."
J.J. Redick misses another jumper. Then gets the ball stolen from him.
"LSU," royalty says, "didn't get the memo."
The majority of the people in Sullivan's came to watch Bradley, the local team, but as the Duke score stayed unchanged in the corner box, Bradley/Memphis became an afterthought.
"See, this is why Duke is going to lose," someone said. "Because for the players on LSU, this is their last shot. They know if they lose, after the game, they're going to be bagging groceries at Safeway."
Everyone busts out laughing.
"They're not trying to go back anytime soon," the guy says. "Trust me, LSU is going to ride this thing out. Until the wheels fall off."
Streeter Lecka/Getty
LSU's "Baby Boy" Davis could cut the net but couldn't get his hat to fit. (Streeter Lecka/Getty)
Big Baby misses a shot in the lane, Tyrus Thomas tip dunks it back. Everyone in suits screams.
With 43 seconds left, some guy is in the corner on his cell phone, screaming, "Duke is going down! Duke is going down!"
Redick walks to the bench, tears. Now, I can't write most of the things people were calling J.J. at that moment, but I will say it can't be easy being the most hated basketball player in college basketball. Then someone summed him up: "He's the white Kobe."
With Blue Boy's college career ended, the focus shifted to the yang of this year's college basketball balance of power.
"Morrison can't go out like that," someone walked up and said to me.
"He won't," I spit back. "He ain't that typa guy."
Just as the supposed game of the night between UCLA and Gonzaga jumps off, a bet is made about Texas' LaMarcus Aldridge.
"I'll bet you $50 that he'll be a top-three pick in the draft," I said after my second Ardbeg Uigeadail single malt.
"Bet," a dude -- who I just met an hour ago -- named Rudy (last name Raymore) said. "You think he's that good?"
"I'll say this," I responded. "If Marvin Williams got drafted No. 2 last year on the premise of his size and athleticism and he got no playing time, this cat is about to play himself into the same situation, if not better. Basically, he's Marvin Williams with game."
Gonzaga's lead is 12 with about 11 minutes left. My neph Nick walks in with one of his Big Six Entertainment partners. The Hornets are in town and they're hosting a party for them at Rumba. The NCAA games are their pregame for the night.
That's when I discover that Rudy got jokes: When Nick asks me how tall Mike Gansey of West Virginia is and I tell him, "I think 6-6," Rudy says, "To Scoop, everyone is 6-6."
Then he asked me if I knew Barack Obama. I told him yeah. "Well, I know him too. And I donated money to his campaign." When I asked Rudy how much money he donated, knowing that I donated enough to get signed family photo Christmas cards the past two years, his response shut me down for the night.
"I donated light-skinned money."
Now I know how Charlie Murphy felt when he met Rick James.
Suddenly Gonzaga starts to do what we in Illinois call "the Arizona." Its lead shrunk like dudes in pools. And just when I thought Adam Morrison wasn't that typa guy, he proved that he was no LL (Larry Legend) either.
But that "other" guy, Kevin Pittsnogle, was. With five seconds left in the game, down 3, he dropped a 3 from Bird range to send UWV's game against Texas into overtime ... or so everyone who high-fived each other and jumped out of their leather seats thought when his shot went down. We all musta forgot what month it was.
After Kenton Paulino became a hero in Texas for the night, another hero emerged in the second of what must have been two of the best at-the-same-time Sweet 16 games we've ever experienced. His name was Aaron Afflalo.
In the middle of the hysteria that his UCLA squad caused after upsetting Gonzaga with that late comeback, he found Morrison face down in the middle of the court.
"I was running around celebrating with my team, then I saw him laying there in tears," Afflalo said. "I just felt for him." So he went over there and picked Morrison up off of the floor." I told him he had no reason to cry. He's a great player, and he's going to have a great career. [I told him] to keep his head up."
Which was when two other things happened, unrelated but one right after the other. I got a text message that read: "Wassup pimpin' ... Duke lost, Gonzaga lost ... white people committing suicide all over the country."
Then Rudy says to everyone -- in direct earshot of ESPN royalty -- the perfect politically incorrect truth that made our entire night find an anonymous AmEx black card: "Duke lost and Morrison is out? TV programmers at CBS are slitting their wrists right about now."
Like Clark Kellogg said: "You can't script this stuff ... this is not wrestling."
And to think, I almost drove down to Bradley.
FRIDAY
Yesterday my son, Jalen (not named after Jalen Rose, even though I told him that), made a comment in the car while we were on the way to Sullivan's.
AP
Villanova has four outstanding guards, but Randy Foye has been the best of the bunch.
"Daddy, why don't you ever watch the college games with me?"
I knew the game but I still ended up on my ass.
After getting in at 3 a.m., after experiencing Rumba, after seeing some of the best talent Chi has to offer, after watching my nephew Nick imitate me better than even I ever did me, I needed a day of calm, a night of nothing. I needed to heed my seed's words.
"If Jalen wants to learn the college game," I was saying to myself all day, "what better time to introduce him then now? Tournament time! He's 9, he'll be hooked."
Plus, it was time to watch the games.
Watching the games allowed me think that George Mason should come out of the locker room to Big Boi's "Kryptonite (I'm On It)."
It allowed me to watch Randy Foye single-handedly carry a squad that I thought belonged to Allan Ray.
It allowed me to finally watch Brandon Roy ball. It allowed me to confirm my belief that Marcus Williams is the best point guard in the game. It allowed me to recognize that Rashad Anderson is the college version of Robert Horry.
It allowed me to pay attention to the Michael Irvin parts in Foye and Ray's hair. It allowed me to gain a better understanding of why players on the bench lock arms at the end of games. It allowed me to see the graphic that flashed across the screen that Villanova made 72 substitutions in one game.
It allowed me to watch a ref call a double tech on Brandon Roy and Rudy Gay that changed the game for the Huskies, the ones from Washington; to watch another ref make a phantom traveling call on Boston College that eventually led to them losing the game; and to watch another miss a goaltending call on UConn in OT that probably cost Washington its game.
It allowed me to watch a game end on a backdoor play that would have made Pete Carril proud.
The whole time, my son was nowhere to be found. There was a "Yu-Gi-Oh! GX" marathon on.
SATURDAY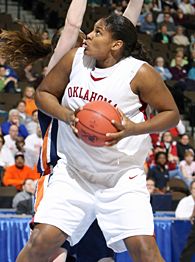 Meet Courtney, NCAA Women's Shaq.
At 1:14 p.m. I turn on the Stanford/Oklahoma women's game. My wife sits down next to me. While talking to one of her girls on the phone, it hit her.
"Girrrllll!!!! Hold on..." She looks at me. "Scoop, who is that?!?"
See, my wife does basketball but she doesn't do the women's game at the college level too often. See, she had never seen Oklahoma center Courtney Paris before.
"That's the next Shaq," I say while she still has her girl on hold. "She's killing the women's game, averaging like 26 and about to set a record for rebounding." My wife's mouth is still open. "How big is..." she asks.
"She's 6-4 and weighs 220 and she's only 18 years old," I tell her. "A freshman."
Then I trouble funked her, dropped the bomb: "Oh ... and she has a twin sister."
"Girl," my wife says to her girl. "I gotta call you back."
---
The first games of the Elite Eight are held at my boy Gene's crib. Benz 560 in the driveway, 60-inch Mitsubishi flat screen embedded in the wall in the basement. You know, instead of the "W" we call his spot the "Eu."
Only five are in the house: Me, Chuck, Dre, Gene and West. The Paulie Girls are on flow, a bottle of Remy sits alone on the bar. No chasers.
LSU and Texas is the jump off.
Chuck makes the comment, "I hate when these commentators say that Big Baby looks like Shaq. He's not the new Shaq, he's the Jerome Bettis of college basketball."
LSU's Darrel Mitchell sticks Daniel Gibson up right before the half, Tyrus Thomas -- who locked Redick down Thursday night -- is outplaying Aldridge, making that top-three-in-the-draft theory I had about Aldridge looking like it needs to wait a year ... or two.
The game is knotted at 52. Dre, who just had a major heart procedure in January and is on the donors list for a transplant, can't take it. "I done took all of my heart medicine for the day, I can't take anymore."
Of all the ballers Texas has, it's amazing that Brad Buckman is Texas' player of the game. In the biggest game of the season for them. This ain't the football team.
"They souled themselves out," I say as the buzzer sounds.
But then Glen Davis, whose head is too big for his Atlanta Regional championship cap, and Thomas show up on the screen. Thomas begins to second line (a Mardi Gras carnival dance done in Louisiana). Only Chuck and I know what he's doing because Chuck's family is from the Bayou and I went to school down there.
So naturally, out of respect to our adopted culture, we join in. Gene, Dre and West have no idea why we're in the middle of the basement dancing, looking for a towel to wave.
The second game, the Memphis-UCLA game, is beyond horrible. It's horr-a-able.
The teams are shooting 14 and 20 percent from the field seven minutes into the second half. And the last 13 minutes are worse than that. In the end, only 11 buckets from the field were made in the second half -- combined, by both teams!
Dre: "This is almost worse than that Christmas Day game between the Bulls and the Wizards, which we all know was the worst game in basketball history."
"Players of the game?" we all yelled when CBS posted the Chevy sponsorship.
"After the way they played, it should be the Yugo or Gremlin or Pacer or Pinto player of the game," Chuck and Dre both said.
We all laughed, but only because we knew tomorrow had to be better. The basketball god is not that cruel.
SUNDAY
The argument started early.
Right about the time Cappie Pondexter of Rutgers and Tennessee's Candace Parker, the two best players in women's basketball (no disrespect to LSU's Simone Augustus and North Carolina's Ivory Latta), are about to go into battle.
"Guards win tournaments!"
At the beginning of the basketball season, I made a statement. Called Villanova the squad of the year. It's not that I had some Rollie Massimino flashback or anything, but I had this belief that I had seen Randy Foye and Allan Ray before.
In 1983.
Inside the argument is my "gospel interrupted" Sports Unplugged backcourt partner, Leon Rogers.
He can't see Nova winning. He doesn't see what I see: this generation's Sidney Lowe and Dereck Whittenberg.
But the argument wasn't about Nova. Leon and I went back to Thursday night and battled on who was to blame for Gonzaga's meltdown.
He blamed Morrison -- not for crying with 1.9 left and his team with a shot to still win the game -- but for not passing the ball to Derek Raivio, the point guard and 90-percent foul shooter, and instead passing it to J.P. Batista who eventually got the ball straight stolen from him by someone five inches shorter and 35 pounds lighter. I blamed the coach for apparently having one timeout left and not using it to settle his team down and set up Morrison for his Christian Laettner moment. Regardless of whether he's in tears or not.
Then the game of life tipped off.
"The only thing that would make up for last night's game," Biscuit called me and said, "is if George Mason upsets UConn."
"That's not going to happen," I say. "It's the Big East son, we don't die -- we survive and move on."
UConn lost the lead for all of 20 seconds in the first half.
Then it happened.
The second half.
"They are not missin' 'em!" my nephew Patrix (aka Butters -- he had wavy hair as a baby) keeps saying as George Mason begins its comeback in the second half. "I'm telling you they are not missin' any 3s."
AP Photo/Michael Conroy
Joakim Noah has become a star over these past four games.
Then Tony Skinn does the un-Spike Lee: does the wrong thing, failing to pass on a two-on-one break and missing his layup.
The phone rings. "Yo, mark this down, the 9:53 mark when ol' boy should have gave the ball up. Mark that down." Biscuit's in love/hate mode.
Then Lamar Butler hits one. Ties the game. Then he hits one from the corner and is fouled. Four-point play. Then, with a one-point lead and 5:03 left, Skinn pulls up from 24 feet. And another one. Big points.
Patrix just looks at me: "I told you." CBS runs the graphics: GMU 6/7 from three in the second half. Patrix just smiles.
At the 3:07 mark, I hit B back. "Skinn just had the same situation and made the right one this time. He gave the ball up. And they scored. I still got it marked down but I'd rather have him make the mistake at the nine-minute mark than at the three-minute mark. So you right, in reverse, that mistake may have won GMU the game."
A consensus between Biscuit, Patrix and I is made: "Whoever loses this game will be the most upset, depressed team in NCAA history."
UConn falls apart like heated Jiffy corn bread. GMU wins in overtime. Another 1 bites the dust.
Nova? It's the last 1 standing. But Joakim Noah is on a whole different survive-and-move-on mission.
Forty minutes later, the university that is recognized for providing the basketball world with the biggest upset in this tournament's history had its setup upset.
Down goes Fraser, down goes Fraser.
Making Biscuit call me after Tony Soprano came out of his coma and say, "I thought last year's NCAA was great, but this one this year is the best I've ever seen."
"And guess what, Fam?" I said back, "we still got three games left."
Little did we both know: the NCAA women's games of the day ... were actually better.
Scoop Jackson is a national columnist for Page 2 and a contributor to ESPN The Magazine. He has weekly segments on "Cold Pizza" and "Classic Now" and is a regular forum guest on "Rome Is Burning." He resides in Chicago. You can e-mail Scoop here. Sound off to Page 2 here.