Imagine being hated, but not hating.
Imagine how it must feel to have love inside of you but hate driving your everyday life.
Imagine hate being the main reason the world knows who you are.
Now that the world knows you, imagine if most everyone in that world hated you.
Imagine if your father abandoned you … twice.
Would that make you fight him or fight the world?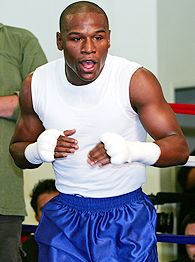 Ethan Miller/Getty Images
Floyd Mayweather Jr. told ESPN.com readers in a chat that Saturday's fight is "going to put the stamp on my career and define my legacy."
Imagine that possibly being the foundation of your hate. Why you "love you some you" so much because the love that you needed from your father disappeared, went on an iron vacation for a 5½-year drug-trafficking sentence.
Imagine having to fight him when he returned, not physically, but psychologically. For control of your career and your own manhood.
Imagine your mom being a drug addict. Can't turn to her. Imagine this being the first 21 years of your life.
Imagine a childhood of nothing pretty, nothing childlike, but nothing abnormal in your mind. Saying Tuesday, "Ain't nobody been through what I've been through, coming up seven deep in one bedroom, seeing my father shot in front of me, [him] going to jail, my family struggling." This was the way life was in Grand Rapids, Mich., for those who came up like you … "normal."
Imagine "fend for self" being the philosophy that you have to live by.
Imagine reaching your prime at a time when much of the public has become hypersensitive and turned off by overt, exaggerated and too-urban forms of self-promotion. Imagine being one of the greatest fighters the sport has seen in two generations, but when you reach your apex, you enter the stage on the cusp of an anti-"all about me" revolution where what you say and do tends to turn off the public more and more. Imagine being in the right place, but being the wrong person at the wrong time.
Imagine being raw as a season of "The Wire," but not receiving similar critical acclaim. Being as dominant in your sport as Roger Federer and Tiger Woods are in theirs, but never (with the exception of an analogy from Charles Barkley) considered their equal.
Imagine being undefeated. Untouched. Never losing. 37-0.
Imagine never hurting anybody outside of the ring but still feeling hated by the world.
Imagine being Philthy Rich, not filthy rich, and no one seeing the humor or irony in the difference; being called a villain, not "the Villain" and everyone knowing the difference; being the one reason HBO will get an Emmy nomination for its "24/7" reality series. Imagine just doin' you, being who you are, trying to enjoy this life you have created for yourself to the fullest and still being called, "the most cartoonish self-absorbed boxer in the world" by Tim Keown in ESPN The Magazine.
Imagine -- despite the flash that blinds people (they call it "bling") -- being so clean-cut in presentation that there is not one visible tattoo on your body, and you don't even have your ears pierced. But still many view you as a thug. Imagine being miscategorized on that level.
Imagine being called boxing's version of 50 Cent. Something you unknowingly and inaccurately labeled yourself because 50 can't spit like you hit. And 50, although hated by his peers, seems to get more love from the general public than you may see in five lifetimes.
Imagine having this written about you (by Chris Ackerman on DoghouseBoxing.com): "The problem is [Mayweather] is a jackass and has placed himself in a lose-lose situation. There is no win here for him thanks to stupid decisions, stupid behavior and inexplicably stupid comments. … The problem with the strategy is that PBF [Pretty Boy Floyd] is now painted into a corner from which there is no way to emerge triumphant, even if he wins the fight. Incidentally, I no longer think he will. Perhaps I am just so tired of the antics that I don't think Floyd deserves to get his hand raised against a guy who, at least in public, carries himself with a good deal of class and dignity, but I have a feeling that all boxing prowess in the world isn't going to get Floyd out of what he jawed himself into." And have every word be true.
Imagine having this written about you (on TheStartingFive.wordpress.com): "Mayweather, comes off as the latest in the long line of irascible, unpredictable balls of contradiction that have defined great black fighters dating back to Jack Johnson. He is a disciplined fighter with unmatched work ethic, and yet he is also a grotesquely puerile, vain, and gaudy young man. You genuinely want to root for him because he is a great fighter with a good heart, but then you can't help but think his overblown ego could use a check. Even then, though, once you see where he came from, who raised him and how much of his childhood was taken from him for this thing called boxing, you see him as a child reliving the youth he never had, and you find yourself sympathizing with him all over again." And have every word be true.
Imagine if the odds of you winning the biggest fight of this century are 2-1 in your favor. Imagine if The Ring magazine polled 20 experts, ranging from Teddy Atlas to Shelley Finkel to Iran Barkley to Buddy McGirt and 12 of the 20 predicted that you would win the fight. Imagine if you hold the greatest mythical title in sports: the pound-for-pound title that goes to boxing's best, but many are still anointing Oscar De La Hoya, the person you are fighting on Saturday, "the best boxer of our generation," like Tim Struby did on ESPN.com.
Now …
Imagine the main cause of dysfunction in your life finds a way to infiltrate your camp while you prepare for the biggest fight of your life. Imagine the father who abandoned you coming back into your life to run your life after training your opponent for six years. Imagine his brother -- your uncle -- being the one who took your father's place when he left. Imagine him showing you more love and understanding than your father did.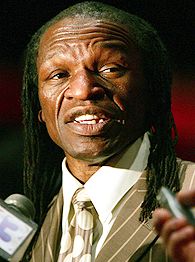 Ethan Miller/Getty Images
Floyd Mayweather Sr. and his son
don't have the typical father-son relationship.
Imagine that same uncle abandoning you too. Imagine him being shipped off for six months on a domestic violence charge, only to get out and have to face the Nevada State Athletic Commission just to officially get back in your corner, to officially have your back -- before your father snuck back in.
Imagine two brothers hating each other and putting you directly in the middle.
Imagine, because of the love you hold inside, letting your father back into your camp ("because he's my father") before kicking him back out after a dispute. Now rumors are floating that the De La Hoya camp, because of the relationship with him over those six years, is the one paying for his stay in Vegas and his tickets to the fight.
Imagine having to wonder -- really wonder -- during the most important fight of your career if you can trust your own father.
Wonder if he's going to sell me out? Wonder if he's going tell Freddie Roach (De La Hoya's new trainer) everything or anything we've been doing during training? Wonder if I should listen to anything he tells me because deep down he might want Oscar to win?
Imagine Alec Baldwin not having to worry this much about Kim Basinger.
Imagine the best boxing writer not named Thomas Hauser (Jon Saraceno of USA Today) being one of the few people who attempted to understand how what is really going on in your life is affecting you on the eve of this fight: "You don't have to wonder why the world's most talented fighter is so transparently insecure, why his conspicuous consumption, foray into Philthy Rich Records and all the pseudo-villain posturing is his way of saying, 'Hey, look at me. Look what I've accomplished in the face of this dysfunctional mess I was born into.'"
Imagine s--- being so bad in your life (contrary to how it looks to the outside world) that you claimed this would be your last fight. Saying in a chat on ESPN.com Tuesday that the fight is "going to put the stamp on my career and define my legacy" but in the same chat validating on more than three occasions that "this will be my last fight."
Imagine only being 30 years old.
Imagine the world talking about this but not taking any of it into consideration when you step into the ring on the night of May 5. Imagine your detractors not caring about this because you've acted like none of it affects you, like you can rise above it when you know it does and you can't.
Imagine if they had read your interview in Se7en magazine with Roy Jones Jr., one of the few people in the world who has an understanding of what you must be going through. Imagine if for a second the world saw the real you: "You have to realize what I grew up seeing.
"People don't know the real deal about Floyd Mayweather, and I'm about to give you the real s---, nothing fake. I grew up seeing my daddy with different women every day. I've seen my daddy hustle. I've seen my daddy pimp. I've seen my daddy pistol-whipped. I've seen gun play. I've been involved in all that. And that stuff stays with you forever. I try to forget about it … but I've been through a lot. My mother was on drugs and I saw my daddy sell her drugs. My dad's career didn't go like he wanted it to go. My dad left my life when I was 16. So from 16 to 21, I was my own man. I went out and stood on my own two [feet], made my own money and had my own house. When my dad got out of prison, he came to live in my house and wanted to tell me when to come in and who my friends could be. Then he went on record and disrespected my mother, which really hurt me, but I never kicked him out. My dad wanted to relive his career through me. Probably [Roy] the same thing your daddy wanted to do through you. But (long pause) I could never go against my son. My daddy was actually going to work in Oscar's corner against me.
"Then he said he wanted $2 million. Well, my life doesn't have a price.
"You can't put a price on my son's life. Everything has a price except somebody's life."
Imagine, before you stop reading this, if you were Floyd Mayweather Jr. and this was the life you were given. Imagine with everything you had to and still have to go through, you have to accept that most of the world will always hate you regardless of how much pain and love you have in your heart. Add to that the love so much of the world has for Oscar De La Hoya, how the world loves the person you are fighting Saturday night more than it will ever love you.
Imagine having to live with the realness that the world will hate you more than it already does if you win.
Scoop Jackson is a columnist for Page 2 and a contributor to ESPN The Magazine. He's also the host of ESPN Original Entertainment's "NBA Live: Bring It Home". Sound off to Scoop here.